MEET THE TEAM
Scott Heinemeyer
VP of People Operations
Role at Valve+Meter
As VP of People Operations, I serve the V+M team by overseeing Human Resources, Talent Acquisition, Leadership & Development, Facilities and Special Events. It's an honor and a blessing to get to 'do life' at a deep level with such great people as they grow their careers here.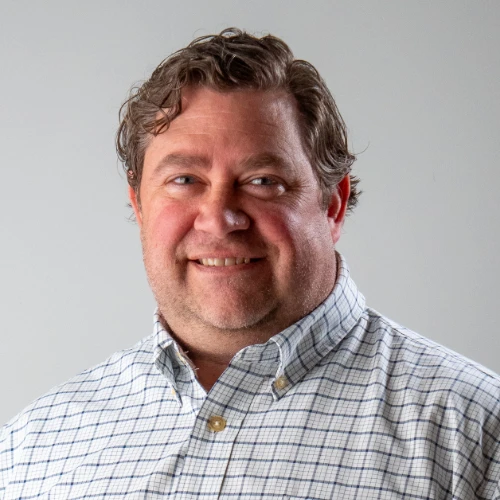 Background and Experience
After attending Eastern Kentucky University, I worked in business development for a national design/build architectural firm where I gained a lot of satisfaction from developing relationships with clients. While I enjoyed it, that role required more travel than I preferred. So in 2001, my wife and I started a local remodeling business in order to get off the road and start a family. The thing I enjoy most about construction is creating great spaces for others and we built a portfolio of wonderful "before and after" photos with many satisfied clients. In 2008, the downturn in the economy caused us to close the doors of our remodeling business and I was fortunate to land at Defender Direct (now Defenders). There I led the facilities department overseeing the corporate office, several call centers and multiple branch locations. Working for an organization like Defender that was heavily focused on culture and the intentional development of its team members, my career began to shift toward Human Resources and Leadership & Development.
What makes you unique to excel in your position?
I've discovered my passions for building relationships, creating great environments and developing others can be lived out in Human Resources. Although I've served in Director and VP level HR roles for more than 10 years now, I continue to develop my professional knowledge and skills by participating in HR-specific peer groups, industry associations like Society for Human Resource Management (SHRM) and regularly taking advantage of personal/professional development opportunities. At the end of the day, I believe my desire and ability to connect with others positions me to serve member of our team well.
Interests and hobbies outside of work
Henry David Thoreau said "Many men go fishing all their lives without knowing it is not fish they are after". For me, fly fishing is not an escape from life, rather it's a deeper immersion into it. Casting a hand-tied fly while wading a stream is one of my favorite ways to recharge.
For the past three years, I have served as Board President for the Ballet Theatre of Carmel Academy (BTCA). This Not-for-Profit organization is dedicated to developing artistic athletes to their fullest potential through encouragement, discipline and dedication. I've also served on advisory boards for Truth at Work and Knights of Glory. Those too are faith-based not-for-profit organizations.
My wife and I remodeled an 1800's farmhouse where we live with our two children – Natalie & Foster. Our son is a freshman at Legacy Christian High School and our daughter is a freshman at Butler University / Jordan College of the Arts. We attend Northview Church in Westfield, IN.
What is your dream travel destination and why?
New Zealand is at the top of my list as a dream vacation because of the beautiful landscape and abundant trout streams.