MEET THE TEAM
Jacob Lowe
Analytics & Insights Manager
Role at Valve+Meter
I provide quantitative analyses of different marketing programs, create visualizations and reports to deliver clarity for business solutions, and with a little help from Google, write the occasional code to create automations that free up time to divert team efforts to more valuable tasks.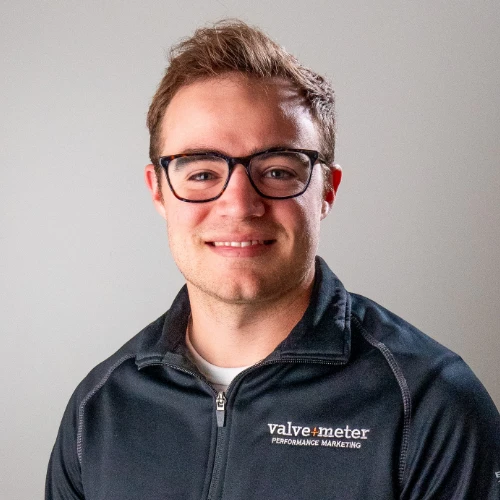 Background and Experience
I graduated from Indiana Wesleyan University in April of 2019 with a bachelor's degree in mathematics (yes, you read that correctly, I actually studied math for four years). I interned at Valve+Meter in the summer of 2018, and believe me when I say, it was not your typical "go get coffee and bagels" internship. The hands-on experience allowed me to learn how to develop an analytical approach to solutions within the context of successful marketing.
What makes you unique to excel in your position?
I would say my unorthodox area of study has been vital in allowing me to tackle problems from a different angle. I took a multitude of different math courses in college, none of which had anything to do with marketing. But the fundamental idea of problem solving is at the core of both. It is that mathematical and analytical approach to solving a problem that allows me to offer a unique perspective on a task at hand.
Interests and hobbies outside of work
I may be one of the younger people in the office, but I'm a grandpa at heart. In my spare time, I love to play pickleball and be out on the golf course. I enjoy sports and rooting for my hometown of Cleveland, OH; the Browns will win the Super Bowl this year – you heard it here first. I'm all about the little things in life, and my three favorites can be found in ping pong, Wendy's 4 for $4 and a good cheesy joke.
What is your dream travel destination and why?
Definitely New Zealand! I love hiking and being outdoors, and New Zealand has some of the most beautiful landscapes. I think it would be a blast to visit there someday. Plus, it's home to arguably the greatest accent of all time.