Conversion Rate Optimization Services
Increasing Website Traffic Only Matters if You Convert Buyers
Is your marketing focused on the wrong metrics?
Valve+Meter studies the behavior of your website traffic and uses data to electrify your conversion rates.
Test Your CRO >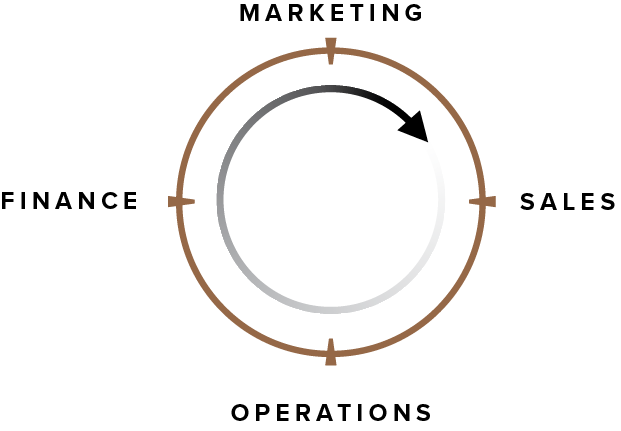 Unstick Your Flywheel
Optimization is Compounding
For many of your customers, your website is the first thing they will see. Every improvement matters. It's not just addition – it's transformation.
A 5% improvement in one area, followed by a 5% improvement in another, is a 10.25% improvement overall. Another 5% gets you to 15.7%.
Are you ready to unleash your flywheel?
Maximize Your Website's Performance
Ready to Increase Your Conversion Rates?
Don't let a minor website problem impact your revenue. Start a conversation with Valve+Meter to convert more qualified leads.
Begin Your Free Assessment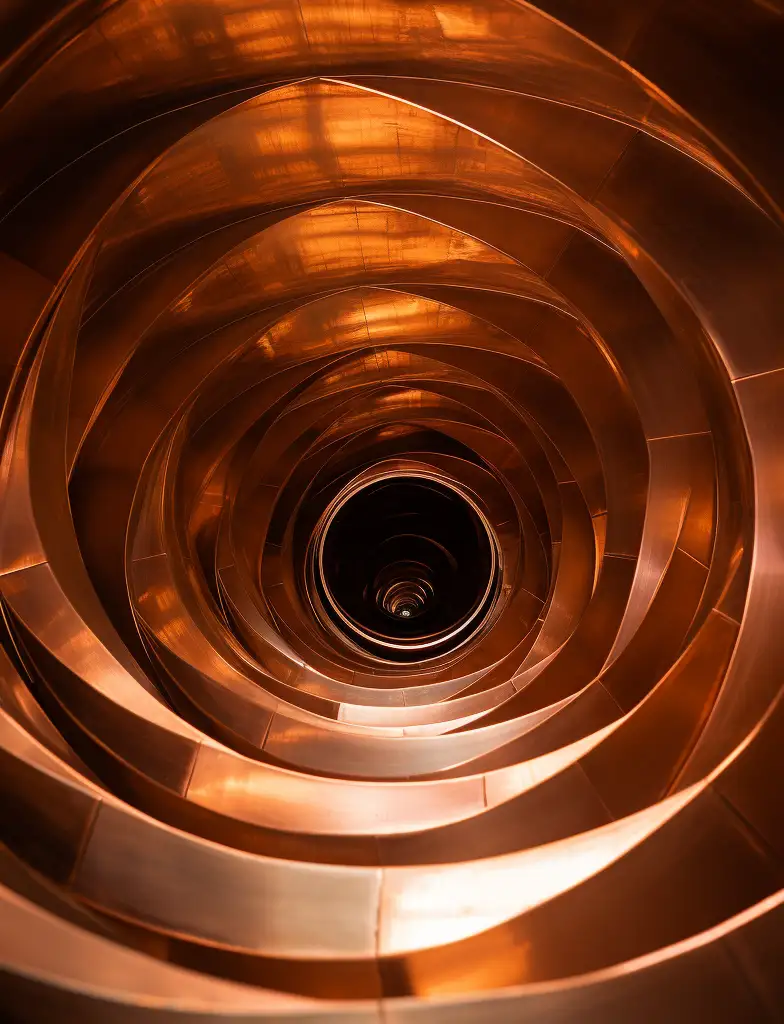 Ultimate Performance Through Testing
Designing Your Conversion Funnel
Our conversion rate optimization services help forge a new path in digital marketing. Founded in testing, Valve+Meter's processes and structures help you gain actionable insights to improve conversion rates (CR) and increase your return on investment (ROI).  
Analytics tools provide an abundance of data about website traffic. From lead sources and exit rates to cost-per-conversion and load time, there are many metrics affecting your business. 
Valve+Meter formulates processes to clarify all relevant data from disparate data sources into clear reporting. Deciphering the data allows you to plan a conversion optimization process based on your weaknesses and opportunities.  
Conversion rate optimization (CRO) proposes hypotheses, executes tests, and measures results to streamline the buyer's journey across your website. 
In other words, CRO services aim to seal any cracks in your sales pipeline and turn the pressure up on your revenue. 
How Often Do You Need to Test Conversion Rates?
Conversion Rate Optimization is Undervalued
Your website is your most-powerful marketing tool for engaging new leads. While most businesses study analytics and adjust marketing spend to drive more leads, conversion rates (CR) are largely ignored.
Our tools maximize the efficiency of your website and consistently improve your user experience.
Lost Opportunities
1 : 40
The average conversion rate is less than 2.35%. That means only 1 of every 40 visitors takes action.
ROI
223%
With an average ROI of 223%, CRO tools offer some of the greatest value for site improvement.
How CRO Works
Our Conversion Rate Optimization Tools
As part of our comprehensive web services, your initial CRO services begin with a brief conversation and an introductory call.
Throughout this initial process, you will work with our business data analysts to capture pertinent data from across all sourcing, including CRM, website, digital marketing campaigns, social media, email, and other sources.
Valve+Meter can test any element of your website including customized audits of your entire website and digital marketing.
Our CRO strategists can identify the greatest opportunities for improvements using state-of-the-art tools and performance testing. Some of the most-effective conversion rate optimization tools include:
Call to Action
Lack of CTAs is a common error in converting website traffic.
Your call to action (CTA) should be clear, inviting, and functional across all devices.
Confront consumer ambivalence and apathy with evocative CTAs.
Testing the location, style, and messaging of your buttons helps improve website performance.
Visual Design
Clutter and distractions within website aesthetics divert users from your conversion funnel.
If your website is packed with complex language and extensive written content, then our team will recommend enhancements.
Dynamic branding may appeal to your internal team but poor site speed and slow load times harm performance.
If your website is a maze, then you will lose leads to competitors.
Short-form videos, original images, and easy-to-understand writing simplifies your website design. An aesthetic conversion audit eliminates unnecessary and harmful elements from your website.
Landing Page Design
Valve+Meter has a proven track record of optimizing website conversions through quality design.
CRO services guide your users toward a desired action through landing pages. For many businesses, a variety of landing pages help to target all positions throughout the sales funnel.
Providing qualified leads with precise transactional pages converts paying customers quickly. Lead nurturing pages benefit middle-of-the-funnel (MoFu) and top-of-the-funnel (ToFu) leads through informative and educational content.
High-quality leads exist throughout the sales funnel. Valve+Meter uses research and results to optimize the design, layout, and function of each landing page.
Forms
Conversion rate optimization services build custom forms that capture the fields you need and eliminate ones that reduce submissions.
Your forms are key to the conversion optimization process. Site visitors should be able to find forms and submit requests within seconds.
Ensure your forms align with your prospects. For example, the form for a buying customer may be different than for MoFu and ToFu leads.
Returning customers and your existing audiences who traffic blogs, thought leadership, technical insights, and branded web pages may need another form.
Messaging
Your digital marketing content is a living document. Conversion rate optimization services constantly test your messaging.
Page titles, headers, keywords, metadata, images, and graphics all play a role in the conversion rate of website traffic.
You work hard to build your business. Don't let the wrong messaging cost you revenue.
Valve+Meter CRO services include search engine optimization content and compelling, conversion-focused messaging on every page.
Trust Signals
We experiment with page elements that enhance your credibility with visitors.
In highly competitive markets, your conversion rate optimization specialist audits your website and your those of your competitors to identify key trust signals.
Customer reviews, testimonials, case studies, security trust badges from reputable organizations, social proof from social media, awards, certificates, and clear contact information are just a few factors to test on your site.
In ecommerce, testing payment methods can dramatically improve conversion rate and increase order volume.
If you are an emerging brand or small business, trust signals help compete with enterprise and established brands. Create a sense of reliability and authority with website visitors through our conversion rate optimization.
Start Testing
Learn More About Our CRO Services
Don't let your website performance keep you up at night. When you work with Valve+Meter, our CRO experts strive to convert your website traffic into high-quality leads.
Connect With Us
CRO Strategy
– 40%
A low CR is common. Only 39.6% of businesses have a written CRO strategy.
Legacy Technology
1 / 4
Over 25% of our clients cite legacy technology and CMS as a barrier to data insights.
Regular Testing
2 X
Over 46% of conversion rate professionals recommend running tests twice a month.
Site Speed
2 sec
Conversion rates decrease by 15% when pages fail to load within 2 seconds.
Our Process
CRO Strategy
How do you find the hidden potential within your business?
Far too many businesses rely on lagging indicators to guide marketing and sales decisions. Testing leading indicators find new opportunities and eliminate threats to your success.
Valve+Meter applies a proven process called Math Before Marketing™ that includes researching, planning, and measuring the performance of every marketing action. By taking the time to understand your business, our services, including conversion rate optimization, can be tailored to your specific needs and long-term goals.
There are best practices – basic blocking and tackling – that every conversion optimization agency should perform. We will start there, but move on to a custom strategy for your business.
You will see a clear pathway of tests designed by our team. Throughout your campaign, a dedicated account manager will meet with you regularly to review performance and adapt to your changing needs.
Our conversion optimization experts prioritize testing based on many variables, including the expected value of results, impact on revenue, and speed to validity.
When you partner with Valve+Meter as your conversion rate optimization agency, we also provide insights beyond conversion rates. As a full-service digital agency, you gain access to content specialists, web designers, developers, and other professional marketing strategists.
If you believe in building long-term relationships to achieve strong results, contact Valve+Meter.
Ready for CRO Services?
Contact Our Team Today
Your strategy begins with a free assessment.
A simple introductory conversation provides insights into the best CRO tools for your business.
Let's Start Improving Your CR
Professional CRO Services
Explore All Our Conversion Rate Optimization Services
You need results. Talking about digital marketing techniques and tech stacks doesn't matter.
To get the most out of your website performance, Valve+Meter uses any and all resources to evolve your conversion funnel and improve the user experience. 
As a Valve+Meter client, you can sleep well knowing that we build conversion rate optimization services into every Marketing Performance Agreement. Beyond a conversion rate audit, you get a full-service CRO strategy. Ongoing monitoring, testing, and enhancements keep your website conversions adapting as you grow and consumer behavior changes.
Valve+Meter has the ability to test through quantitative analysis (analytics, heat mapping, session replay) and qualitative analysis (usability tests, user interviews). Our experts go beyond Google Analytics and conventional CRO services to measure the elements that generate more revenue for your web pages.
User Experience
Thoughtful and intuitive design is at the core of any conversion rate optimization service. Web designers use their expertise to walk a fine line between aesthetics, usability, and results.
Your site has a job to do and CRO experts use visual principles across page layout and site structure to make it effective. Generating interest is the first step. Once your website visitors are attracted, dynamic content and intuitive navigation improve conversion rates.
Initial user experience design utilizes user research and assumptions. Our conversion rate optimization services rigorously test design performance. We use technology to swap design elements and use data from these experiments to incrementally improve the results of your site.
User Interface
Additional design elements can increase your conversion rate. Enhancing the overall aesthetic appeal including color scheme, typography, and other visual elements to create a visually pleasing and engaging environment that encourages conversions.
Landing Page Optimization
The use of landing pages helps us track internet marketing performance and improves the user experience. Ongoing conversion rate optimization analysis includes refining the layout, design, and messaging on landing pages.
By implementing persuasive elements such as clear call-to-actions, engaging visuals, and persuasive copywriting, you can increase the likelihood of conversions. Data from Google Analytics, Google Search Console, Unbounce, and other technology tools validate the evolution of landing page design.
Heatmap and Click Tracking
Heatmap and click tracking tools provide visual insights and data into the behavior of website traffic.
Heatmaps provide a visual representation of where users click, scroll, and spend the most time. Conversion rate optimization tests how moving headings, CTAs, and other key elements improve the buyer's journey.
Click tracking helps identify areas of high engagement and areas that may need improvement. Patterns reveal issues with the user experience and user interface on your web pages.
These tools benefit all websites and specifically guide enhancement to increase ecommerce sales conversions.
Usability Testing
Additional usability tests demonstrate issues and pain points within the user flow.
Audience research identifies technical glitches and navigation barriers that may hinder the conversion process. By optimizing the web page layout, you create a seamless browsing experience that guides users toward conversion.
By observing real users on your site, Valve+Meter gathers valuable feedback and makes informed design decisions to improve user experience and increase conversions.
A/B Testing
Implement A/B testing to compare different variations of your web pages and determine which elements or designs yield the best conversion rates.
By testing different layouts, headlines, visuals, and call-to-action buttons, you can make data-driven decisions to optimize your website for higher conversions.
A/B testing, also known as split testing, is a method used to compare two or more versions of your webpage. Real-world tests provide clear evidence about what elements earn a great conversion rate.
Our conversion rate optimization services randomly split your website traffic between different versions and track user behavior. The performance of each variant can be measured. This includes testing different layouts, headlines, visuals, buttons, and messaging.
Sales Funnel Analysis
Conversion optimization experts analyze your sales funnel to learn about your audiences.
Proposing tests and alterations from initial touchpoints to conversion, Valve+Meter strives to nurture leads at all stages of your sales funnel.
Unique landing pages, content, and CTAs can be created for all types of prospects within your pipeline. By optimizing each stage of the sales funnel, you can improve conversion rates and drive more leads through the pipeline.
Copywriting
Search engine optimization (SEO) is an ongoing process. Google Analytics and other tools help our conversion rate optimization adapt copywriting with fresh and relevant keywords.
Enhancing your website's copywriting to effectively communicate your value proposition, build trust, and persuade visitors to take action is key to online success.
Consistently incorporating trust signals and compelling messages addresses the current pain points of your audiences. As new products and services emerge, content helps dominate first-page search results and convert website visitors.
SEO Copywriting Services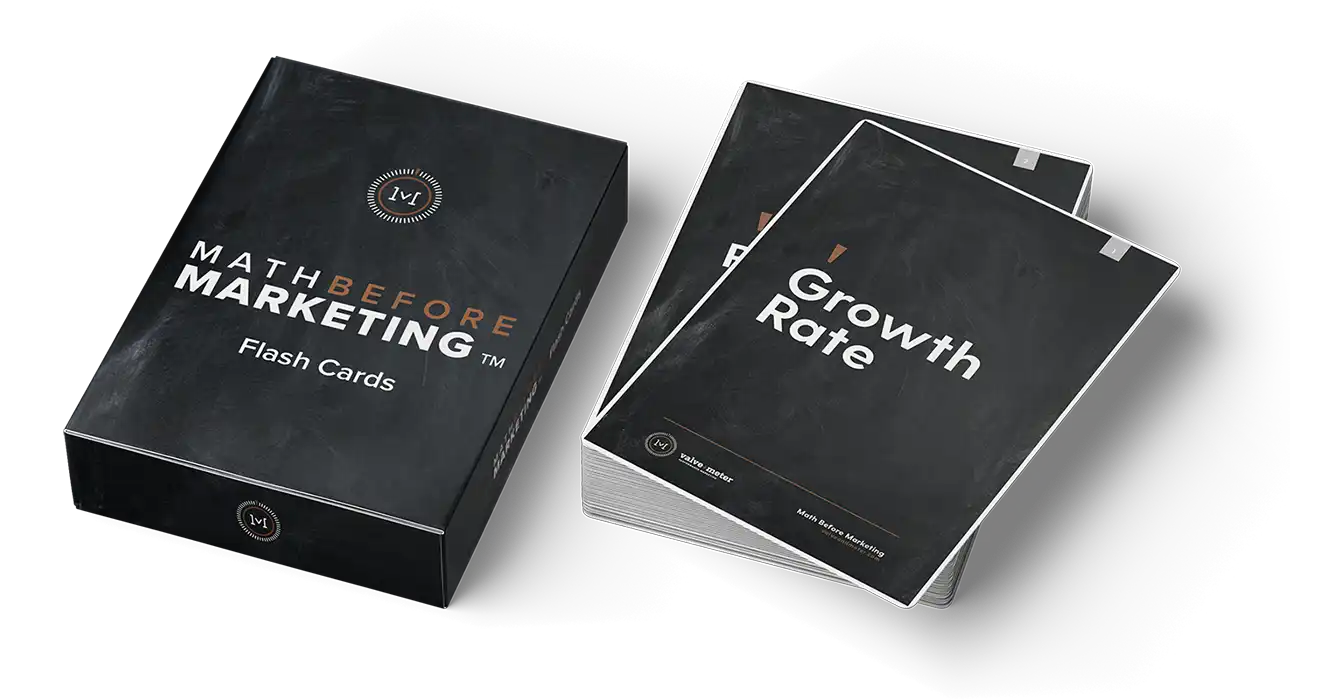 Free Download
Never Waste Another Marketing Dollar Again
At Valve+Meter, we hold a core belief that your financial growth and goals should determine your marketing investment. Learn how to determine your Growth Rate, Profitability and more with our Math Before Marketing Flash Cards.
Build a Pipeline Between Website Traffic and Revenue
There are so many factors influencing the actions of your website users. You will find many internet marketing agencies promising magic elixirs.
Testing website elements and analyzing conversion rates is not a magic elixir. Conversion rate optimization services are grounded in math.
Math Before Marketing is fundamental to Valve+Meter.
The conversion rate formula is simple:
Conversion Rate = (Number of Conversions / Number of Visitors) x 100
Conversion rate optimization is nuanced. Data analysis provides snapshots into user behavior, but predicting user flow is difficult. Audience research indicates website visitors' actions are constantly changing.
The challenge is not to build the perfect conversion funnel. Your business is changing. Your consumers are not monotypes. Testing and adaptation is the goal.
Contact Us
Improve Your Conversion Rate?
Valve+Meter relentlessly builds new tests and more precise methods of optimizing conversion rates. If you are bold, curious, and ready to create new opportunities, partner with Valve+Meter.
Request Marketing Analysis
FAQS
Common Questions About Conversion Rate Optimization
Like many digital marketing terms, conversion rate optimization (CRO) has become a buzzword. As such, many definitions exist for this very simple concept.
All the pages on your website are designed around a desired action. You may want site visitors to make a purchase, fill out a form, subscribe to a service, or register for a newsletter.
Conversion rate describes the number of visitors who take the desired action.
Conversion rate optimization is the process of analyzing user behavior, identifying areas of improvement, and implementing changes to maximize conversions.
Ultimately, CRO experts perform quality assurance.
Search engine optimization (SEO) and conversion rate optimization (CRO) are interconnected strategies, but use two very distinct methods.
SEO focuses on improving your website's visibility and ranking in search engine results like you find on Google and Bing. Optimizing various on-page and off-page elements, such as keywords, meta tags, website structure, content quality, backlinks, and other elements, helps your site appeal to search algorithms.
The primary goal of SEO is to attract organic traffic from search engines and increase the quantity and relevance of website visitors. SEO aims to make a website more credible and authoritative to search engine algorithms and users.
Once users arrive on your website, CRO focuses on converting visitors into customers or achieving other desired actions. In a sense, conversion rate optimization services pick up where SEO ends. Analyzing user behavior, identifying conversion bottlenecks, and implementing strategies to improve your website's performance examine the human experience on your site.
CRO utilizes techniques such as A/B testing, heatmaps, user feedback, and user journey analysis to understand how you can maximize the effectiveness of your website in generating leads, increasing sales, or improving user engagement.
You should implement both SEO and CRO to develop and grow your internet marketing efforts.
As a leading conversion rate optimization company, Valve+Meter works with businesses and organizations of all sizes.
Tools, including Google Analytics and Google Search Console, provide the primary data needed to assess website traffic. Our conversion optimization agency builds structures to compile these key metrics with your CRM to execute a conversion audit and ongoing optimization services.
The more data available, the more accurate CRO services are. The key metrics needed for effective CRO include:
Website Traffic
This is the total number of visitors to your website within a specific time period. Conversion rate optimization services consider more granular groups within traffic such as:
Organic Traffic: Visitors who arrive at your site through search engines
Referral Traffic: Website traffic that comes from external third-party websites
Direct Traffic: Visitors who directly type your website URL
Click-Through Rate (CTR)
Calculated by dividing the number of clicks by the number of impressions, CTR demonstrates the health of a specific link.
Page Load Time and Site Speed
The time it takes for a web page to fully load in a user's browser. As more website visitors use mobile devices, site speed optimization delivers all users with a positive experience.
Bounce Rate
The percentage of visitors who leave a website after viewing only one page without taking any further action. Conversion rate optimization services endeavor to capture relevant website traffic and deliver your audiences with the desired information they need to take action.
A high bounce rate indicates that visitors are not engaging with the website or finding the desired information, while a low bounce rate suggests that visitors are exploring multiple pages.
Leads Generated
The number of potential customers who enter your conversion funnel. More precisely, when a website user takes a desired action, a lead is generated.
For professional services, home services, and B2B businesses, lead generation is a key component of CRO. The primary goal of these websites is to convert visitors into leads for further nurturing and conversion.
Entrance
Your conversion funnel must be accessible from all points on your website. However, knowing the first page a visitor views when they enter your site maximizes the opportunity for conversion rate optimization.
As the starting point of a browsing session, entrance pages are key to creating a positive impression and capturing the attention of users.
Pageviews Per User
This metric helps to understand the overall value of your site structure. The average number of pages that a user views during a single browsing session indicates greater engagement and interest in exploring the website's content.
Exit Rate
The percentage of visitors who leave a website from a specific page. It represents the last page viewed before leaving the website.
Analyzing exit rates can provide insights into potential issues on specific pages. Redesigning and adapting these pages can improve the usability and conversion rate of your site.
Cost-Per-Conversion
Conversion rate optimization efforts must be evaluated. The average cost incurred for each conversion evaluates the efficiency of the website and CRO services. It is calculated by dividing the total cost of a marketing campaign by the number of conversions generated.
Return on Investment (ROI)
The measure of profitability resulting from an investment relative to its cost, ROI is the best indication of the financial return gains from CRO companies.
Once a visitor arrives on your website, you must provide the ultimate invitation to stay and engage with your products or services.
In highly competitive markets, conversion rate optimization (CRO) is vital for profitability. Websites are the primary digital marketing tool for most businesses. Capturing website traffic requires hard work and investment in marketing strategies.
Poor conversion rates waste the efforts of sales, marketing, and advertising campaigns. The conversion rate optimization process enhances user experience by attracting new leads and retaining existing customers.
CRO reduces acquisition costs, refines marketing campaigns, and helps your business stay ahead of competitors and stay competitive in the digital landscape. By continually optimizing conversion rates, you can drive growth and achieve long-term success.
The ideal conversion rate for a website varies depending on several factors, such as the industry, business goals, target audience, and the type of conversion being tracked.
There is no benchmark for a "good" conversion rate. The most-common range is from 1% to 10% or higher.
At Valve+Meter, we define a good conversion rate as accurate data. We use historical data or industry standards, then continuously work on improving your conversion rate over time through testing.
To capture accurate website conversion rates, CRO experts run tests independently. Depending on the size of your website and the overall size of your audience, you can run a few tests at the same time. Running too many tests creates data noise and distorts results.
Conversion optimization experts refer to CRO as a marathon. Steady testing and making incremental results ensure accuracy and long-term growth.
Conversion optimization services can be performed for small business websites. Even small audiences will demonstrate patterns of behavior and room for improvement.
The number of visitors required to run A/B tests depends on the desired level of statistical significance and the anticipated effect size. Higher traffic volumes lead to faster results, but there is no fixed threshold for the number of visitors required.
Valve+Meter uses statistical significance calculators to determine the sample size needed for your specific tests, ensuring reliable and actionable results.
A/B testing can be applied to various website elements, including, but not limited to, headlines, call-to-action buttons, page layouts, images, forms, colors, pricing, testimonials, and navigation menus. Extending the testing time for smaller audiences can improve accuracy.
Ultimately, testing should be performed for all websites. Growing businesses typically see an initial boost through an initial CRO audit during our ThinkFirst™ process and following industry best practices.