Managed Service Marketing
Bold Marketing Moves for MSP Marketing
Tired of marketing agencies that don't understand your industry?
The marketing process for MSP businesses is nuanced and highly strategic.
Valve+Meter builds every marketing strategy from the ground up to fit the needs and goals of your MSP business.
Interested? Let's Talk. >
MSPs
88%
As many as 88% of all businesses use managed service providers.
Marketing Plan
1/2
Less than half of all businesses have a written marketing strategy.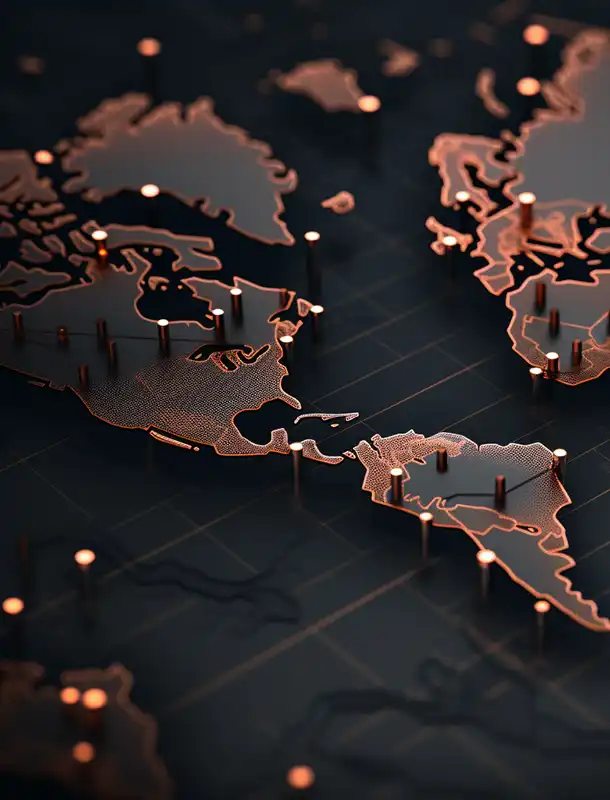 What is Managed Services Marketing?
Get Organized. Find More Customers.
Business evolves as fast as technology.
In the ever-evolving world of digital business, managed service marketing refers to the comprehensive approach where companies, particularly managed service providers (MSPs), employ external agencies to handle and optimize their marketing needs.
This encompasses a wide range of services – from search optimization, paid advertising, and content marketing, to social media marketing and more – to help businesses thrive and connect with a wider audience.
Just as your managed service provider company keeps customers' IT needs secure and stable, Valve+Meter acts as an extension of your business. Our MSP marketing can enhance an MSP's market visibility, improve its lead generation capabilities, and earn a consistent flow of potential customers.
Data-Driven Decisions for MSPs
Understand Audience Behaviors
Leveraging data allows managed service providers to craft precise marketing strategies, ensuring resources target the most-promising opportunities. Analyzing this information not only refines the approach, but it also maximizes return on investment.
Search
98,000
There are over 98,000 searches per second on Google.
Image SEO
650x
On average, posts that include images get 650 times more views.
Infographics
3x
Infographics are shared 3 times as often as other visuals on social media.
Our Services
Building Your MSP Marketing Plan
If you have talked to an MSP marketing agency that has plug-and-play options, let's clear the air.
Just like with IT solutions, no business needs the exact digital marketing.
With Valve+Meter you won't need to choose just lead generation or SEO because we offer a full suite of techniques to drive your business forward. This includes a wide range of outbound, paid advertising, and inbound marketing strategies.
Some of our most-popular tactics for MSP marketing include:
Additional MSP Marketing Services
The Importance of a Comprehensive MSP Marketing Strategy
To navigate the complex landscape of MSP marketing, having a robust MSP marketing strategy is non-negotiable.
Valve+Meter has core services that fit many MSP marketing strategies. But with a comprehensive team of subject matter experts, our primary focus is achieving your goals.
We take the time to learn the needs and challenges of our clients and formulate a plan to address them effectively.
Additional marketing services include:
Start a Free Consultation
Connect With Valve+Meter's Strategists
Find the combination of services to prioritize your goals. Schedule a meeting with our MSP marketing strategists.
Let's Talk
Our Process
The Indispensable Role of Digital Marketing in the MSP Market
In today's interconnected world, where decisions are often influenced by online reviews, blog posts, or a simple Google search, the importance of digital marketing for MSPs cannot be overstated.
Too often, a digital marketing plan focuses on the techniques and not the people and ideals of a business.
At Valve+Meter, we recognize the role digital marketing plays in shaping perceptions, building brand trust, and driving conversions.
Managed service providers fulfill a necessary role for businesses, but, ultimately, decision-makers buy relationships. Beyond all the technical intricacies, your highly informed customer base needs to trust and value your team.
Our strategies are always grounded in the latest digital trends, but the seeds of the best MSP marketing techniques are your values and dedication to great service.
To build your MSP digital marketing, we follow a four-step ThinkFirst™ process:
Discovery

Research

Execution

Tracking

Discovery
For managed service providers, the discovery phase includes an introductory meeting with our strategists and an in-depth workshop to learn about your unique strengths and challenges.
This step lays the foundation for tailored solutions, ensuring we align with your business objectives.
Research
Math Before Marketing™ includes a commitment to thinking before taking action. Research delves into the MSP market's intricacies, analyzing competitors and identifying industry trends.
With this deep insight, we can identify the best opportunities and tactics for your MSP digital marketing.
Execution
Campaign launch is where strategic planning meets actionable steps. For MSPs, this means deploying the right marketing tactics to attract and engage businesses that need your IT solutions.
By streamlining processes, Valve+Meter helps enhance client interactions and reduce wasted advertising expenses.
Tracking
Another tenet of Math Before Marketing™ is finding strategies that can be tracked, measured, repeated, and scaled. Our analysts monitor and assess the effectiveness of your strategies.
By measuring key performance indicators, we can refine our approach, ensuring continuous improvement and creating opportunities to test new ideas.
Search
3/4
75% of people don't go beyond Google's first result page.
CRO
68%
The CRO strategy is not present in 68% of small-scale businesses.
How Do I Market My Managed Service Business?
5 Essentials to Marketing Your Managed Service Providers
Marketing a managed service business requires a multi-faceted approach that focuses on the sales qualified lead. If your marketing plan is just a brag book and glad-handing, then you will miss the mark.
During ThinkFirst™, you will collaborate with Valve+Meter to think deeper about your audience and core customers. Success is not measured in one profitable campaign. We are founded on helping our clients grow through marketing.
This long-term commitment demands MSP marketing techniques that shape your brand image to be as unique and indispensable to your clients and prospects.
A number of ideas to consider before contacting Valve+Meter include:
Understand Your Audience
Know your target customer's needs and pain points. How do your services fit into their business or operations? What is the unique value that you deliver?
Leverage Digital Marketing
The vast majority of B2B buying decisions begin with an internet search. Using SEO, PPC, social media marketing, and email marketing increases your online visibility and attracts visitors to your website.
Educational Content
Once on your website, what inspires a visitor to contact your sales team?
Positioning yourself as a thought leader by creating informative blogs, whitepapers, and webinars, builds credibility with prospects. Most B2B buyers will interact with as many as 8 webpages before contacting a sales rep.
Great content keeps visitors interested and more likely to contact your team.
Competitor Research
Attend industry events, webinars, and conferences relevant to your services. Review your key competitors' websites.
During our formal ThinkFirst™ process, our team audits competitors to give you profound insights into how you are positioned in search engine rankings, paid ads, and other digital marketing.
Client Testimonials
Positive reviews and case studies can significantly enhance your credibility or undermine your hard work. Research you current situation across all platforms, especially Google and social media channels your target audience uses.
Discover More
Are You Ready For a Different Kind Of MSP Marketing Agency?
Contact the curious and bold strategists at Valve+Meter to start your process.
Ready to ThinkFirst?
MSP Marketing Services
An In-Depth Guide to Managed Service Marketing
When building your MSP marketing strategy, Valve+Meter may utilize dozens of distinct strategies.
In today's competitive landscape, every managed service provider needs a cutting-edge suite of marketing services to distinguish itself from others and drive business growth.
Each facet of marketing, from lead generation to web services, plays a pivotal role in attracting potential clients and retaining existing ones. Valve+Meter believes in empowering our partners. We act as an extension of your business.
This starts with collaboration and a spirit of transparency. We encourage tactics that work well and adapt campaigns that need improvement. This approach is fundamental to successful MSP marketing strategies.
Valve+Meter's core services designed specifically for MSPs, elucidate how each can accelerate your business's trajectory:
Lead Generation
Every MSP marketing strategy focuses on connecting your experts with people and businesses in need of your services.
Outbound marketing, inbound marketing, and paid advertising can all drive growth with Valve+Meter's comprehensive lead generation strategies.
Every advertisement, outreach campaign, and marketing tactic is meticulously crafted to funnel targeted leads directly to your team, ensuring a steady influx of potential clients.
We don't simply deliver leads to your website or phones, though. We can enhance site performance, run A/B testing, design and write compelling landing pages, and use other performance marketing tactics to boost the conversion of site visitors.
Lead Generation
B2B Cold Calling
Outbound lead generation is one of the most effective marketing efforts for B2B sales.
Cold calling remains a potent tool, especially when reaching out directly to key decision-makers. Our BDRs initiate meaningful conversations, uncovering new opportunities and presenting your MSP services to your key B2B targets.
With a proven strategy, our cold callers set the stage for fruitful engagements for your sales team and greatly reduce the strain on your internal resources.
B2B Cold Calling Services
Sales Appointment Setting
Time is of the essence in sales and fixating on setting meetings can distract your talented personnel.
Streamline your sales cycle and marketing efforts with our professional appointment setters. By securing valuable face-time with prospective clients, we maximize your conversion potential, ensuring that every interaction counts.
Sales Appointment Setting
Lead Nurturing
Part content marketing and outreach, lead nurturing is an invaluable tool for ToFu and MoFu prospects.
A prospect's journey doesn't end with a single interaction, especially when your target audience is a decision maker within a business.
Our team delicately cultivates relationships with potential clients, employing targeted content and personalized interactions. This sustained engagement progressively moves them closer to a decisive purchase action.
Search Engine Optimization
Building an impressive website is one step to successfully launching an effective MSP marketing strategy.
The real challenge lies in making it discoverable. With our search engine optimization techniques, your content gets optimized to ensure both search engines and potential clients can find you easily amidst the vast digital landscape.
When you have on-page, off-page, and technical SEO specialists on your side, new customers in search of specific services or solutions to their pain points will discover your site.
The key advantage of SEO is that high-quality and sustained campaigns can earn multiple leads year-over-year.
SEO
Paid Search
If you cannot earn your way onto the first page of Google search results, then PPC is the next best strategy.
Gain an immediate edge in the digital realm by leveraging the power of pay-per-click marketing campaigns.
With our paid search strategies, your MSP services can prominently feature at the top of sponsored search results, driving targeted traffic to your website.
Effective landing pages guide your distinct buyer personas through the buyer's journey demonstrating your value proposition and encouraging them to take action.
Consistent testing, refinement, and adaptation, a paid search marketing campaign can amplify your return on investment.
PPC Agency
Web Services
Within your MSP marketing campaign, your website is the nexus through which all other tactics connect.
Valve+Meter designs new sites or optimizes your current website with a potent mix of tailored design, robust development, a clear value proposition, and compelling calls to action.
Our web services are designed to generate a steady stream of leads, arming your sales team with potential opportunities.
Web
Email Marketing
The power of personalization is on full display with email marketing.
Our campaigns go beyond generic outreach; they are content-rich, tailored, and resonate with your audience's needs. By prioritizing quality and relevance, we turn leads into loyal customers, fostering long-term relationships.
Email greets new customers and keeps existing customers connected with your brand. With a stable email strategy, your future content marketing, search engine marketing, and, frankly, all other sales and marketing efforts, are easier.
Contact Valve+Meter
Ready to Propel Your MSP to New Heights?
Unlock your MSP's potential with Valve+Meter's bespoke marketing strategies tailor-made for your success.
Request Marketing Analysis