Local SEO Services
Dominate Your Rivals With Local SEO
Prospective customers in your area use Google to find local businesses.
Local SEO focuses on content, site structure, and link building to capture more qualified leads in the market you serve.
Valve+Meter uses data-driven and analytic tools to pinpoint a custom strategy to power your website to the top of search results.
Earn More Local Customers >
Search Rankings Facts
Why Does Local SEO Matter?
Nearly half of all businesses are local.
So why do most web design and marketing companies focus on nationwide audiences?
At Valve+Meter, we get granular, using cutting-edge tools to focus on the search results within your backyard.
Earning the right website traffic from within your local area is key to growth.
Google Search Results
46%
Nearly half of all Google Search results are local.
Mobile Local
89%
89% of mobile users search for local businesses once a week.
Comprehensive Local SEO Services
Find the Right Local SEO Strategy to Drive Your Growth
Tired of hoping your marketing budget will get results?
Your potential customers look for local businesses.
Valve+Meter builds custom strategies driven by analysis, guided by data, and optimized by measured results.
From our local SEO audits to complete campaign strategies, Valve+Meter's local SEO empowers your success.
You gain great insight into the value of your marketing and how your business works.
Ready To Win Local Search?
Your Search Ends Here
If your business struggles to attract new customers in your city and region, then let's talk.
Valve+Meter helps hundreds of businesses across home services, professional services, retail, dining, and more, earn higher rankings in Google.
Our local SEO strategies go far beyond winning clicks and website traffic. Contact our team to optimize every element of your website.
Let's Talk Local SEO
How Local SEO Works
Open Your Business to More Customers
In highly competitive industries and markets, earning higher search engine rankings is key to staying in business.
Gaining control over your marketing expenses and using data to guide your actions enables true growth in business.
Valve+Meter practices Math Before Marketing™ to create the most effective strategy for your specific situation.
Your business thrives by measuring marketing efforts, repeating the most successful campaigns, and scaling strategy as your sales and operations grow.
By analyzing your current situation and defining your vision, Math Before Marketing™ applies research and planning before implementing any marketing expense.
Our primary tool is ThinkFirst™, an extensive analysis of your entire business, local marketplace, key competitors, and a full array of strategies to help reach your target audience and convert leads.
Your local business is unique. Don't settle for ordinary marketing.
Discover how Valve+Meter can design customized local SEO campaigns to suit your exact market and maximize the value of marketing. While other marketing strategies cast a broad net, our local SEO experts research your business and your local market to help dominate local search results.
Situational Analysis

Research and Planning

Local SEO Campaign

Measure, Repeat, Scale


Situational Analysis
There are so many factors that impact SEO. Search engines like Google crawl your website content, site structure, and the rest of the internet to understand what products and services you offer and who you serve.
What if you use the wrong tool?
Companies that offer off-the-shelf, one-size-fits-all products are not focused on your long-term growth.  
Valve+Meter truly understands local SEO and how local businesses grow. Our process starts by diagnosing your current situation. While Math Before Marketing™ relies on data, the heart of Valve+Meter relies on curiosity and active listening.
What are you doing right?
What are your challenges and threats?
What is your vision for your local business?
Your business may not need every local SEO strategy. Because Valve+Meter has a full arsenal of local SEO solutions, we are able to use the right tool for your exact needs.
Our ThinkFirst™ discovery workshop delves deep into your business and gathers the resources to analyze and build the ideal local SEO campaign for you.  

Research and Planning
There is potential hidden in every local business. Finding your specific potential demands a custom approach.
Valve+Meter uses research and planning during ThinkFirst™ to pinpoint the best opportunities for transformational growth.
Your business structure is like a flywheel. Sales, operations, and finance rest at three cardinals. Exceptional local SEO placed at the fourth cardinal can release kinetic energy and propel your flywheel forward.
Once the potential energy within your sales team and operations is released, the angular momentum of your flywheel accelerates and your vision becomes a reality. 
In digital marketing, Valve+Meter accesses data to eliminate resistance so your flywheel spins without friction.
To assemble your customized local SEO strategy, Valve+Meter local SEO experts include:
Local SEO Strategists who specialize in your industry, target demographics, and the latest tools to earn better local search results.
Data Analysts who integrate your systems to provide insights from the moment a lead originates through the sales process. Attributable marketing is a key to accelerating your growth.
Content Creators, Designers, and Web Developers to study your brand identity, amplify your authentic message, and make lasting connections with your audience to maximize conversion rates.
Our proven process builds a clear strategy customized by a team of subject matter experts. With our diverse and talented team, you gain clarity into the ideal tools you need to accelerate your flywheel.
Local SEO Campaign
During your ThinkFirst™ presentation, Valve+Meter delivers a comprehensive SEO strategy backed by Math Before Marketing™ and designed for your specific needs and goals.
Your local SEO campaign is executed by a dedicated team working as an extension of your business. The core principals at Valve+Meter act to serve and transform our clients' expectations of marketing.
Your local SEO campaign includes:
An Account Manager: Provides a single point-of-contact for your business. Building a relationship with a dedicated account manager builds confidence and trust. Regularly scheduled meetings ensure you have consistent communication and clear reporting on your local SEO performance.
Content Writers: Capture your distinct brand voice across all of your web pages, blogs, and other digital marketing. Valve+Meter's professional writers specialize in content marketing and local search engine optimization to improve your web pages and create fresh content for local SEO.
Web Designers and Developers: Ensure your website design and performance are optimized. The goal of local SEO campaigns is not just increased website traffic. Valve+Meter's conversion rate optimization (CRO) services ensure new leads convert into sales.
As a local SEO company based in Indianapolis, Valve+Meter has an in-house team of skilled content writers, web designers, developers, and other subject matter experts to focus intently on your campaign.
Throughout your local SEO campaign, we use local keyword research including AI and machine learning to build the most-effective structure.
Analytics continue to show that the most-effective local SEO content is people-focused content.
All local search engine optimization content is generated in-house. A dedicated content writer will work closely with your business to understand your brand, products, services, and audience. You will have peace of mind knowing that our content will meet your needs and will be constantly analyzed for performance across all search engines.

Measure, Repeat, Scale
There is no single strategy to outrank your rivals. Local SEO constantly changes.
Search engine algorithms update frequently.
Marketplace competition increases.
Customer behavior and new technology influence local search rankings.
Valve+Meter monitors your campaign performance through analytics and proprietary local SEO tools. Our data analysts focus on leading indicators, so you can proactively adjust and plan ahead of trends.
With data guiding your decisions, your local SEO campaign can repeat the tactics that are working well, optimize efforts that need improvement, and scale strategies as your business grows.
At Valve+Meter, our process does simply earn better organic search results, we provide a new perspective on how marketing works for you.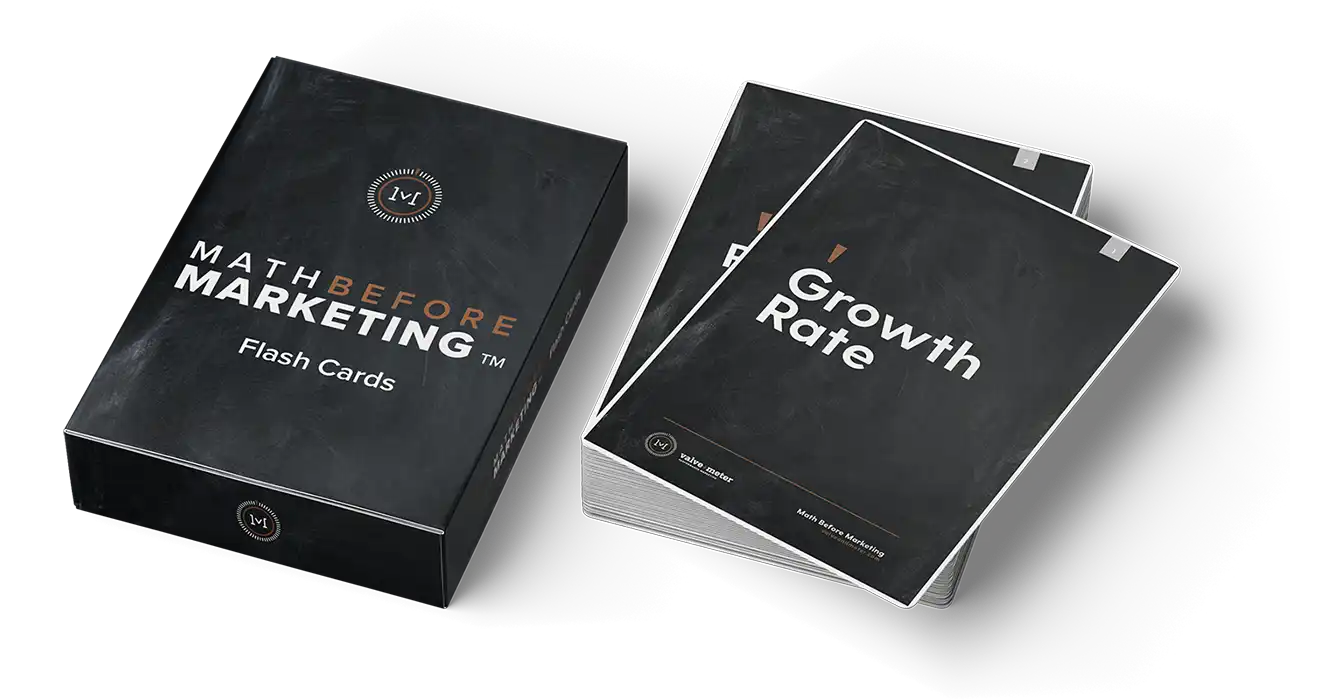 Free Download
Never Waste Another Marketing Dollar Again
At Valve+Meter, we hold a core belief that your financial growth and goals should determine your marketing investment. Learn how to determine your Growth Rate, Profitability and more with our Math Before Marketing Flash Cards.
Frequency
58%
More than 58% of users perform a local search daily.
Time
24 Hours
Nearly 75% of those users will visit a local business within 24 hours.
Distance
5 Miles
72% of users visit a local business within 5 miles of their search.
Our Local SEO Tools
Empower Your Business With Our Custom SEO
In a digital age, people expect to find businesses online and quickly make a decision on what business to visit or contact. Our local SEO tools verify your website is optimized to rank in Google on all devices and convert leads quickly.
Your business depends on building relationships with your local customers. Valve+Meter understands how to reach prospective customers with local SEO and provide meaningful content that converts leads into sales.
Your business has the potential for transformational growth. Gain momentum with Valve+Meter's expertise.
We capitalize on local SEO ranking factors and pinpoint the ideal local SEO solutions to propel your flywheel. With our extensive suite of tools, our strategists release the stored potential in your business and turn angular momentum into great sales, operations, and ultimately increased revenue.
Explore the local SEO tools our team uses to release the flywheel in your business:
All local SEO packages from Valve+Meter Performance Marketing include an SEO audit. Our local SEO audit is a comprehensive review of your current website, marketing platforms, reputation management, and your additional local SEO situation.
Your local SEO audit identifies areas for improvement in local search engine rankings, including on-page, off-page, and technical SEO improvements.
Earning better search results relies on optimal website structure, filling content gaps, keywords, inbound links, internal links, meta descriptions, off-site citations, and other factors.
Local SEO packages may include a thorough keyword audit.
Local keyword research helps identify the specific keywords and phrases used in your local market. The vernacular of regions across the country varies wildly in service industries. 
A local keyword audit helps your business optimize web pages using the phrases your target audience uses instead of generic words. This has a significant impact on local rankings and overall search engine visibility.
Local SEO services include optimizing existing pages on your website. Optimizing content for local search engine rankings includes applying best practices across the content, combined with keyword research.
Local search engine optimization specialists use optimization to quickly help your site rank in search engines for your most-vital pages.
If your website was designed by graphic designers or another digital marketing agency, it may have issues that can be improved. Some of the most-common fixes for on-page local SEO involve optimizing website structure, headings, titles, and meta tags to include local keywords.
Web developers work within our local SEO services team to improve page load times and ensure mobile responsiveness. Search results and overall organic traffic to your existing web pages can be improved with affordable local SEO services.
The user experience is key to local SEO. Technical SEO considers key factors like site speed, broken links, and other site errors.
Improving these elements has a positive impact on your user experience and search engine performance. Lower bounce rates, increased page views per user, and average session per user help vault your webpages onto page 1.
Our team monitors your site performance and fixes any errors that can impede your success.
Your dedicated local SEO specialist works to acquire inbound links from high-authority websites.
As a local SEO marketing company, Valve+Meter views link building as an essential progression of content marketing. Creating high-quality, relevant content earns the attention and recognition of other websites. 
Local link building includes sharing content with other businesses and media groups in your market. Inbound links from these sources to your website signal to search engines that your website is credible and relevant.
This is the process of optimizing your Google My Business profile to improve local search engine rankings and attract more local customers.
Formerly known as Google My Business, your Google Business Profile (GBP) is often the first impression potential customers form about your organization.
Valve+Meter's local SEO services specialize in GBP optimization, including adding accurate and relevant information to your profile. Additional optimization methods include adding high-quality images, product and service information, responding to customer reviews, and creating posts. GBP is one of the most-powerful local citations on the internet today. 
Our local SEO packages include a regular cadence of posts, images, and engagement with potential customers.
Just like with Google My Business, a strong GBP is vital to how your business appears in Google's local pack. Google Maps and map pack results frequently appear in search results, especially as more users search local businesses on mobile devices.
One of the most important elements for local business SEO is review management. Valve+Meter works to help you earn, monitor, and respond to online reviews. Local rankings in Google Maps and other directories can be improved by a high-number of positive reviews. 
Review management for local SEO creates a strategy to respond to positive and negative reviews, address customer inquiries, and improve your overall online reputation.
Organic traffic comes from many channels beyond search. The best local SEO company will consider social media, including Facebook, Instagram, LinkedIn, YouTube, and other platforms, as sources for potential new customers. 
Beyond review management on Google, the process of managing your business's online reputation ensures your audience and search engines view the business in a positive light. Reputation management involves monitoring online directories, review sites, and social media, and promoting positive customer experiences.
Online directories, partner websites, and even your channels need to be monitored consistently for accurate information.
The process of managing your business's name, address, and phone number (NAP) across all online platforms and directories is known as citation management. Local citations must be true and accurate so your customers can find your phone, address, URL, social platforms, and other essential contact information.
Local SEO solutions from Valve+Meter use automation to ensure your online visibility is accurate in real time. As well as helping potential customers find your business, local citation management ensures your business' NAP is consistent and accurate, which improves local search engine rankings.
Our performance in local SEO services is driven by data. The goal of local SEO goes beyond increasing search results and website traffic.
Conversion rate optimization (CRO) is the ultimate goal. This process improves the percentage of website visitors who take a desired action. Local search optimization increases leads who make a purchase, visit your business, or fill out a form.
Valve+Meter's conversion rate optimization services involve testing and optimizing various elements of your website, such as layout, content, and calls-to-action, to improve the likelihood of conversion. 
By targeting local consumers, local SEO can increase your return on investment (ROI) or, more specifically, return on marketing spend (ROMS). CRO accounts for the sources of leads and helps to scale the most-effective marketing strategies.
Our in-house technical SEO experts utilize the best local SEO tools to increase your online visibility. Our professionals specialize in identifying the best structure, including location-based keywords within your URL, meta description, and page titles. 
Local optimization includes strengthening click-through rate, internal and inbound link building, and overall user experience (UI/UX) across your website.
Contact Valve+Meter to Improve Your Company's Local SEO
Great leaders never settle for simple solutions.
Valve+Meter's ThinkFirst™ embraces your ambition and designs local SEO services for your unique needs.
When you contact Valve+Meter for a free analysis, you will access a team of digital marketing experts who track our efforts, analyze our results, and place you in control of how your business grows. 
How Can We Help You Grow?
Local Search
1 : 4
Users click the first result in local search results 24% of the time.
Mobile Friendly
76%
76% of people who search on mobile devices visit a nearby business within 24 hours.
FAQs for Local SEO Services
When to Hire a Local SEO Service Provider
For most businesses, the time, expertise, and cost of building an internal marketing team impede local SEO efforts. Consulting with Valve+Meter expedites your local SEO campaign and helps your local services and products flourish faster. 
Local SEO is an effective strategy for businesses and organizations to reach search engine users within a specific geographic location.
Google dominates online searches with more than 87% market share. Bing, as well as social media, are considered channels to capture organic traffic.
Local SEO is beneficial for any local business that provides products or services in a specific area. This includes many small to medium-sized businesses such as home services, brick-and-mortar retail, hospitality, and entertainment. Local SEO is also beneficial for professional services providers, including lawyers, accountants, financial advisors, and medical professionals.
Traditional SEO is far broader in the scope of the target audience. Local SEO focuses on an audience within a specific geographic location.
Traditional SEO designs content and websites for search engines on a national or global scale. It involves using keywords, creating high-quality content, building backlinks, and improving website structure to improve search engine rankings.
Local SEO uses the same key elements, but adds optimization techniques on a local scale. This involves using keywords and phrases that are specific to a particular geographic location, such as a city, state, or region.
Local SEO also involves optimizing the website for local search directories and managing local online reputation through popular social media platforms and Google Business Profile.
Some other key differences between traditional SEO and local SEO are:
Target audience: Traditional SEO targets a broad audience, while local SEO researches the preferences, tendencies, and local keywords of a specific geographic area.
Search intent: Local SEO focuses on location-specific search queries. This helps improve the volume of qualified leads and typically improves sales processes.
Competition: Traditional SEO tends to be more competitive for general search terms, as businesses compete on a national or global level. Local SEO tends to be less competitive, as businesses compete on a smaller scale.
Search engine algorithms: Google's algorithm accounts for the location of users, especially in local searches. Local SEO strategy signals Google and other algorithms about your location or distance from people searching.
Google's PageRank algorithm and other search engine algorithms are constantly adapting and improving. The most-valuable factor for all searches is the quality of content.
There are 5 key ranking factors that Valve+Meter focuses on for best local SEO services:
Domain Credibility: There are a number of terms for the credibility or authority of your website. For local SEO, your website should consider relevance, distance, and prominence. Relevance refers to your content, including titles and writing. Distance clearly defines where you offer your products and services. Prominence requires scaling your content throughout your website and all other available channels. Clearly stating what you do and where you do it, and amplifying this message improves your domain credibility. In the simplest terms, the algorithm rewards the most trustworthy sources.
Click Through Rate (CTR): This metric measures the percentage of clicks that a particular page receives compared to the number of impressions (views) it receives. Click-through rate, average time on page, number of sessions, and other analytics signal how people interact with your website. Click through rate is commonly used to evaluate the effectiveness of individual pages on your website. A strong local SEO strategy is often reflected in improved CTR.
Keywords: On-page optimization, content marketing, and research identify the specific words or phrases that people use to search for information online. Keywords are an important part of search engine optimization (SEO), especially in reaching your target audience in specific geographic locations.
Link Strategy: The structure of your website is vital to helping crawlers understand the most-important content on your website. Creating a link strategy builds an intentional network of internal links to the highest-quality content on your website. This helps increase the search visibility of these pages. Earning inbound links from other websites helps to improve search engine rankings and drive more traffic to your site.
User Interface (UI/UX): User interface refers to the visual and interactive components of your website. Good UI creates a positive user experience (UX) and helps users and search crawlers find the relevant information they need.
A local SEO strategy is useful for any business that has a physical location and wants to attract customers from its surrounding area.
Local businesses that do not serve customers from a brick-and-mortar business, like home services businesses, also benefit from local SEO services.
Here are some types of businesses that can benefit from a local SEO strategy:
Brick-and-mortar businesses: Local SEO is especially important for businesses that have a physical location and need local consumers to grow revenue. Restaurants, retail stores, and service-based businesses like gyms, salons, and spas are just a few examples. These local businesses need to be easily found by customers who are searching for products or services in their local area.
Service area businesses: Many B2B businesses and home services businesses, like plumbing companies or electricians, provide services to customers at their location rather than having a physical storefront. These businesses can also benefit from a local SEO strategy to ensure they appear in local search results.
Professional services: Lawyers, financial services, and other professional services can benefit from local SEO to attract clients from their local area. These businesses can use local SEO to highlight their expertise and attract clients who are looking for services in their specific geographic location.
Events and attractions: Businesses that host events or attractions, such as hotels, parks, museums, and theaters, can use local SEO to attract visitors from their surrounding area.
Ready For Expert Local SEO?
Contact Valve+Meter for Complete Local SEO Services
If you still have questions about local SEO, let's have a conversation.
Valve+Meter offers a free local SEO assessment that includes an introductory call and a thorough review of your current performance within local search rankings.
Ready to Earn Local SEO Results?
Building Own Local Search Engine Optimization (SEO) Strategy
Not Ready For Professional Marketing?
Local search engine optimization is a complex practice. For some businesses, there are ways to improve your local SEO on your own. If you are considering building your own marketing strategy, there are a few basic steps to optimizing your local business marketing.
Create a Google Business Profile
Formerly known as Google My Business, creating a Google Business Profile account is essential because it allows Google to verify your business.
Once you claim your business and Google authenticates it, your business may appear in Google local searches.
A Google Business Profile account is free and provides potential customers with useful information about your business, including hours of operation, phone number, address, website, and directions to get there.
Creating a GBP account can even help you show up within the local listings on Google Maps.

Actively managing your Google Business Profile helps users learn more about your business or organization. You should actively post to your account, ask for reviews, manage reviews both positive and negative, and regularly update images of your location.
Audit and Optimize Your Website for Local SEO
This includes the homepage, all primary pages, and especially blog posts. Search engine optimization includes creating content that references the cities, neighborhoods, states, or regions you serve.
Location-specific pages help algorithms and visitors to your website know where you offer products or services.
Research Local Keywords
The heart of strong local search engine optimization is highly relevant keywords. Invest in keyword research software and education to learn how to perform keyword research specific to your business.
 There are free tools with limited capabilities and paid keyword tools available online.
Earn High-Quality Backlinks
Reach out to local sources for backlink opportunities. These include similar businesses, local business organizations, and in-network partners.
This can increase your local presence, brand authority, Google ranking, and strengthen the number of qualified leads, especially if inbound links are from high-traffic websites.
Local Citation Audit and Management
A top priority for any local SEO service provider is citation management. You can perform an audit by searching for your business name, address, phone number, and other information. When you find incorrect information, most directories have a contact form you can use to ask that your listing be revised.
This process can be time-consuming, but the wrong information about your business can be costly. There are a number of online services that can help with citation management for a fee.
Ongoing Training for Your Marketing Team
Local search engine optimization is always adapting. As algorithm updates occur, local SEO strategies evolve. Equipping your internal team with ongoing training help your business stay ahead of competitors.