Google Local Services Ads
Maximize Your Local Reach With LSA Advertising
Use Google's platform to reach local customers within your service or storefront.
Valve+Meter's experts transform the value and effectiveness of your ads with Google Local Services Ads.
Talk to Our Experts >
The Challenge of Marketing Your Local Business
Does Your Local Business Get Lost in the Crowd?
For the vast majority of small businesses, the greatest challenge in growing your business is reaching qualified leads.
This pain point is multiplied by the vast number of people who use search engines to find local businesses. More than 97% of all consumers begin searching for local products and services online.
Google Local Services Ads (LSA) delivers a significant advantage for a wide range of local businesses to showcase your offerings in key service areas.
For many home service providers, like HVAC and plumbing, as well as legal services and storefront businesses, your prospective consumers are often within a few miles of your business.
Google helps you reach potential customers and quickly grow the reach of your marketing.
Small Business
99.9%
Small businesses make up 99.9% of all businesses in the United States.
Local Search
46%
Nearly half of all Google searches are looking for local solutions.
Understanding Google Local Services Ads (LSA)
What is Google Local Services?
Google Local Services, commonly abbreviated as GLSA or simply LSA, is an innovative pay-per-click advertising platform tailored for businesses to directly target local audiences.
Instead of just presenting an ad to a generalized audience group, your ad is shown only to customers in a specific location and who are searching for your products or services. This unique feature not only increases the relevancy of connections, it also saves your business from unnecessary advertising costs.
Google Local Services Ads prominently display a number of key differences. Your ad includes a Google Guarantee Badge to instill confidence in your business. Potential customers also see details such as operational hours, ratings, reviews, and direct contact links. This transparent approach boosts your company's credibility and helps stand out in search results, leading to more clicks and, ultimately, more customers.
Valve+Meter Google Local Ads management builds a custom LSA strategy for you. Our strategists not only fine-tune your ads for optimal results but integrate them seamlessly into your broader marketing approach.
Get Local Results
Ready For Higher Quality Leads?
What is Google Local Services Ads Management?
Our Process for Your Google Local Services Ads
No matter your business type, ranking high in Google search results increases your relevance and can quickly improve your website traffic and the number of prospects contacting your business.
As a full-service marketing agency, Valve+Meter helps businesses reach more customers through search engine optimization, PPC advertising, website design and development, and a full array of digital marketing services.
One of the primary strategies to appear at the top of Google results is through Google Local Services Ads management. Like our local SEO strategists, GLS specialists focus on local business. Valve+Meter LSA management includes setting up your business profile, adjusting budgets, completing the verification process, and continually optimizing your ad performance to ensure maximum visibility and return on investment.
With more than 70 types of businesses eligible for Google's local service ads, LSA has quickly grown beyond just home services.
This specialized form of advertising focuses exclusively on connecting local businesses. Businesses eligible for Google's Local Services Ads include home service providers, professional services like law firms, and even storefront businesses like salons and wellness.
Partnering with Valve+Meter for LSA management helps you streamline the approval process, increase your visibility within your service area, and grow your revenue. Our experts allow you to focus on your sales and operations by ensuring your ads are both effective and driving ideal leads ready to buy.
Ready To Grow?
Tailored Strategies for Optimal Local Engagement
Talk to our Google Local Services Ads experts and start driving local leads and maximizing ROI.
Request A Free Consultation
What are the key features of LSA?
How Google Local Services Streamlines Your Business Reach
Valve+Meter helps your business profile flourish with Google Local Services Ads (LSA). These ads offer a number of features that reward top-performing businesses including:

Pay-Per-Lead
Unlike traditional pay-per-click advertising models, with LSA, businesses only pay when a customer gets in touch directly from the ad, such as through a phone call.

Top-of-Search Placement
When LSA listings appear in search results, your local services ads appear at the top, above traditional Google Ads and organic search results.

Google Guarantee Badge
Valve+Meter helps you stand out even more with the Google Guarantee Badge. This badge transfers the trust and confidence consumers have in Google to your business.

Review Integration
LSA listings prominently display your business' Google reviews and overall star rating. Valve+Meter offers reputation management to build the volume and quality of Google reviews on your profile and LSA ads.

Business Verification
Google conducts background and licensing checks for service providers to become eligible for LSA. Valve+Meter assists in legitimizing your business.

Service Areas
Your business can specify the geographic areas you serve. Valve+Meter makes certain you only appear in the searches relevant to your exact area.

Budget Flexibility
Valve+Meter adjusts your budgets according to your workflow. We can turn up the frequency to increase the number of leads or reduce ad spend when your operations are at capacity.

Direct Contact Options
Customers can call or message your business directly from the LSA listing. For smaller businesses without a lead-generating website, this is a key advantage.

Easy Booking
Some industries allow customers to book an appointment or service directly through the LSA interface. This ensures intent and greatly streamlines your operations.

Real-Time Reporting
Valve+Meter integrates Google's dashboard, which provides insights into ad performance, including leads, bookings, spending, and more into an easy-to-understand report.
Clicks
13.8%
Google Local Services Ads win 13.8% of all clicks in search engine results.
Reviews
51%
More than half of users choose GLS advertisers based on Google reviews.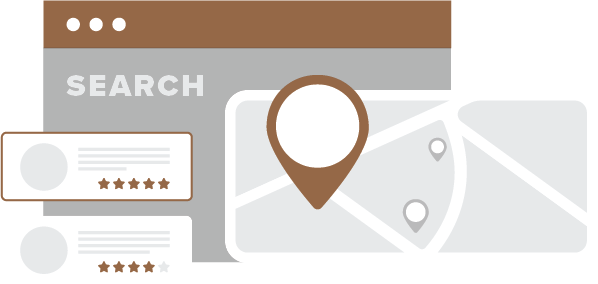 Why Hire LSA Marketing Professionals?
Advantages of Partnering with Valve+Meter for Google Local Services Ads Management
Valve+Meter offers a unique perspective on marketing. We utilize data from the moment you contact our team. Math Before Marketing™ provides you with more clarity into the role of marketing within your business.
In the context of LSA, our goal is not limited to placing your ads at the top of Google Search. Exceptional copywriting, data analysis, and testing propel you past other local rivals and drive your sales and operations forward.
The vast majority of users turn to Google for their search needs. By leveraging Google Local Services Ads with Valve+Meter, we position your business at the pinnacle of search results, capturing the attention of countless potential clients.
Valve+Meter prioritizes your distinct goals. Data helps to find the most effective ads, schedules, and budgets to maximize your return on investment and increase your presence across LSA.
Get Started With LSA
Contact Valve+Meter
Start building your custom Google Local Services strategy with a free consultation.
Maximize Your Growth
What Businesses are Eligible to Use Google Local Ads?
Local Services Ads Supports More Than 70 Types of Businesses
Google Local Services Ads started with home services and now include service areas and storefront businesses. There are categories for home services, professional services, and new verticals that include education and care. Some of the most popular industries include:
 Appliance repair services
 Carpenter
 Carpet cleaner
 Countertop services
 Electrician
 Fencing services
 Flooring services
 Foundations services
 Garage door services
 General contractor
 Handyman
 Home inspector
 Home security services
 Home theater services
 House cleaner
 HVAC services
 Junk removal services
 Landscaper
 Lawn care services
 Locksmith
 Moving services
 Pest control technician
 Plumber
 Pool cleaner
 Pool contractor
 Roofer
 Sewage system services
 Siding services
 Snow removal services
 Tree services
 Water damage services
 Window cleaner
 Window repair services
 Business lawyer
 Contract lawyer
 Criminal lawyer
 Disability lawyer
 Estate lawyer
 Family lawyer
 Immigration lawyer
 IP lawyer
 Labor lawyer
 Litigation lawyer
 Malpractice lawyer
 Personal injury lawyer
 Tax lawyer
 Traffic lawyer
 Real estate agent
 Financial planner
 Bankruptcy lawyer
 Tax specialist
Allergist
 Chiropractor
 Dentist
 Dermatologist
 Dietitian
 Ophthalmologist
 Optometrist
 Orthodontist
 Physical Therapist
 Podiatrist
 Primary care doctor
Beauty school
 Dance instructor
 Driving instructor
 First aid training
 Language instructor
 Massage school
 Preschool
 Tutoring
Animal rescue
 Child care
 Funeral home
 Pet adoption
 Pet boarding
 Pet grooming
 Pet training
 Veterinarian
Acupuncturist
 Personal trainer
 Weight loss center
 Yoga studio
Starting Your Google Local Services Ads Account
Valve+Meter Streamlines Your Service Ads
There are certain service categories and specific steps to register for Google's Local Services Ads. When you team up with Valve+Meter our strategists help you move through the process seamlessly.
Valve+Meter takes time to learn your business and discuss your exact goals for Google's Local Services Ads.
By building a custom strategy, our team is able to precisely target audiences at pivotal moments so your ads appear at just the right time.
Here's a step-by-step guide to leveraging Google Local Services:
1. Building Your Business Profile
We begin with the essential details. Our streamlined setup guides you in listing your business name, defining your services, pinpointing your location, and ensuring your business is verified for maximum reach.
2. Personalize Your Budget
Based on your needs, Valve+Meter personalizes your budget.
While Google's Local Services Ads include a dashboard to manage your budget, scheduling, and optimization, Valve+Meter delivers flawless support.
You will never need to learn the complex features and risk running out of ad spend.
Our experts reduce wasted marketing dollars due to poor budgets and ineffective ads.
Whether you wish to reallocate your budget, pause your campaigns, or make other optimizations, Valve+Meter puts you in complete control.
3. Achieve Verified Status
Google's Local Services Ads include two types of verifications: Google Guaranteed and Google Screened.
For home services, the Google Guaranteed checkmark assures users Google backs your business and services.
For professional services, such as lawyers or wealth management, the Google Screened badge showcases your expertise has been reviewed and endorsed.
Valve+Meter's experts guide your business through the verification process so your LSA ads post quickly.
4. Book Appointments
Connect with customers seamlessly through a number of features. Receive phone calls or message options directly through the ad. Your local service ads don't depend on landing pages and expensive website expansion.
Valve+Meter uses testing and analytics from the moment your ads go live. Our experts provide clear and concise reporting so you get the most out of your marketing budget.
Free Marketing Analysis
Valve+Meter Is A Leading Google Local Services Ads Management Agency
We help home service companies and other businesses book more jobs. Learn more by requesting a marketing analysis below.
Request Marketing Analysis
Quality Leads
50%
People who click on ads are 50% more likely to make a purchase.
Awareness
80%
Online ads increase brand awareness by 80%.
FAQ
Frequently Asked Questions About Google Local Services Ads
Google offers a comprehensive advertising platform that includes search ads, display ads, video ads, and advertising within apps. The full scope of ads can be highly beneficial for businesses that market products or services across the globe or the United States.
LSA is a local services ad program exclusively. For businesses that serve a specific geographic area, local services ads target your audience more precisely.
For many businesses, conventional Google ads and LSA campaigns are highly effective. Key differences and advantages of each type of ads include:
Google Ads:
Scope: Google Ads reach broader audiences across many platforms.
Placement: Search ads appear on the search engine results page, usually at the top or bottom, while display ads can be found on a vast network of partner websites.
Bidding System: Advertisers bid on keywords, and the ad placement depends on the bid amount, ad relevance, and quality score.
Cost Model: Primarily operates on a pay-per-click (PPC) model, where you pay for each click your ad receives.
Targeting: Offers advanced targeting options, including demographics, interests, search behavior, and more.
Verification: While businesses can get a "Google Partner" badge by meeting certain criteria, there's no "Google Guarantee" for services or background checks.
Local Services Ads (LSA):
Scope: LSA is specifically designed for local service businesses, like HVAC, plumbers, electricians, and storefront businesses like law firms, health, and wellness.
Placement: LSAs appear at the very top of the search results, even above traditional Google Ads, usually with the label "Google Guaranteed" or "Google Screened."
Bidding System: There's no keyword bidding. Instead, businesses set a weekly budget, and Google determines the ad placement based on factors like review scores and proximity.
Cost Model: Operates on a pay-per-lead model. Businesses pay when a user contacts them directly through the LSA, not merely for ad clicks.
Targeting: LSA focuses on location-based targeting, matching local businesses with users searching for services in their area.
Verification: To participate, businesses undergo a strict screening process, including background checks and license verification. Those that pass receive a "Google Guaranteed" or "Google Screened" badge, providing additional trust and assurance to potential customers.
In summary, while Google Ads offers a broader advertising platform suitable for various businesses and goals, LSA is specifically tailored for local service providers, offering location-based targeting and added trust through rigorous verification processes.
No, Google's Local Services ads are not free but there is a great value if you provide a local service or products.
You don't pay per click like other search advertising or for views like display ads.
Google Local Services operates on a pay-per-lead model. You only pay when a user contacts you directly through your Google local service ads.
Because your business only pays when a genuine lead is generated through the ad, the return on investment is much higher than other paid advertising. Unlike search engine optimization that can take months to generate search visibility for your local service or products, local service ads get your business onto the top of search results almost immediately.
The cost-per-lead varies based on your industry and the specific region or city where the ad is displayed.
Google's Local Service Ads include the Google Guarantee. To earn the Google Guaranteed badge on your local services ads account, Google must vet and verify your business's background.
After setting up your local services ads account, you will need to follow all the steps to complete the process. The process of completing background checks on your company takes an average of 2-5 weeks. The size of your company and Google's third-party screening partner may affect turnaround time.
From the perspective of consumers, Google Guarantee instills confidence.
From the perspective of a business owner, the Google Guaranteed Program delivers a clear trust signal to potential customers, indicating that your business is legitimate and reputable.
An additional benefit of Google's Local Services ads for buyers includes satisfaction. When booking a service with a Google Guaranteed the work is eligible for reimbursement if work is dissatisfactory.
The Google Guarantee, in essence, provides a warranty to the customer, assuring them that your service will meet a certain standard of quality. If it doesn't, Google may compensate them, which can be a powerful incentive for users to choose a Google Guaranteed business over others.
What are the key benefits for service providers?
Google has quickly become one of the go-to digital advertising platforms for companies looking to convert leads. Some of the benefits include:
High-Quality Leads
Online searchers are looking for the services your company offers, and Google will match them with your company. From your Google Ad, leads can contact your company directly to schedule service.
You're Only Paying For Results
Although Google Ads is a pay-per-click platform, you only pay when a customer gets in touch with you directly from your ad. You don't pay for the click generated by searches who aren't looking for your services, as they get directed to a company that is more relevant to what they're looking for.
Appear On The Top Of Google Search
Everyone uses Google, and if you're not using local services ads to generate new customers, you're missing out. You'll have hundreds more eyes looking at your company when you advertise it on Google Local Search Ads.
Schedule A Booking Immediately
When a searcher clicks on your ad, they can call you directly or send you a message. But if they already like what they see, they can book an appointment directly through your ad.
The Google Guarantee
The Google Guarantee helps set your business apart from your competitors. The guarantee badge will show potential customers that your company is legitimate and trustworthy, among other things, and has the proper credentials and insurance required for that industry.
Provide Searchers With More Information
Although your company's name, address, and contact information are already listed on Google Local Services, customers will also have the opportunity to click on the link to your website. This is beneficial if they're looking for more information about the services your company offers, to view photos or to read your blog.
Highlight Your Company's Rating
Online searchers rely heavily on ratings to make a hiring decision. With these ads, you can display your rating and increase trust. Companies with good ratings are more likely to generate leads.