Keyword Research Services
Uncover the Words That Rank in Search Engines
Are you struggling to rank in Google Search results? The solution may be a better keyword strategy.
Valve+Meter taps into a new stream of content marketing to power your success through analysis, research, and optimization.
Get Your Keyword Research Analysis >
Keyword Research Services
Improve Your SEO Rankings
Better Keyword Research Processes
Apply Data to Your Content Strategy
Your audience is searching for your products or services.
The vast majority of consumers use search engines to discover products, services, and businesses.
Paid search includes the pay-per-click (PPC) Ads that appear at the top of Google search results.
Organic search results are earned. You cannot buy the first position, but with an effective SEO campaign you can outrank your rivals and work your way to the front.
Building a rich tapestry of content on your website signals Google and other search engines that your organization is relevant and credible.
Keyword research services begin with a thorough audit of your current content, competitive analysis, and keyword mapping.
Valve+Meter uses a wide array of tools and techniques to transform your content and your entire website into an SEO-friendly, high-performing lead magnet.
Define Your Project

Research and Planning

Implement Strategy

Tracking and Optimization

Define Your Project
Whether you have an existing website you wish to audit or you are planning a new website project, the first step in keyword research is a discovery process.
Valve+Meter works with you to define your current situation and the goals of your website.
You will quickly realize that we are not a typical marketing company. We believe in building relationships and an SEO strategy that benefits you season after season.
All of our strategies follow our ThinkFirst™ approach. This proven process helps identify your strengths and weaknesses, and find new opportunities to achieve your goals. 
By understanding your organization and goals, our SEO experts are better equipped to execute an effective keyword research campaign.
Research and Planning
Dedicated SEO strategists work diligently on your project. SEO and keyword research demands passion, skill, and experience. We blend the analytically minded precision of our strategists with the creativity of our copywriters, designers, and artists.
Applying our tools and skills, Valve+Meter's team of keyword and SEO specialists maximize the scope, scale, and impact of your content. Our data-driven process enhances your website and helps your great content reach a wider audience.
In the first phase, Valve+Meter keyword research specialists review all pages on your site.
Many website design and marketing companies build websites around core slogans and often minimal content. Our team collects this initial set of seed keywords to serve as the foundation of your SEO strategy. These primary keywords should appear in URLs, page titles, and meta descriptions of your primary service and product pages.
To build authority with search engines and your target audience, your website needs to include supporting pages, such as blogs, case studies, white papers, and subpages. These pages focus on related keywords.
As well as performing a keyword audit, our experts analyze the best keywords to deploy across new content.
A keyword audit then delves deep past these keyword terms into the site architecture of your website. Beyond the volume of keywords on your site, we examine how your keywords are being used.
Every search algorithm updates with greater sophistication. If you are relying on random blogs and sporadic distribution of keywords across your website, then you will lose ground to smarter competitors.
A complete keyword audit examines the relationship of your website pages. Topic grouping, pillar-based page structure, skyscraper content, as well as, hub-and-spoke methods link relevant content through internal linking.
Once your internal forensic audit is complete, our strategists perform online research to find keywords that your target audience is actively searching for. Our keyword research process studies search engine results pages for your primary keywords and all keywords related to your website. Our technology helps to identify keywords and the intent behind these search queries.
Implement Strategy
At the end of the research and planning phase, our SEO services compile a keyword strategy to optimize existing content and implement a content-building strategy to add new keywords to your site.
Backed by empirical evidence and clear reporting, your keyword strategy includes actionable data to drive traffic from the first page of Google to your website.
SEO strategies include a number of techniques to improve on-Page SEO, off-Page SEO, technical SEO, and conversion rate optimization.
Keyword research is an essential component of your broader SEO strategy.
While your long-term goal is unique, the primary impact of our strategy is to attract more organic leads through search results and convert more leads into buyers.
Keyword research and SEO are ongoing strategies.
Because audience behavior changes, algorithms update, and competitors add new content to the internet, your keyword research campaign must adapt and grow.
Data drives strategy, which provides clear reporting on the performance of every action.
With accurate tracking and results, Valve+Meter can optimize, adapt, and scale your SEO strategy to continually improve and earn top results in search engine rankings.
Move the Needle
Let's Apply Math to Your Content?
The internet is filled with billions of voices and businesses crying out to be heard! Amid the din, Valve+Meter uses research to amplify your content marketing and stand out from competitors.
Get Started With Valve+Meter
Keyword Statistics
Understanding Your Audience
The data is clear: People are sophisticated when using search engines. Google is over 20 years old. Nearly 100% of  Millenials and all of Gen Z audiences grew up using Google. Baby Boomers and Gen X audiences have spent much of their professional lives interacting with the internet. Outdated keyword strategies no longer work to attract new audiences and rank on Google.
User Trends
8%
Only 8% of search queries are phrased as questions.
Data-Backed
70%
Long-tail keywords account for more than 70% of search queries.
Why Hire Professional Keyword Research
Valve+Meter SEO Keyword Research Services
Valve+Meter provides complete digital marketing services and a clear data-driven strategy to optimize your website content and build future content campaigns.
Trust our SEO copywriters, designers, and web developers to implement your on-page search engine optimization. This process includes enriching your existing web pages with our keyword strategy and implementing structural changes to your site.
Explore our wide range of services that transform your digital content:
On-Page Optimization
The keyword research process identifies the right keywords to target for individual pages on your site. On-page SEO uses analytical tools to add the given keyword and semantically related phrases to those pages.
Optimization refers to the written content, images, graphics, layout, meta data, and internal link structure of the page. The process includes:
Revise copywriting including headings and page titles to align with keyword mapping.
Optimize service and product pages with targeted transactional and commercial keywords.
Optimize blogs and other content with informational keywords.
Update meta descriptions.
Redirect pages with duplicate content to primary services pages.
Optimize site navigation, menus, and internal link structure to improve user experience.
Identify competitive gaps and keyword strategy opportunities.
Develop a calendar to create new service pages focused on keyword gaps and long-tail keyword opportunities.
SEO Content Audit
For existing content marketing, including blogs, case studies, and thought leadership, auditing the usability of these web pages improves search engine optimization.
Keyword research services analyze the strengths and weaknesses of your existing content. For many websites, blogs lack structure and keyword focus, and often suffer from duplicate content issues.
An SEO content audit organizes your blogs and other digital marketing web pages by topic grouping. Our proprietary analytical processes optimize this content to improve keyword performance. This process includes:
Optimizing on-page keywords on high-performing pages
Optimizing internal link structure between related pages using natural links
Redirecting duplicate content to highest performing pages
Identifying content gaps in content
Developing a calendar to create new content in accordance with keyword planner
SEO Keyword Strategy
Constantly monitoring any shift in ranking after content optimization is key to ongoing success.
Valve+Meter's SEO team performs competitive keyword research with all our partners. Search engine results pages reward fresh content and people-focused websites.
Keyword research tools ensure your web pages are competitive and new content builds relevancy, prominence, and credibility across the internet.
Keywords are just one component of a comprehensive SEO strategy, though.
Often keyword audits and initial SEO optimization is the first step to outranking your competitors and experiencing transformational growth in organic traffic.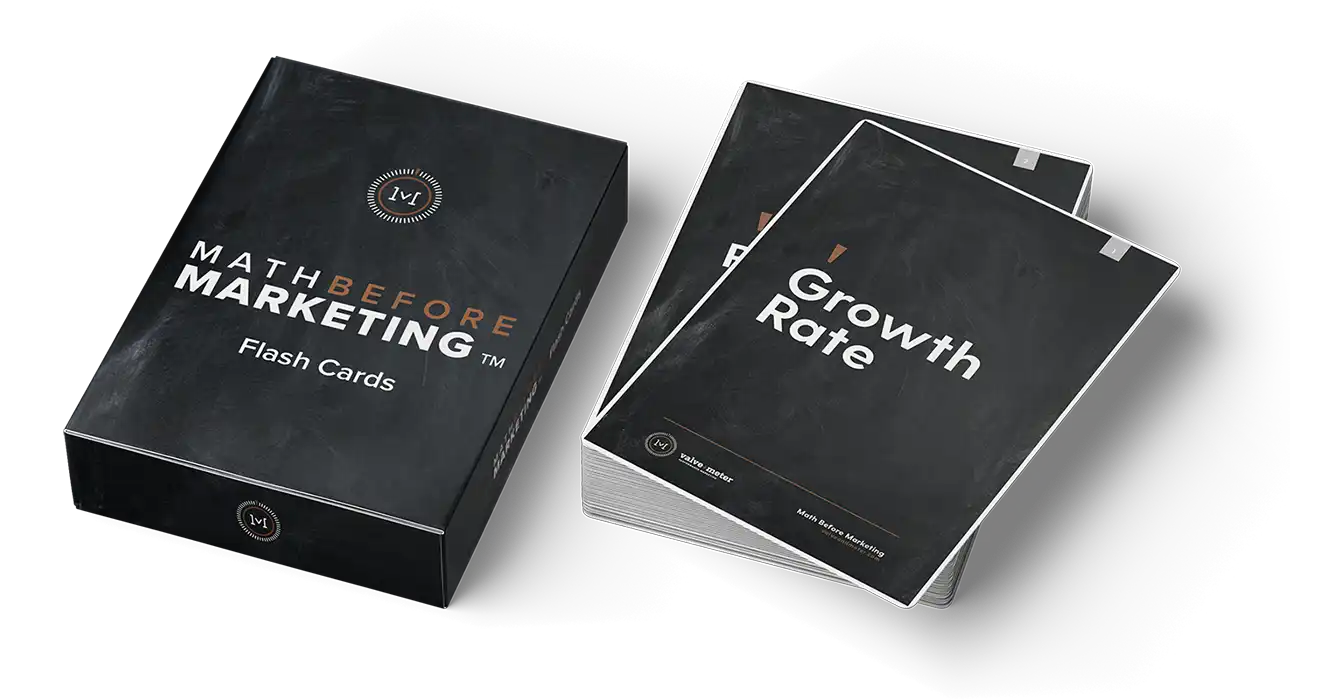 Free Download
Never Waste Another Marketing Dollar Again
At Valve+Meter, we hold a core belief that your financial growth and goals should determine your marketing investment. Learn how to determine your Growth Rate, Profitability and more with our Math Before Marketing Flash Cards.
"We knew who we were but we handed ironed out exactly where we wanted to go. Through the ThinkFirst™ process, we knew this is where we want to go." Brian Peters, Evergreen Heating & Cooling

10:1 Return on Marketing Spend
View Testimonial >
We've literally had a 50% increase in revenue which is astounding. Mike Kenney, RPM Machinery
Earn More Organic Traffic
Why is Keyword Research Essential for Your SEO?
The keyword research process informs all other factors within search engine optimization. Many elements that compose effective copywriting include strong technical SEO, optimal user experience, and dynamic visual design. But the importance of keyword research to earning your share of organic traffic cannot be overstated.
Keywords are the bedrock of all SEO strategies for the following reasons:
Reach your target audience
Keyword tools identify the search terms your prospects are searching in Google. When your content includes these specific keywords, then you are more likely to appear in searches.
Understand User Intent
You may know keywords that have a high monthly search volume but keyword research reveals the search intent. Using the right keywords on the corresponding web pages is vital to conversion rates and optimizing the buyer journey. Using informational keywords on landing pages, case studies, testimonials, and blogs engages prospects early in the sales cycle.
Transactional keywords and commercial keywords are valuable on service and product pages. Using keyword services verifies the intent behind specific keywords.
Improve the Relevance of Your Content
Strategic keyword placement helps increase the visibility of your most important web pages. Topic clusters help drive traffic to pages that feature branded or broad search terms. Our keyword mapping techniques improve Google search results for your overall domain and targeted service pages.
Increase Your Prominence
Stay ahead of competitors with fresh content and new keywords. Keyword research services monitor emerging phrases. Creating keyword lists and corresponding content calendars ensures your relevant content continues to grow and engage qualified traffic.
Earn Greater Credibility
Using a keyword planner to build your SEO campaign enables you to continuously optimize and add informative and engaging content. As your content gains prominence, users are more likely to share your blogs, thought leadership, case studies, white papers, and other content. Increased social shares, inbound links, and website traffic have long-lasting benefits for your credibility and domain authority.
Ready for a New Kind of Content Strategy?
Start Your SEO Keyword Research
Supercharge your rankings with keyword research and SEO strategies to earn Google's attention. Request a free assessment of your content and start improving SEO.
Find Tools to Rank
Frequently Asked Questions
Keyword Research FAQs
Still curious? If you aren't ready for a complete conversation, Valve+Meter answers a number of the most common questions about keyword research and its role in improving your organic search results.
SEO keyword research is the process of identifying and analyzing specific words and phrases to include within your website content.
Keyword research studies statistics on what people seeking your products or services search in Google and other search engines.
The goal of keyword research is to discover the most-effective keywords to include within your website content. As part of search engine optimization, keyword research helps improve search engine rankings and, ultimately, increase revenue from organic website traffic.
SEO keyword research services are extremely complicated but understanding four primary types of keywords helps website owners understand the need for a complete SEO strategy.
Short-tail keywords: General words or short terms. Short-tail keywords have high search volume and unpredictable search intent.
Example: "apple"
This search could refer to the fruit, the brand, or another unknown intent.
Short-tail keywords are highly competitive, dominated by high-authority domains, and largely irrelevant for attracting transactional or commercial users to your website.
Long-tail keywords: More-specific phrases consisting of 3 or more words. Long-tail keywords have a lower search volume and more predictable search intent.
Example: "apple orchards near me"
This search is more clearly defined and provides the intent of users.
Long-tail keywords are less competitive because they are more detailed in search intent. Smaller websites with relevant products or services can rank high for these keyword phrases.
Branded keywords: Includes the brand name or variations of it within the search. The user is searching for a specific brand or company.
LSI keywords: Refers to the relationship between words and their context. Latent Semantic Indexing (LSI) keywords build relevance between a main keyword and closely related terms.
Example: If the main keyword is "apple orchards near me," LSI keywords include "apple picking" or "local apples"
LSI keywords help search engines understand the content's relevance and improve search rankings.
These four primary types of keywords are used within keyword mapping to build an intricate content strategy. Additional keywords including exact match, product, phrase match, and broad match may be used to optimize search results and increase website traffic.
The overall goal of all keyword research strategies is to attract, engage, and convert. Using the most-relevant keywords within your page titles, URLs, meta data, and content is important.
Search engine optimization (SEO) is often used interchangeably with keyword research. There is a clear difference between these two marketing strategies.
SEO encompasses all the factors that comprise ranking in search engine results pages (SERPs), including Google and Bing. SEO techniques, tools, and strategies focus on improving website architecture, images, video, site speed, user experience, link building, and content that contains keywords.
Keywords are a single ranking factor in SEO.
Keyword research is a fundamental component of SEO. What makes keyword research important is aligning website content with the specific words and phrases people use when searching for information online.
Keyword research considers user intent and search volume to place the right keywords on your website. Therefore, SEO experts research keywords as the foundation of on-page optimization. Keyword research services should never substitute for the broader set of SEO practices and techniques.
Keyword research services are an ongoing effort. Fresh content is necessary to stay ahead of competitors and changing trends. Search engine algorithms are influenced by user behavior, competitors, and major updates. Keyword research relies on finding relevant keywords and analyzing trends beyond current search rankings.
In terms of executing a keyword research session, the duration will vary depending on the size of your website, the level of competition, and your industry niche.
For a single webpage, keyword research can be completed within a few hours. Optimizing a smaller website can be completed within a few days. Of course, SEO experts performing research services can identify relevant keywords, analyze monthly search volume, and propose the appropriate keywords to target. Executing a complete content marketing campaign based on this keyword research will take far longer.
For larger websites, a keyword research audit takes several weeks or even months. This is also true of highly competitive markets and industries. An in-depth analysis of keyword variations and search trends relies on proprietary analytical processes. Refining keyword strategies for larger projects includes constructing topic clusters, pillars, blogs, and internal linking strategies.
A complete keyword research strategy plans a structure to maximize the effectiveness of your content over the long term. Valve+Meter's keyword research reduces the risks associated with keyword cannibalization and irrelevant keywords within your SEO content marketing strategy.
With constant diligence and hard work, SEO keyword research updates to your website and maintains competitive visibility in search engine rankings.
There are 9 basic processes within SEO keyword research services. Your exact process is determined by the size of your website and needs of your business.
1. Define your goals
The first step in any strategy is determining the objectives. Before professional experts analyze keywords or use any keyword tools, a plan is created. Is the goal of finding keywords to improve search engine rankings, refresh old content, create new blogs, or target specific audience segments?
The keyword research process begins with answering this question.
2. Identify primary keywords
With your goal in mind, keyword research tools are used to generate a list of initial keywords. These keywords are the most prominent and broad terms relevant to your business, products, or services.
3. Expand keyword list
Keyword data is extracted about long-tail keyword variations, competitive gaps, and the search volume of keywords.
4. Analyze keyword competitiveness
Keyword research tells what terms and phrases are the most-valuable keywords to target. Factors including keyword difficulty and the user intent behind specific keywords should inform your strategy.
5. Refine keyword list
Keywords are prioritized based on relevance and alignment with your goals. Keyword services consider terms that have a strong search volume and identify keywords attainable for your domain authority.
6. Map keywords to website content
Distributing relevant keyword ideas to specific pages ensures each page targets a unique primary keyword and includes related keywords naturally.
7. Optimize existing and plan new content
Keyword research services can optimize on-page elements, such as title tags, meta descriptions, headers, and copywriting. In addition, planning a content calendar to fill gaps in your web pages is vital to ongoing success.
8. Monitor and track performance
Continuously monitor the performance of your keywords in terms of rankings, organic traffic, and conversions. Analytics and keyword tools help to make adjustments as needed based on the data and insights.
9. Adapt and iterate
Keyword research services are most effective as an ongoing process. Experts stay updated with industry trends, user behavior, and search engine algorithm updates. Adding fresh content and reviewing your keyword strategy helps you gain relevance, prominence, and credibility.