MEET THE TEAM
Amanda Buttram
Content Specialist
Role at Valve+Meter
I write and optimize content for our clients to further their SEO goals. From blogs about products to service webpages, content is a piece of the SEO puzzle that ultimately makes companies more visible to their target audiences.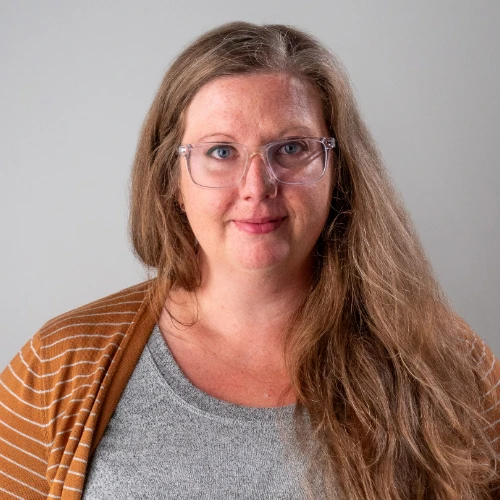 Background and Experience
I hold an AAS in Business Administration and a BS in Marketing Management. I have been in the marketing world for 15 years, primarily working with HVAC and other service contractors. For the past 10 years, I have operated my own business, exclusively consulting on content strategy and writing content. Throughout this time, I have developed a detailed understanding of these industries, their products and services, how these businesses need their content to perform, and how to make that happen.
What makes you unique to excel in your position?
My time running a business and working in our clients' industries brings unique skills to my role. As a business owner, you learn to be adaptable and to make things work – I have experienced the feast and famine times in my own business, which is a common thread that many of  the companies I serve know as well. My background particularly in HVAC is a great asset in what I do – I have worked on all levels of the industry, from industrial suppliers and manufacturers to commercial and residential contractors. I know how their businesses work, how their products work, and I put my knowledge to work when I write.
Interests and hobbies outside of work
You can catch me at the baseball fields spring through fall – North Putnam Youth Baseball League, GO COUGARS! I bowl with my family often, go to many concerts each year, and travel whenever possible. I love to explore new places, whether they are new restaurants around Indy or day trips around the Midwest.
What is one thing that most people don't know about you or would be surprised to learn?
Fun fact: I was a 2002 WGI (Winter Guard International) Percussion World Champion! I was a member of my high school drumline (Avon, IN)  for 3 years, and spent 2 years performing in an independent drumline while going to college. To this day, I am an ardent supporter of the marching arts; I donate to fund opportunities for current members and make it a point to go to shows each year to support the young folks who are coming up in the marching arts today.