MEET THE TEAM
Ben Chappell
Marketing Strategist
Role at Valve+Meter
I'm best known for leading strategy and execution in our email marketing channel. Sounds simple enough, but it touches a lot of parts of the business – content creation, design, automation, lead generation and the list goes on. I've also written and edited copy from time to time, managed accounts, done some other digital marketing things…generally always looking to learn more and contribute where the team needs support.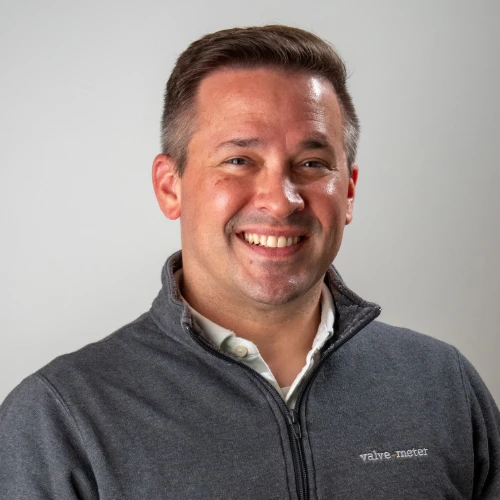 Background and Experience
Joining Valve+Meter was the culmination of a long, long journey back to my academic foundation in marketing. After I completed a bachelor's degree in management from Purdue University, I spent some time as a relationship manager in the financial services sector – not an industry known for its rampant creativity and free thinking. I freshened up my skills to pivot myself back into marketing, and here I am. I also earned an MBA from Butler University along the way, which helps me to think about business in a broader, more multi-dimensional way.
What makes you unique to excel in your position?
Email marketing takes a certain degree of perfectionism. It's important for a campaign to look good, but it's also got to work – technically (no typos, no dead links) and tactically (subscribers engage with it, we can measure and report its performance). I'm the type who sweats the details, so I'm a good fit for a channel that requires some meticulousness. That said, I'm also able to lift myself above the details and appreciate how the work I'm doing fits into the broader business picture.
Interests and hobbies outside of work
I've volunteered for my neighborhood's economic development organization, and I'm a member of the Indy chapter of the American Marketing Association. I also love to travel, and everyone in the office will tell you I'm especially a fan of the cruise.
If you won the lottery tomorrow, what is the first thing you would spend money on?
An Uber ride to the airport. Everything after that is a closely guarded secret. Shhh.