MEET THE TEAM
Dallas Carter
SEO Content Specialist
Role at Valve+Meter
As a content specialist at Valve+Meter, I have an extremely hands-on role that requires me to get to know our clients on a deeper level. I'm fiercely curious and communicative, so the highlight of my day is when I'm able to conduct subject matter interviews that enable me to produce stronger, more intentional content across a variety of industries and subjects. In the day-to-day, you'll find me conducting research, writing copy for webpages, and collaborating with other departments to ensure our deliverables are in the best shape possible to meet our clients' growth goals.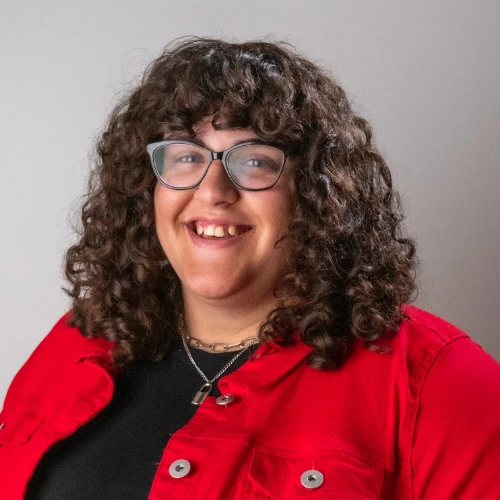 Background and Experience
My background is in print journalism, script writing, and multimedia production. With a variety of writing styles and industries under my belt, I enjoy the opportunity to create content that bridges diverse tones and voices. Communicating with new people and working in a collaborative environment is my bread and butter.
What makes you unique to excel in your position?
As a newcomer to the SEO/Marketing world, I bring new perspectives to our strategies and processes that help facilitate the continued growth and improvement of our services so we always stay ahead of industry curves. I also have a knack for interpersonal communication thanks to my years of experience conducting interviews with business owners for local print magazines.
Interests and hobbies outside of work
I'm a cat mom, a music lover, and a general adventurer. When I'm not traveling out of Indy, exploring a new city, or visiting a favorite getaway spot, I'm out searching for my next favorite cocktail at local bars or browsing the racks of Indy's locally owned bookstore and record shops. My free time is normally consumed by writing creative stories and taking part in DIY arts and crafts.
What is your dream travel destination and why?
I've been lucky enough to travel to quite a few amazing places, so this question is hard! But I think the top of my list is currently Greece or somewhere similar. I'd love to experience a trip where I can both relax on picturesque beaches and satisfy my minor (Percy-Jackson-driven) obsession with Greek history and mythology.