Are your B2B lead nurturing strategies in need of a reboot?
Many B2B sales and marketing leaders bang their heads against a wall trying to find the secret sauce to improving lead quality and their lead generation program.
Let's face it, there's nothing like seeing your online marketing efforts pay off when leads roll into your company.
The typical B2B sales cycle is long, and it took a lot of hard work to get to this point.
Now you've got to make sure those leads turn into something solid for your sales team.
You don't want to see a prime opportunity slip away due to mishandling or poor B2B lead nurturing.
Aligned B2B sales and marketing teams understand the importance and urgency of taking care of leads coming into your business.
To help you take care of a leaky sales funnel, we've come up with a handful of B2B lead nurturing strategies designed to help you manage your leads and turn them into viable conversions for sales.
This list of seven best practices for B2B lead nurturing should help your marketing team narrow down the most promising leads for your sales team.
1. Categorize Your Leads
Different leads require their own level of lead nurturing — depending on the audience.
The standard approach categorizes leads based on the traditional B2B sales funnel.
From here you can work to further break them down into personas depending on the lead type.
Here's how you could break leads down in your B2B lead nurturing strategies: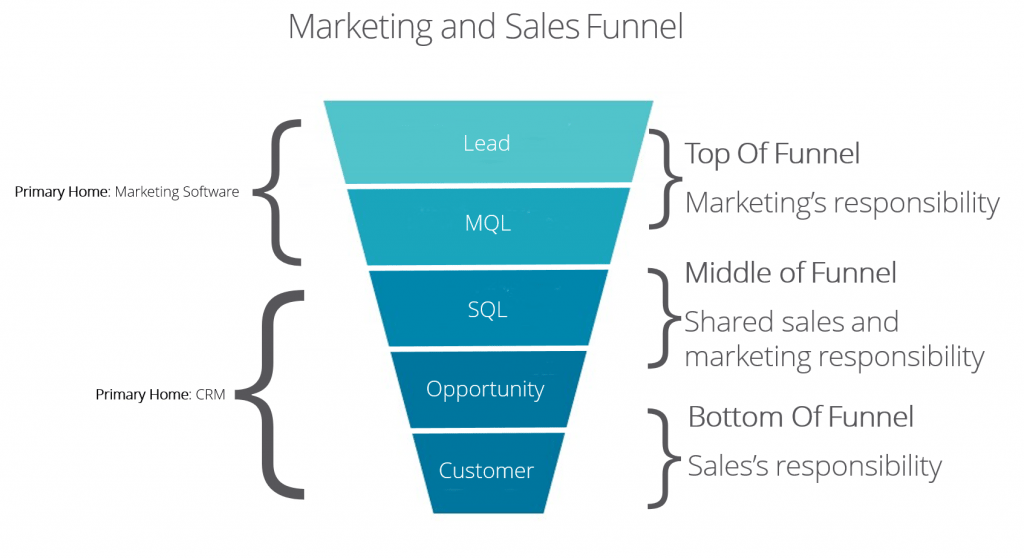 Non-Qualified Leads
You've got a little knowledge about these leads, and still need to do more legwork in determining the available purchasing potential.
There may be little more than an email address to work with.
It'll take more effort to determine if they should be moved down the funnel.
These can be the trickiest to manage.
Try including them in emails nudging them to specific actions to gauge their actual level of interest.
Be careful not to overwhelm them to the point where they unsubscribe.
Action Qualified Leads
Group these B2B leads by the action taken when engaging with your business.
They could have visited your website or responded to a lead gen email you sent.
Maybe they downloaded one of your pamphlets for more information about your services.
Did they download a pricing guide?
Were they seeking more direct contact by filling out a form with a phone number?
Use the action they took as a guide to tailor your next contact efforts.
Marketing Qualified Leads
These leads show some real promise in being converted to a solid sales opportunity and need a little more work to hammer out the fine details.
They may show interest but haven't given you a timeframe or a price point they're interested in.
You'll want to provide them with more detailed information about updates to your products or specials that might be in the works.
Encourage them by offering them an exclusive if they take some action in the near future.
Sales Qualified Leads
These leads should be ready for direct engagement by a salesperson.
They're encouraging you to provide more detail about what interests them.
Sales Accepted Leads
At this point you should be having active conversations with your lead, setting up further discussions, and working on meeting their final goal.
Tony Zambito, a pioneer in buyer persona development and customer insights, feels businesses need to be adaptable to the changing market brought about by the expansion of digital marketing.
Valve+Meter keeps this in mind when helping customers find the right way to pursue leads brought in by their marketing efforts.
Start attracting more customers to your business.
2. Refine Your Lead Nurturing Approach With Scoring
Lead scoring methodology assigns a rating to the action taken by users when providing you with contact information.
Not all contacts are equal, so decide which items should gain a higher point value.
The score value tells you where your B2B lead nurturing strategies would be most effective.
Some Actions to Base Scoring On:
Requests for product demos

Lingering on certain web page sections

Voluntarily following your social media accounts

Continued interest in your products or services
Keep in mind, scores won't remain static.
Something with a high score today may be lower a week from now.
It's best not to let too much time pass once an action is first taken.
This practice helps to establish goals between the sales and marketing team.
Define what steps to take once you've categorized your lead and assigned it a score.
Doing so helps keep them from going cold and losing out on an opportunity to make a profit.
3. Use Email Automation To Your Advantage
One way to prevent leads from going cold is using some sort of email marketing automation.
They help you do things like automatic email generation or notifying you when you've received a positive contact from a lead.
Automation isn't meant to take the place of live human interaction.
All B2B lead nurturing strategies require a human element.
You can use email marketing as a way to keep your leads fresh and not let your lead nurturing efforts go to waste because the sales team is overwhelmed.
Look for applications letting you schedule social media updates or let salespeople know when a lead is expecting a call from them.
Use these applications to track demo or personal consultation requests as well.
4. Listen And Learn From Feedback
Nothing replaces the experience of engaging with your leads and gaining insight into what they're expecting.
You'll learn to recognize when they need more encouragement in certain areas.
B2B lead nurturing teaches you how to turn reluctance into a solid sale leaving your potential customer comfortable with their decision.
The goal is keeping customers coming back and making them feel positive about their interactions with your company.
5. Work To Solve Your Lead's Problems
Lead nurturing often involves seeking out information to help your customers come to a decision.
It could be finding information about the eco-friendliness of a product.
It could be passing on the weather report in a potential vacation place of interest.
Be willing and be patient.
Find information answering any current or future questions your lead might present to you.
Make sure your B2B lead nurturing strategies include some sort of follow up engagement if the first efforts fall short due to timing or budget restraints.
Let them know you're willing to work with them to get what they need.
6. Encourage Action From Leads
Keep your B2B leads informed of future specials and other trends in their area of interest.
Encourage them to consider other offers or products you offer in line with this information.
If your lead nurturing leads to clues showing interest in a particular direction, make sure you provide information letting them know how they'd benefit by taking action.
Don't be too heavy-handed.
Nothing turns off a potential sale like being too pushy or making leads feel like they're being pressured into making a decision.
If they miss a window, keep them aware when the next one comes around.
7. Constantly Re-Evaluate Your B2B Lead Nurturing Best Practices
Don't fall into the trap of relying on old techniques fading in effectiveness.
Take periodic breaks and review the lead nurturing strategies implemented in your lead nurturing efforts.
What seems to work most consistently?
Where are you losing out when it comes to moving leads to solid sales?
What opportunities could you be overlooking?
Measurements you should be including in your evaluation include:
The number of leads coming in during a specific time period

The type of actions you're taking for each lead

How long you're taking to respond

The success or failure rate of different tactics used with lead personas

How many leads from different categories become an actual purchase
Put B2B Lead Nurturing Strategies to Work This Year
A successful marketing strategy improves lead quality through experimentation and new ideas.
The definition of insanity is performing the same process over and over again expecting different results.
Keep your lead nurturing strategies fresh for your B2B sales leads.
These B2B lead nurturing ideas can lead to a higher conversion rate with the contact you already have in your sales funnel.
At Valve+Meter, we understands how to help business partners work through the process of lead nurturing. See below and let's discuss how we can help you.
Get more return on your marketing spend.