Business Development Representatives (BDRs) play a crucial role for sales teams. While sales reps focus on closing deals, BDRs are the tip of the spear prospecting for leads, nurturing prospects, and managing the sales pipeline. We all know that any healthy business should have a steady stream of qualified leads coming through your pipeline. A top performing salesperson helps to keep the lights on but a highly skilled BDR team is the engine that drives new growth through the sales development process.
BDRs are capable of initiating the sales process by generating leads, qualifying prospects, and nurturing relationships with potential customers. These sales prospecting processes include networking, cold calling, sales appointments, and many more nuanced layers. Especially in business-to-business (B2B) marketing, outbound marketing can be challenging. Whereas in business to consumer sales, there is typically a clear avenue to attract and engage leads, in B2B marketing, BDRs are a powerful source of reaching key decision makers within your ideal target market. However, hiring and managing a team of BDRs might be cost-prohibitive and time-consuming. Especially, if you are running a start-up or smaller business.
Outsourced sales is vastly different from outsourced BDR services. When outsourcing lead generation to a BDR, your salesperson stays the same. For instance, businesses come to Valve+Meter Performance Marketing to outsource BDR services as an extension of their sales process. Many business leaders find a surprising answer when Valve+Meter explains how our outsourced BDRs operate on your behalf. Our goal and the goal of any professional outsourced BDRs is to help your business garner the leads you need to reach revenue targets, reduce unnecessary overhead expenses, provide useful market insights, and increase the efficiency and flexibility of your sales team.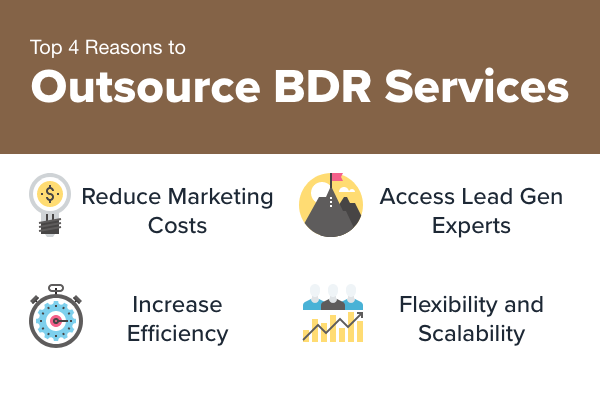 In essence, sales activities do not change but your sales development transforms. Whether you build it or buy it, lead generation works toward the first sale within the buyer's journey. Although inbound marketing argues that every purchase starts with a search, outbound marketing embraces the concept of delivering a value proposition directly to targeted prospects. When you can clearly identify the pain point within a business and demonstrate your solution, prospects will consider your products and services. This initial commitment-when a cold lead moves to the consideration phase of the sales cycle-represents first sale and is the ultimate goal of sales development.
Building your own business development team requires an initial capital investment, finding the talent, consistently reinvesting in resources like training and new tech. These layers can become hindrances and even barriers to growth. For this reason, outsourced BDR services may be advantageous.
Cost Savings
Clearly, the primary reason your business may consider outsourcing your BDR efforts is reducing costs. By outsourcing, businesses can avoid the costs associated with hiring, training, buying equipment, and the ongoing expense of employing lead generation specialists. Personnel costs cut into margin so there are a number of scenarios where building an internal outbound marketing team is not advised:
Startups and emerging markets – If your business is new or young, controlling fixed costs is vital to growth. Outsourcing lead generation allows you to allocate resources into sales, operations, and finance departments.
Small to medium sized businesses – When your sales and operations are small, outsourcing BDR services allows your to scale marketing efforts without reducing your sales and operations teams. Some business leaders try to convert sales reps into a business development representative but these skills often do not exist in the same individual.
You can harm your sales and lose quality personnel by trying to pivot.
New products and services – When you launch a new product or service, you often only need a BDR for a temporary time. Outsourcing lead generation allows you to scale quickly and only for the period of time you need to introduce target markets to your new product or service. After the launch ends, you can return to inbound marketing efforts.
Seasonal businesses – Facing the same challenge as a product launch, many businesses have predictable seasonal peaks. Outsourcing allows you to only spend on marketing efforts during these periods of time.
Outsourcing BDR can also help reduce overhead costs, such as office space, equipment, and technical expenses. Sales reps need essential office equipment like computers, laptops, tablets, and smartphones. Additionally, Customer Relationship Management (CRM) programs that fuel lead generation efforts, a BDR needs training, access to new technology and you must also consider licensing and data fees. With an outsourced BDR team, all of the above costs come off your books.
Access to Expertise of Sales Outsourcing Partner
Outsourcing BDR services to an experienced outreach team like the one we have at Valve+Meter automatically gives you access to specialized and unparalleled sales development knowledge and expertise. Third-party marketing teams are well-versed in lead generation, prospecting, and relationship building. You will also gain access to the latest technology. At Valve+Meter, experienced BDRs execute ongoing improvement to utilize emerging platforms like social media and video marketing to introduce your brand to new audiences. 
Most importantly, professional outbound marketing companies act as an extension of your business. All of the efforts, data, and campaigns belong to you. These marketing tactics extend beyond a single service. Our team can tackle the proactive sales activity of cold calling to augment your business's inbound response demand and complement any holistic account-based marketing strategy. This can help businesses maximize their sales efforts and increase their ROI without having to pay for an internal team.
Increased Efficiency
Outsourcing BDR services can also help to increase efficiency and improve the quality of the leads coming into your business. Valve+Meter's Outreach Team has a streamlined process in place with a consistent management system overlooking the entire operation. As a performance marketing company our goal is to reduce the effort required to generate leads and nurture relationships. Our goal is to hit a target return on marketing spend (ROMS). Our BDRs are able to leverage the latest technology and techniques to ensure that you get the best results for your marketing spend. By measuring data and adapting strategies, outsourcing BDRs continuously improve. Stronger strategies earn more leads for your sales team.
In other words, by increasing efficiency, lead generation services can get you more bites at the apple; increase your overall success rate; and generate more revenue for your inside sales team. Outsourced sales help to maximize the number of leads that are generated and converted into customers. Efficiency also helps to reduce the amount of time and resources that are spent on each lead, allowing the BDR team to focus on the best prospects for your business.
Increased Flexibility
Finally, outsourcing BDR services can provide businesses with increased flexibility. Outsourcing firms are typically able to scale quickly to meet the changing needs of their clients. Additionally, they can often respond quickly to changes in the market or inbound demand. When you partner with the right marketing company, you can also reduce effort or change tactics based on data. Many outbound lead generation accounts at Valve+Meter eventually benefit from paid strategies like pay-per-click (PPC) and inbound marketing including content marketing and search engine optimization (SEO). 
If you want to stay ahead of the competition, you need to be nimble and able to change with market conditions. A BDR team like the one we have at Valve+Meter is constantly plugged into what's happening on the ground and can help you stay ahead of the pack with more leads and sales. Additionally, our team has the ability to be more creative in our approach, which can also help you stand out from the competition and generate more interest in your products and services.
Outsource Your BDR With Valve+Meter Performance Marketing
If you're ready to take your outbound sales development to another level, consider starting a conversation with Valve+Meter today. Our outreach team is equipped with top performers and experts in outbound lead generation best practices, which will immediately save you money that you would have had to spend developing your own inside sales representative, training an in-house sales manager, and other miscellaneous personnel expenses.
Valve+Meter's outbound record is extremely strong, and we are able to efficiently and effectively deliver better results for our clients than the average salesperson. Our outbound team's singular focus on their craft also allows us to adapt to changing conditions better than an in-house sales team and puts our clients ahead of the competition. Please consider reaching out to us to learn more about outsourcing your BDR services.