PPC advertising may be one of the most important marketing tactics available to gain new customers for your home service business, and beat out your competition.
What happens if your website traffic is low? Just because you build a website doesn't mean you'll be overloaded with prospects who are looking for home services contractors in your area.
Instead, it takes a concerted effort — and targeted advertising — before you're able to generate a consistent flow of traffic to your website.
Home services PPC is one of the best ways to generate high-quality leads and raise awareness of your business in local markets.
However, it can be difficult to know how to get started without a lot of wasted time and effort.
What is PPC?
Traffic comes to your home services site one of two ways: through earned or paid traffic.
Earned traffic includes clicks from social media, blog posts, organic searches and recommendations from friends.
Paid traffic could be website banner ads or PPC advertising. As competition heats up, it becomes more important to invest a portion of your marketing budget in pay-per-click search engine ads.
Pay-per-click advertising is one of the best ways to raise awareness of a brand in a particular business. It works because you are able to target your advertising at the people who are search for the specific products or services.
Your ad appears based on a number of factors driven primarily by your bid strategy and the relevance of your products or services to the user. For example, a user searching for your services near your location is more likely to see your ads. 
Why? Google and Bing earn revenue through advertising and as the name implies pay-per-click has a unique benefit to advertisers and users.
With PPC ads, you pay a fee every time someone clicks on your advertisement. If someone views your information and doesn't click, you don't pay.
Why is Home Services PPC Important?
You need to appear in search results. If you cannot earn your way onto the Page 1, then you can buy your way through advertising.
Every home services business should build a robust organic SEO strategy. Still it takes time and thoughtful effort for your home services business to go up the ladder of organic search results to the front page of Google and other search engines.
If you look at the search results page from any home services search term in Google, you'll find there's a hierarchy of results:
Local service ads

PPC (paid) advertising

Local services listings

Organic search results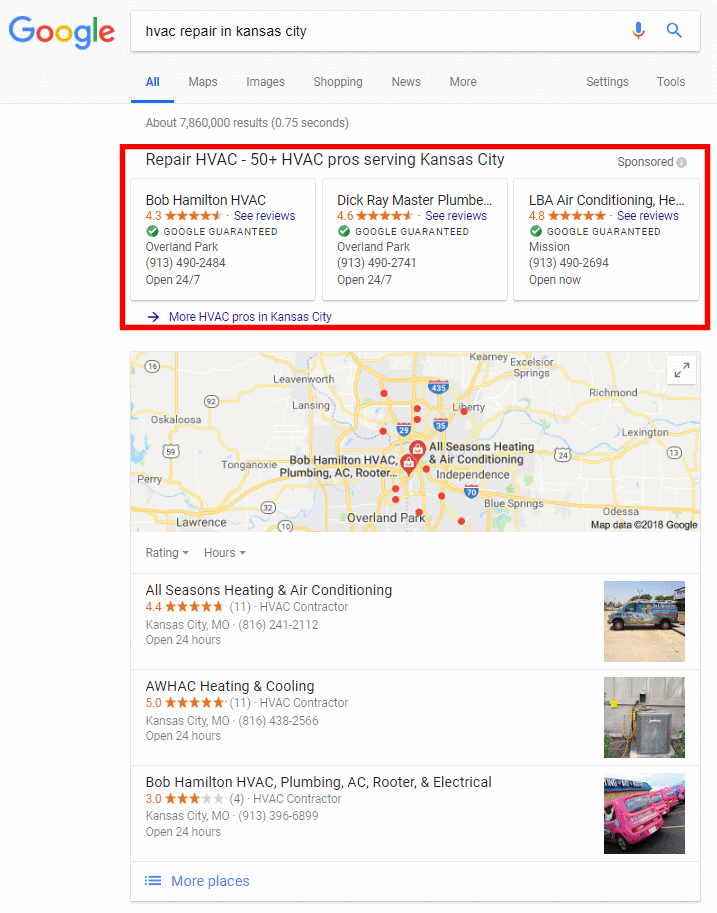 Google Ads, Bing Ads, and other advertising platforms place PPC ads at the top of the Search Engine Results Page (SERP), ahead of the organic results.
While these results are clearly labeled as sponsored, many homeowners and businesses consider these ads when choosing who to call.
The Value of an Expert PPC Agency
When you work with an agency with a deep understanding of search engine advertising, you're essentially short-cutting the long waiting list to drive organic traffic to your website and boosting your brand to the top of the home services search results listing.
Your brand will naturally gain greater traction organically over time as long as you provide good service and good content on your website.
However, PPC advertising can significantly shorten the waiting period and start sending you potential customers much sooner. Paid search campaigns are a great way to see quick wins.
It's similar to a long game and short game in golf. Both are important and serve a purpose but a lack of either leaves you exposed. If you want to win you need to work with the pros to hone your skills.
Applying all your effort into one is ultimately less effective than distributing effort between both. For maximum results, home service companies should ultimately utilize a mix of both PPC and SEO.
The Best PPC Strategies for Home Services Businesses
At a high level, when you're running effective PPC campaigns, it's important to stick with a strategy that works. We find that home services buyers typically respond to the following strategies:
Target Buyers
Potential home services customers are generally looking for something specific when they search: a new furnace, installing a garbage disposal or breaker box repair. 
Whatever the query, there's a bid strategy.
People perform the majority of searches for local services on mobile phones, according to SearchEngineLand.com.
These searches and the results are quite different from those you would find on a desktop computer or even on a tablet.
Plus, individuals who are searching on their mobile phones have a high intent to purchase — meaning they're looking for something they truly want or need and not just idly poking around in Google. Typically, the advertisement with the highest ad placement will capture the majority of the clicks.
PPC strategy provides a much better experience for buyers and a greater likelihood that your business will get a call.
Scale and Adjust as Needed
Newspaper advertising is becoming an anachronism — but why? Perhaps because it's impossible to tell whether or not a specific ad is performing or underperforming, and you can't make changes once it's gone to press.
But home services PPC is the exact opposite of newspaper ads in many ways.
Pay-per-click provides you with immediate metrics and is flexible enough to allow you to make changes once the ad has launched. Paid ads are scalable based on your budget and flow of business.
If a particular ad isn't performing, modify it! If your operations team is suddenly overwhelmed with business, you can pause your advertising with a click of a button to allow them time to appropriately serve the leads or fulfill orders.
You can adjust a variety of parameters including your service area, the reach of the advertising, budget and more.
Level the Playing Field With Bigger Competitors
Digital marketing and advertising level the playing field significantly for home services businesses, allowing smaller providers of all sizes to win a presence beside larger competitors.
It can be impossible to tell the size of your business online, and PPC advertising allows everyone a shot at getting the customer.
As long as your website is properly maintained and you have a great landing page, a much smaller competitor can win out over a large chain retailer.
Optimize Landing Pages
Unfortunately, you can't just create a great PPC ad and call it a day. To convert on qualified leads you're generating via search advertising, you need to have a killer landing page to really sell prospects on your ability to deliver.
Any PPC ad, which sends prospects to the homepage of your home services website is not likely to be helping your brand!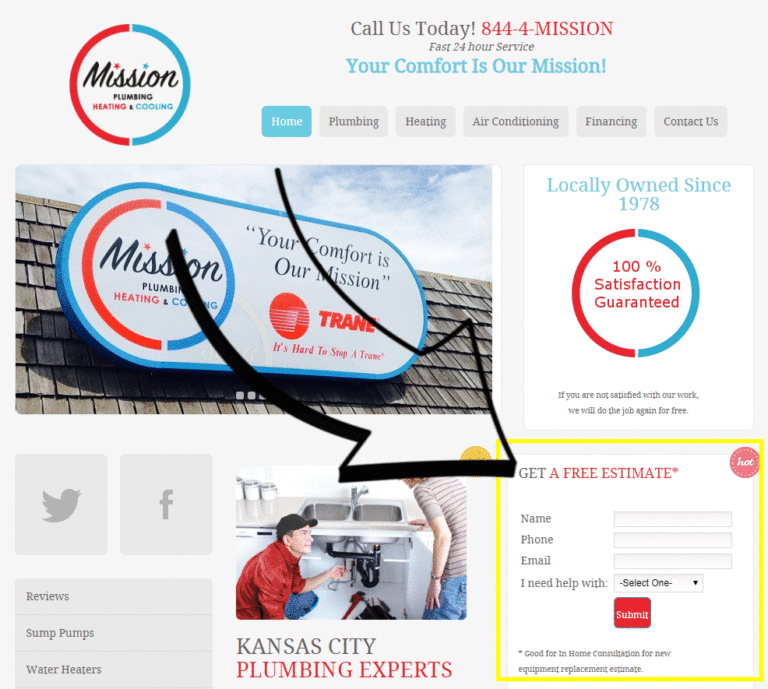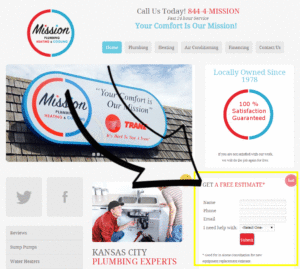 A customized landing page presents compelling offers and content in a way to entice your target audience to contact you and get started using your business. With the home services industry in particular, while some customers may be price shopping, the majority are ready to make a purchase.
This is a compelling reason to make your call to action clear and consistent on your landing page.
Your call to action (CTA) could be anything from listing a phone number and email address for your business to a form filled out by the prospect.
From a conversion rate optimization perspective, landing pages should be crisp and clean and have limited information on them to distract the reader from the action you wish them to take.
Bid Carefully and Intentionally
With PPC advertising, there's no need to maintain a set spending level for your advertising over an extended period of time. Instead, pick the time of day, week, month or year most lucrative for your business.
You can update keywords and your advertising spend based on when you need more traffic. This allows you to be more competitive with your bidding practices during these peak times.
You also avoid wasting money on ads for heating tune-ups during the peak months of summer, for instance. These KPIs, or Key Performance Indicators, will help you identify when ads are successfully driving buyer traffic to your site.
Harness the Power of Negative Keywords
To help ensure you only bid on the right home services PPC keywords you want, excluding specific keywords from search ads may be helpful.
For instance, if someone searches for "cheap air conditioner repair" are they likely to turn into a well-paying customer? Probably not, so you may want to consider adding the word "cheap" as a negative keyword for your advertising.
 PPC advertising is essentially an auction, where you're paying for the results when people click on your ad.
If they click your ad and don't find what they're looking for or don't make a purchase, you've essentially wasted your money on a prospect. You can avoid this in large part by adding negative keywords to your ad groups.
There are a variety of tools to use to plot keywords, which aren't going to net you a sale, and this does require some work. You'll need to sift through keywords people are currently using to search for your products and services and see which ones aren't relevant to what you offer.
Pick Great Keywords
From Google Adwords to Facebook Ads and beyond, finding the right keywords for your paid advertisement campaigns is crucial to the success of your PPC campaign. 
The key to PPC advertising success is in selecting the right keywords and targeting your messaging to what people are looking for online. Are you looking for keywords and aren't quite sure where to start?
Neil Patel offers a terrific tool called "UberSuggest" to help you get started thinking through the specific terms people use in their searches. This free resource is one of many to help you on the path to online advertising success.
Piecing together the puzzle of PPC advertising for home service contractors can be a costly challenge without some knowledgeable guidance. Let the professionals at Valve+Meter Performance Marketing help you tightly define your goals, refine your keywords and optimize your landing pages.
Home Services PPC Agency
Let the experts at Valve+Meter Performance Marketing take care of your home services PPC advertising needs.
Contact Our Team