If your company has been researching ways to increase your website's traffic and visibility, you've likely heard about link building or backlinking. A link building strategy is a critical aspect of search engine optimization (SEO) because it helps your web pages rank well in Google and other search engines. At the core of link building, SEO backlinks are an acknowledgment of the quality of your work
Not all backlinks are created equal, though. Backlinks are among the most misunderstood and inappropriately applied strategies to rank higher on search engines. In order to build a powerful link-building strategy, you must first understand what is a quality backlink. Then you can distinguish why high-quality backlinks improve your search visibility, and finally, you can create a content strategy to earn quality backlinks.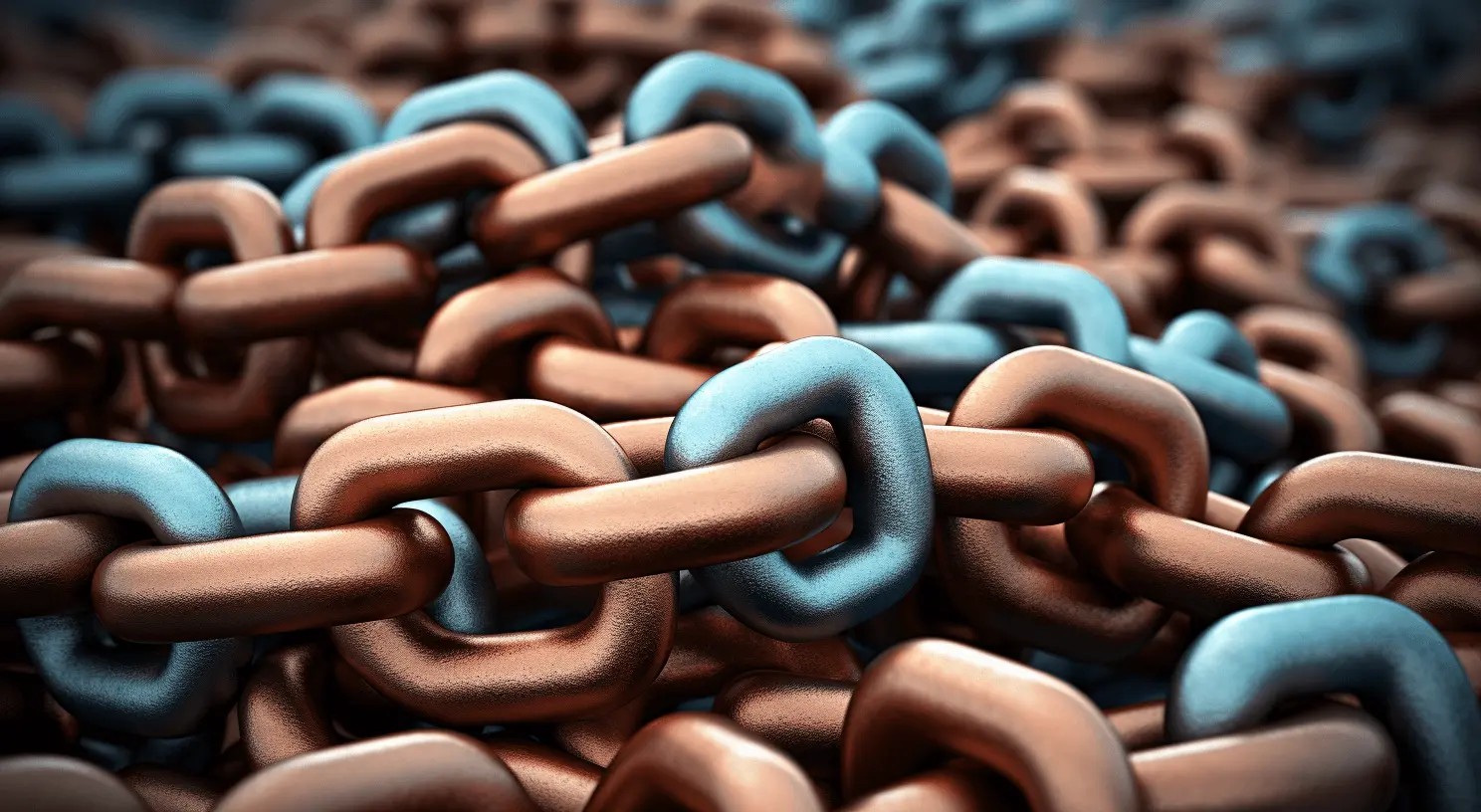 What Is A Backlink?
A backlink forms when one website links to another site.
A backlink, also known as an inbound link or incoming link, is a hyperlink from one website to another. In other words, a backlink is a link on a website that, when clicked, takes the user to another website. Almost every website has inbound links and external links.
An inbound link is a backlink that points to your site. Internet directories are the most common form of inbound links. Websites with your name, address, and phone number will also include a link to your website. Common uses of external links from your site often appear in blogs or product sections. For instance, if you offer a specific brand of equipment or financing for your products, your website will feature a link for your customers.
Backlinks are an essential component of search engine optimization (SEO) because when you earn backlinks, the authority of the third-party website is passed to your website. Incoming links build your credibility across search engines like Google, social media platforms, and the rest of the internet. As your backlink profile grows, you can distinguish your brand from competitors. When a website receives many high-quality backlinks from other reputable websites, it signals to search engines that its content is valuable and trustworthy.
There are two types of backlinks: dofollow and nofollow. Dofollow backlinks are links that search engines can follow to crawl and index the linked website. These backlinks improve SEO performance because they pass on link equity and help improve the website's ranking in search results. Nofollow backlinks, on the other hand, are links that contain a rel="nofollow" attribute. Nofollow links tell search engines not to follow the link and not to pass on link equity. While nofollow links do not directly contribute to a website's SEO, they can still be valuable for driving referral traffic and building brand awareness.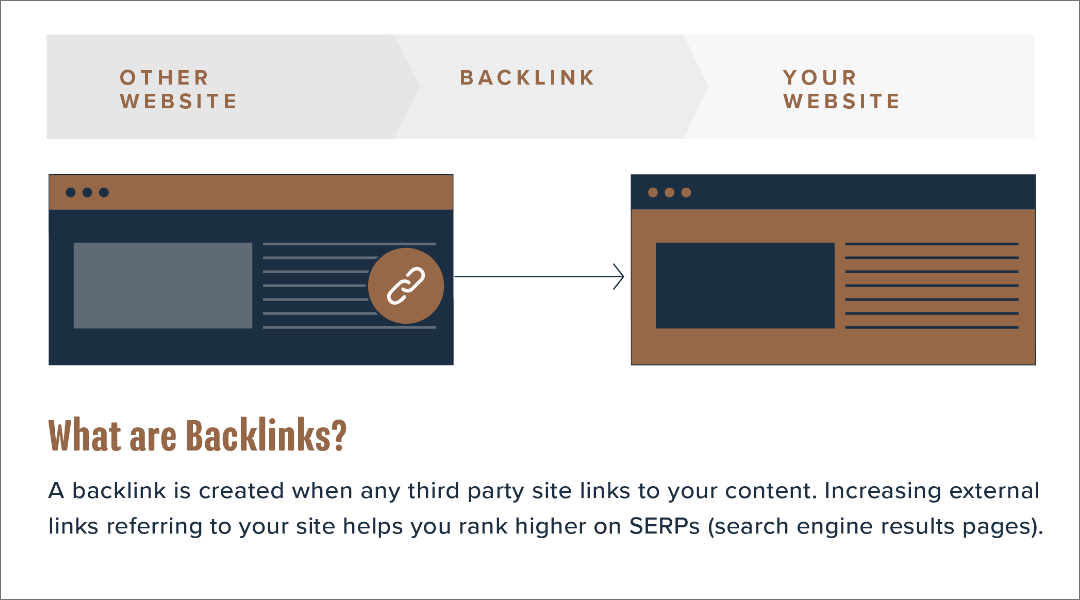 The Problem with Backlinks
Think of backlinks as a referral from one website to another. Google uses backlinks to decipher which pieces of content are the most helpful and valuable to what a searcher is looking for. The more backlinks that a piece of content receives, the more valuable Google believes the content is.
However, this way of thinking can be flawed. Spammy backlinks have been used for decades to try to manipulate domain authority. These black hat backlink practices include buying links, bartering links, and private blog networks that farm external links to pass link juice to websites.
Webmaster Guidelines acknowledge that paid links and link schemes violate best practices. Google and other search engines separate low-quality links from high-authority backlinks. In short, the problem with backlinks is that linked pages need to be relevant.
Earn all the links to your website and disavow links from bad actors.
Why are Backlinks Important?
If search engines penalize backlink tactics, then is link building a reputable SEO tool? Backlinks are an important ranking factor for search engines because they stand out from internal links, keyword phrases, and all the many SEO tools that help website owners increase visibility. Backlinks pointing to your website represent a genuine acknowledgment of your content. The reason so many black hat schemes exist is that a strong backlink profile is difficult to build.
When site owners earn backlinks from authoritative websites, their domain authority grows. This is one of the longest-lasting methods of building SEO success. While algorithm updates will affect your ranking factor in terms of other SEO strategies, a link profile to your own site from relevant sources is powerful. When experts compare multiple relevant pages, in nearly all cases, the website with higher domain authority will outperform competitors. Search engines reward high authority backlinks across all organic searches.
How Do You Get More Backlinks?
These strategies consider how to earn high authority backlinks. The goal is to earn as many backlinks as both to send referral traffic to your site and to improve your overall domain authority. Every inbound link to your blog posts, white papers, videos, and technical guides across your site improves your overall domain. As you consider each step to earning more inbound links, consider why backlinks are occurring. Or more precisely, why would you link to other sites?
Create High-Quality Content
Not all earned backlinks require additional work beyond the actual creation of the content. Sometimes, creating high-quality content is enough to receive high-quality backlinks. When this is the case, you'll notice websites naturally backlinking to your content. Using a link monitoring tool, such as Moz, AHRefs, or Semrush can help you monitor your website and track any naturally occurring links.
High-quality content is the most important component of your SEO strategy. Authoritative websites, potential customers, and search engines are searching for meaningful and unique content. Thoughtfully considering every blog post, infographic, video, and other content is the only ranking factor you should consider. Every web page should seek to represent your authentic and unique brand. If you create great content, then quality backlinks will follow.
Perform Outreach
Once you publish content to your website, you can actively market your most important pages. There are a number of ways to perform outreach to increase the likelihood of earning high authority backlinks.
Participate in networking including online forums and in-person networking within your industry. Building relationships within online communities and connecting with influencers help increase the visibility of your content. When you share a relevant page with people or even your domain name in your communications, then you are likely to earn backlinks.
Contacting relevant influencers in your industry with shareable content can also earn backlinks. Other content creators are always looking for inspiration and will gladly send referral traffic to you when you provide helpful content and insights they can build upon.
Similar to contacting influencers, guest posts, blogs, and podcasts are valuable for SEO backlinks. When you engage with contemporaries within your industry with ideas and pitches for a high-quality article, a link to your own website is a powerful reward for your participation. Unlike a link scheme where low-quality and non-relevant websites offer backlinks for a fee, external links from an author profile help your performance across search engine results pages.
You should also share your best content. Shareable content is often funny, informative, and also highly relevant. Including social sharing buttons on your site makes it simple for users to link to your content. Unique infographics, illustrations, and animations also inspire readers to share your content. Taking time to be creative with your content helps it stand out from the crowd.
Use Social Media
Shining a light on your content improves how many backlinks you earn. Don't expect others to crawl through your website and discover your most powerful content. Make sure to tell others about it through your social media platforms. For long-form content, sharing snippets across a number of posts and reels will invite relevant audiences to engage with your content.
Monitor For Broken Links
Over time, backlinks can send readers to a 404 page if the content has been deleted or if the URL has been changed. Find websites that are already backlinking to content that is similar to the piece you just created. Sending them a quick email encouraging them to look at your content can be enough to get them to switch their backlink to your content.
Finding a piece of content that you'd like to link to your website that has a broken link is beneficial to you and the host. Broken links and errors on a website harm SEO. If you do the hard work of identifying the URL and the broken link, and include a link to your own website, it is likely to earn an inbound link. In the case of sites with high domain authority, there can be many opportunities to transfer the link juice from their site to your own.
Increase Directory Listings
There are many directories that offer backlinks to your website. Your local town's Chamber of Commerce, for example, likely has a business directory that you can add your business to. All the brands you represent and partners you provide services to are likely to provide links to your site. There are a number of monitoring tools that make sure your information is accurately represented across directories. Actively auditing all references to your site is key to SEO success, especially in terms of link building.
Maintain Your Content
Google Search Console, Google Analytics, and other SEO tools are vital to gaining insights into your performance across the web. When you actively monitor your most important content, you can plan strategies to optimize a web page and improve your backlink profile. High-quality websites never stop monitoring pages for stronger content and technical SEO.
Search engine algorithm updates and strategies from other websites will always change how your website performs. If you see changes in performance in Google Search Console or other platforms, then you can intelligently act to improve search visibility. A quick refresh of content and outreach can earn new backlinks for your most important pages.
3 Ways SEO Backlinks Can Grow Your Business
If you still are unsure why your web pages need backlinks for SEO, then consider why top ranking pages have so many links pointing toward their domain.
Great content gets noticed: Referring domains are tacit reviews of your website. A website owner must add an outbound link. Web crawlers transfer link equity from that site to the next. This means creating great content and promoting it. Share on social and email campaigns. Look for opportunities for guest blogging.
Disavow spammy backlinks: Backlinks critical to your growth are high-quality and reputable web pages. Avoid any attempts to manipulate search engines. Focus on great content and ignore anyone promising dozens of links. Spammy links have high risk and almost no reward.
Gain backlinks through outreach: When reading industry-specific websites, check for broken links. If the anchor text is relevant to your blog post or other content, send the site owner a quick contact noting the broken link and including a link to your blog post.
You can also share your best content in social media, forums, and relevant networks. SEO is often confused with the drive to rank higher. While more link juice helps your search visibility, organic traffic will be relevant when a trusted website link references your content. This off-page SEO strategy is effective and worthwhile.
Inbound links are essential for SEO because they are stable and long-lasting. When a third-party link references your content, that connection will likely last for years. While incredibly valuable and essential for SEO strategy, backlinking is a time-consuming process that, despite your best efforts, may not always result in success. Valve+Meter has specific strategies and tools to rank higher, including gaining more links from reputable websites in your industry. Let Valve+Meter take link-building off of your plate. Our experienced professionals have extensive knowledge.