Can you improve the sales response process for your company?
Absolutely.
After all, research shows that 35-50% of sales go to the vendors that respond first.
The dispatchers or customer service reps that pick up the phone the fastest, are modest, curious, and helpful can all aid in closing a deal–but there's more to it.
We know how important a sales team is to any business. A well-oiled sales team that consistently hits quotas and is tuned for optimal performance can skyrocket any company's growth potential.
Sales teams are hungry, looking at marketing to help feed them leads to close.
But if they have the proper lead response process in place, they'll be set up to succeed and hurt the health and culture of your business.
What are some things you can do to improve this?
The Catalyst to Improve Your Sales Response Process
Honestly, it comes down to one thing…
Speed.
Speed kills in sales, either for better or for worse.
If your team can quickly respond to inbound leads, you significantly improve the chances of closing those leads.
The odds of connecting with a new lead increase 21x when calling them back within the first five minutes instead of waiting 30 minutes.
If you drag your feed and don't respond to inbound leads for hours or days, you've lost what may have been a potential deal.
We recently investigated the sales response process for the home services industry, secret shopping 466 companies nationwide.
Some companies we tested were heating and cooling, plumbing, landscaping, garage door repair, electricians, painters, window and door repair, and many others in the home services universe.
We wanted to see how fast it took these companies to call us back after we submitted their website form.
The results were horrendous! (You can see them for yourself)
2 out of 5 companies we contacted have yet to call us back.

That's 40 percent!
Imagine telling your sales manager you neglected 40% of your leads and left potential revenue on the table by not answering the phone and responding to these requests.
That's a fireable offense in some industries.
There are countless articles online that can give you quick tips and ideas for speeding up your sales team to help make an effective sales process for your team.
But these aren't one size fits all solutions.
What we're about to share with you can instantly be implemented with your sales team and improve the speed of your sales process in as little as a day.
Sounds good?
Here are the three undeniable keys to improving your inbound sales process:
#1 – Track The Entire Flow of Your Sales Response Process
Let's see if you can answer these questions…
Who gets notified when a new inbound lead is submitted from your website?
Does the lead go into some company-wide email inbox?
Does the lead notification go to your office administrator, and do they have to forward it to your sales team or dispatcher?
Does your team have the ability to schedule appointments for your sales team?
Or do they sit helplessly waiting for a response you don't even realize is there?
What Drags Down Your Sales Response Process?
An Outdated CRM?
Older CRM systems can leave businesses searching for more flexibility and customization.
As companies learn to collect more demographic information about their leads and build more personalized campaigns, these outdated systems can hurt your sales response process.
Bad Phone Tracking and Recording Systems?
Using a phone tracking or recording system can help your team understand where leads are coming from and address these calls uniquely based on the campaign they are tied to.
Sales teams can also listen to call recordings for training and personal development opportunities.
Poor Marketing Automation Systems?
When an inbound lead submits a form and gives their email address, you should utilize an email marketing strategy and send them an autoresponder thanking them for their inquiry.
You can also use these marketing automation systems to notify sales reps that a new lead is in the system and needs to be called immediately.
#2 – Implement a Cross-Channel Approach to Your Sales Response Process
There is a balance of asking for too much lead information on a contact form, but inherently companies need more information from a lead at the point of submission.
And no, we're not just talking about their phone number.
The more information you can pull from your leads arms you with more channels to engage and follow up with leads.
But there is a balancing act that you need to remember when it comes to web forms.
The more information you ask prospects to provide you, the less likely they are to convert.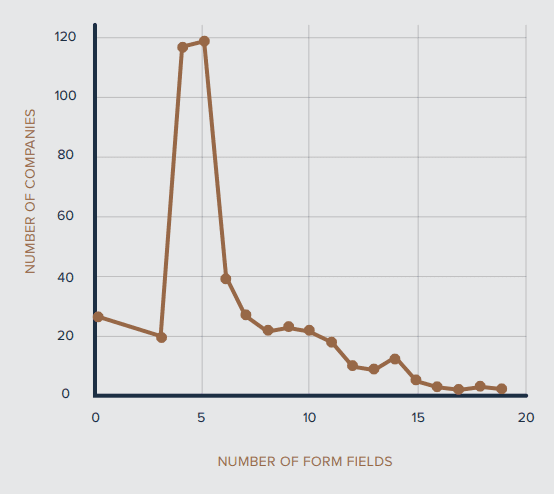 The average number of fields on a home services web form is 6.
You could ask for the home address, type of home, kind of service they're requesting, and other information to help you personalize future communication.
If your in-home services, asking for their home address lets you send direct mail campaigns for additional services and coupons.
Use an email address they provide for lead nurturing campaigns or social media retargeting campaigns.
Branch out, and don't just stick with the phone.
#3 – Train Everyone on Your Team Your Sales Response Process
Every single person within your company is a salesperson.
Maybe they aren't the ones working leads all day, but they are still a vital part of your sales process.
If salespeople need to learn how important it is to quickly respond to new leads, they won't drop what they're doing to get them on the phone.
Even worse if it's the responsibility of the office manager or someone else not related to sales that manage this process.
You need to ensure everyone in your office, whether in sales, customer support, or product development, knows how important your sales response process is to your company's success.
If there is automated lead routing, salespeople will know when a new lead is converted and that it's their responsibility to respond.
Ingrain this in the minds of your company, and everyone will help keep one another accountable in your new sales response process.
Make Improving Your Sales Response Process a Priority
People don't like waiting for a response, so stop making them stay.
So much in our world today happens instantaneously, and customers expect instant responses from companies they inquire about.
By implementing a speedy sales response process and modern technology and tools to help your sales team win, you can achieve a higher conversion rate on your inbound lead generation strategy.