Cold calling is a major point of pain for many sales and marketing teams. When your calls land in a voicemail box or answering machine, what is the best strategy? How do you make a sales pitch and overcome objections within a limited time frame?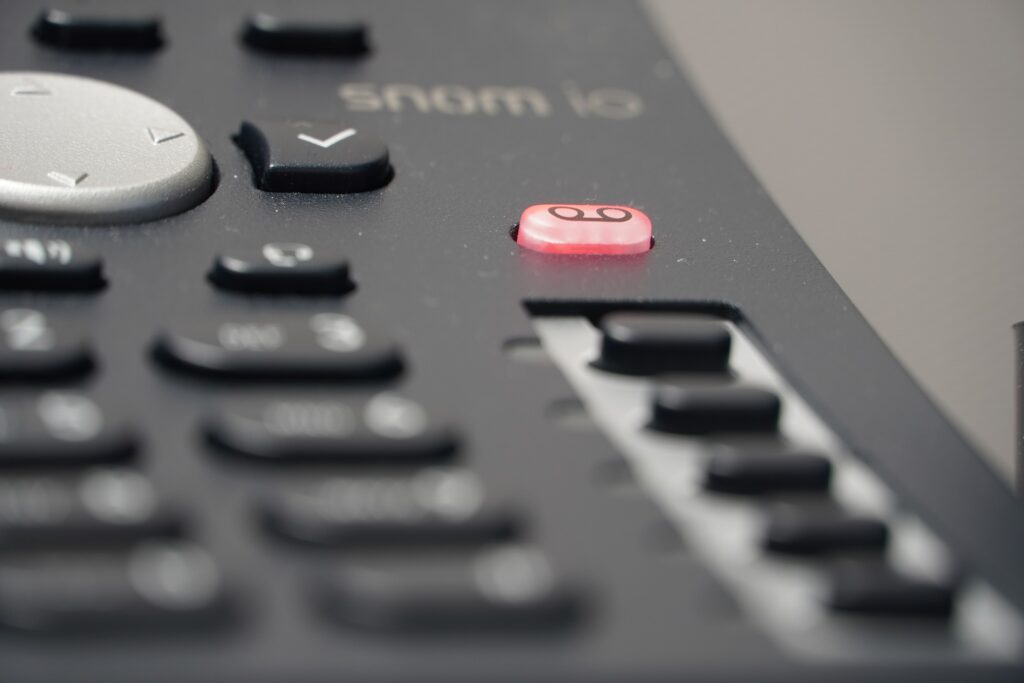 Based on our experience as outbound lead generation specialists there is a short answer: the right voicemail message is effective to earn leads.
What Is Cold Calling?
Let's first define how you get to a voicemail in the first place. If you're looking to cast a wider net and project your business' brand in front of more people, cold calling campaigns are excellent avenues to increase potential leads, and, ultimately, produce more sales for your business.
Cold calling probably dates back into prehistory when someone grunted, "Can I interest you in this wheel?"
In terms of phone calling, cold calling dates to the 1870s when John Patterson, founder of the National Cash Register (NCR), made it part of his company's sales strategy. Although technology has advanced lightyears in the past 150 years, many of the same cold calling techniques that Patterson's company used are still in use today.
Cold calling refers to the practice of marketing or sales teams reaching out to a new lead. This means emailing, networking, social media, and traditionally picking up the phone and prospecting for potential customers who have not previously expressed interest in your company's products or services. Seasoned cold callers have excellent communication skills and tailor their pitches to each individual prospect. The goal of a cold call is to identify a paint point that your company solves. Once a prospect shows interest in your solution, cold callers begin building relationships with them.
Cold calling strategy has evolved significantly to focus on research and execute data driven campaigns. Instead of expending effort on a wide swath of leads, you are now able to hone in on prospects most likely to convert. If you have already identified a lead is valuable, then you should never waste a phone call without leaving a voicemail.
After all, cold callers develop high level communication methods. Seasoned cold callers trained to capture your prospect's attention and deliver concise messages. Your cold callers understand the challenges each potential customer faces and craft messages that quickly demonstrate how your company's products and services solve these pain points. Cold callers must identify a pain point, prove why your solution is a cure and then establish that your brand is an ideal partner.
At its very core, cold calling is about establishing a mutual rapport with the prospect. An established cold caller knows when a lead is showing genuine interest and when it's time to move on to the next call. Because a conventional successful cold calling rate is about 2%, effective cold callers must handle rejection properly without getting discouraged. More importantly, you must develop better strategies and study data to turn the dial on cold calling. Great companies always endeavor to grow.
What Steps Are Included in the Cold Calling Process?
Not all voicemails are created equal so you should understand some of the nuances that Valve+Meter uses when executing cold calling campaigns.
1. Preparation
Successful business development representatives (BDRs) don't just pick up the phone and blindly make calls – they meticulously prepare for the call and tailor their message to the specific prospect's needs. Often there is more effort spent on researching the ideal prospects and building a strategy than executing the actual campaign. Your cold caller learns everything he or she needs to know about the potential client's business before the call is made. Your team must be prepared to attract and engage a prospect quickly.
2. Develop Voicemail Scripts
Maybe there's still a cold caller trying to "wing" a sales pitch but your marketing team works from a script that is set to memory alongside with tactics to overcome objections. This includes a personalized, warm introduction that always puts the lead as the hero and addresses their pain point. Only after you demonstrate a solution for your prospect's problem do you introduce who you are and how your products and services may help the prospect's company. This is called a value proposition. You should also have an effective closing statement with a clear call to action.
3. Make the Call
With a clear strategy, the campaign begins. Your team is polished and executing each call. When your prospect answers you deliver a value proposition, overcome objections, and achieve the objective.
Most sales include two purchases-when your prospect buys the value proposition and when you finally close the deal. A warm introduction and other best practice tips mean nothing if your team does not prepare for the inevitable voicemail.
Should You Leave a Voicemail when Cold Calling?
Let's face it, many cold calls go straight to voicemail, as potential customers are busy just like you with work or family responsibilities. According to studies, 80% of calls go to voicemail.
Although leaving voicemails can be incredibly frustrating, it's estimated that sales representatives spend about 15% of their time leaving voicemails to prospects, who only return first-time voicemails an estimated 90% of the time.
However, a well-crafted voicemail message can improve response rates by 3 to 22%. In short, the answer to whether you should leave a sales voicemail during cold calling is an enthusiastic "yes."
What Are the Benefits of Leaving a Voicemail When Cold Calling?
When you have designed a cold calling campaign properly, your team should be prepared to deliver a powerful message. You will never earn a single cold lead's attention if you don't ask for their time. Voicemail messages are a quick outbound effort. In fact, some mass prospecting campaigns are driven by automated voicemails. If you consider the benefits, there's no excuse to waste a single opportunity to leave a voicemail.
Convenience
It's important to keep a positive attitude when cold calling. Just because a call goes to voicemail, doesn't mean the prospect isn't interested in your company's services or products. If you can craft a message to a person who has never heard of your brand, then you can deliver that same message to a voicemail box. The right solution will always resonate because businesses have problems. Plan your strategy and leave a voicemail that places the customer as a hero with a problem. You have the solution to that problem.
Efficiency
Often, a potential customer may hang up on you before you even have time to say hello. This explains why automated voicemail campaigns exist. A voicemail is an opportunity to deliver the exact message without interruption that can pique the prospect's interest. Effective voicemails are also more efficient and quicker than other avenues of communication.
Follow-up
By leaving an effective voicemail, you've demonstrated your value proposition. During your follow-up actions including phone calls, emails, and social media outreach, voicemail etiquette may create just enough room to reach a decision maker. The goal is not to generate a return phone, but like calling leads after a cold email you are practicing iterations.
Tips for Leaving an Effective Voicemail When Cold Calling
How you execute cold call voicemails plays a crucial role in getting through to the prospect. Here are some tips to keep in mind when leaving a voicemail for a lead:
Keep the Voicemail Short
Leave voicemails that are brand ambassadors. Nobody wants to listen to a rambling, unorganized message over voicemail. Effective voicemails have three parts: identify the pain point of the prospect, present your solution, and introduce your brand. This should occur in under 30 seconds. Finally, close with next steps. At Valve+Meter, our most effective strategies demonstrate value by promising to follow-up with a definitive action-another call or email on an exact date.
Work in Reverse
Keep in mind that this is a cold prospect. With this in mind, never start the message with your name and your company's name. The prospect doesn't care about your company or your product. The only strategy is to focus on the prospect's problem and your solution.
Be Authentic
Nothing will cause a prospect to delete your voicemail quicker than if you come across as stiff, phony, or robotic on the call. Be as dynamic and natural as possible. Imagine you are sitting next to a lead and are having a casual conversation. You are not an automated message and your voicemail should stand out as authentic.
Personalize Your Message
A one-size-fits-all message doesn't work when leaving voicemails for potential leads. No one wants to listen to your message so you'd better stand out. Earn their attention. Although you still want to keep the message short and sweet, make it unique by including a detail or two about the prospect or their company. It shows that you've done your research and are interested in their potential business, and you will likely receive more call backs and appointments.
Offer a Clear Value Proposition
Remember, the goal of your voicemail cannot close a deal. With that in mind, don't go into specific details about your products. Instead, provide a clear set of value propositions to pique their interest. An example might be: "Is your data storage and hosting expenses out of control. Cloud solutions can save your company money and provide better capacity. We're the top technology company in your area and would love to connect on how to reduce your costs. I will send an email with more information."
Don't Mention Failed Attempts
Prospects don't want to be reminded they didn't care enough to return your email or the last call. Provide the potential customer with forward thinking messages and actionable plans.
Act on Your Statement
Technology is a powerful tool to advance cold calling. Whatever action you state should be recorded into your calendar. If you promise a follow-up email or phone call, execute that strategy.
Contact Valve+Meter for an Effective Cold Calling Strategy
If you're passionate about growing your business and reaching more prospects, empower your sales reps with strong tools. This may start with training on cold calling strategies. An effective cold calling strategy can lead to higher conversion rates that can help your company take off.
If you're struggling to execute effective campaigns, outsourcing cold calling and other outbound marketing strategies may be a solution. At Valve+Meter, we are passionate about consulting with teams and designing powerful solutions to help transform outbound marketing.
Request Marketing Analysis