Unfortunately, not every lead is necessarily a qualified lead. While a general lead signifies some degree of interest, a qualified lead has been thoroughly assessed and has greater potential to become a customer based on criteria such as budget, readiness to buy, decision-making authority, and level of interest.
Filling your sales pipeline with relevant and qualified leads can often seem like an impossible task. Sales Development Representatives (SDRs) can help by developing a pipeline of qualified leads on your behalf for your sales team to follow up on and ultimately execute.
Valve+Meter Performance Marketing can provide you with an external team of SDRs to help fill your pipeline with relevant sales opportunities. Read the rest of our post below to learn more about what SDRs do, the benefits of working with a team of external SDRs, how they can align with your current marketing strategy, and more.
What Does a Sales Development Representative Do?
SDRs are responsible for a variety of tasks that ultimately lead to higher volumes of qualified leads. When you enlist the help of sales development representatives, you can expect them to focus on:
Lead Generation
Sales Development Representatives focus on generating new business opportunities through outbound prospecting. They typically use emails, phone calls, and social media to reach out to potential customers and set appointments for the sales team.
An SDR's lead generation process will typically begin by researching potential leads and creating a target list. From there, they'll develop a personalized message that discusses the benefits of the company's products and services and explains how the lead would benefit from them.
Lead Qualification
Beyond generating new leads, SDRs are also responsible for lead qualification. After reaching out to potential leads, they'll gather information about the client such as company size, industry, budget, and decision-making process.
With this information, they will determine if the lead meets the company's ideal customer profile, as well as their overall level of interest and buying intent. After determining that a lead is qualified, they'll be sent to your team of sales representatives for further qualification and potential closing.
Relationship Building
Sales Development Representatives will be the first point of contact between your company and your potential customers. They essentially act as a liaison between the company and the customer, helping to ensure a positive customer experience and increase the likelihood of a successful sale.
Throughout the life cycle of the lead, the SDR will also keep in regular contact with them through various channels including email, phone, or social media. They will check in on the lead's progress, offer any necessary support, and keep the lead informed of any developments within the company.
Looking for Outsourced SDR Services?
Not sure if you need SDRs? Need to flex your capacity? Valve+Meter can help! Schedule a call to discover how we can help.
Schedule Discovery Call
Benefits of Working With Outside Sales Development Representatives
With a team of external SDRs on your side, you can greatly enhance your company's sales efforts and drive growth. By leveraging the strengths of multiple individuals, a company can maximize the results of its lead generation and qualification activities. A team of dedicated SDRs can provide you with:
Improved Lead Generation: SDRs focus on generating new business opportunities by reaching out to potential customers and identifying qualified leads. Spreading these tasks across an entire team of SDRs will allow them to reach a larger number of potential customers and generate more leads than a single individual.
Heightened Productivity: By dividing the prospecting and lead qualification tasks among a team of SDRs, the sales team can focus on closing deals and maximizing their productivity. Improving the speed and accuracy of lead qualification gets the leads into the hands of your sales team members and allows them to close deals quicker than before.
Greater Scalability: As the business grows, having a team of outside SDRs can help ensure that the sales process remains scalable and efficient. SDRs can generate the steady stream of new leads that you need in order to achieve repeatable, scalable, and profitable growth
Data-driven Insights: Valve+Meter's team of SDRs uses data and analytics to track their results and measure the effectiveness of their campaigns. This data can provide valuable insights into the performance of your sales team and help you make informed decisions about how to optimize your sales strategy.
Improved Customer Experience: With a dedicated team focused on initial outreach, the overall customer experience can be improved as they receive prompt and consistent communication.
Working with a team of sales development reps is a great way to achieve higher volumes of qualified leads in shorter periods of time. Reach out to Valve+Meter Performance Marketing today to help your sales team close on sales quicker and easier than ever before.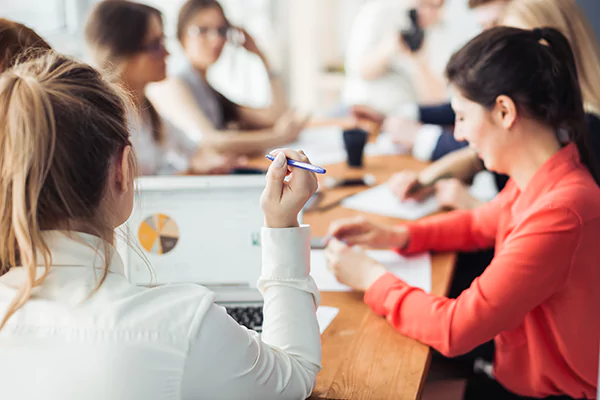 Internal Vs. External Sales Development Representatives
Internal SDRs are employees of a company who are responsible for generating leads and engaging with prospects. They work within the company and are familiar with its products, services, and culture. While internal SDRs are often able to provide potential prospects with a more personalized and tailored experience, they'll typically be more expensive and cost the company more resources than an external team.
External SDRs, on the other hand, are individuals or teams who are contracted by a company to provide sales development services. They may be based in a different location and have less familiarity with the company's products, services, and culture. However, external SDRs bring a fresh perspective and can provide expertise and experience in sales development that an in-house team of SDRs may not be able to provide.
The choice between internal and external SDRs will depend on the company's specific needs and goals. Internal SDRs might be able to build stronger relationships with prospects due to their greater understanding and experience with the company. External SDRs, however, are a good choice for companies that want to benefit from the expertise and experience of a professional sales development team or need additional support for a short period of time.
While both internal and external SDRs have their own advantages and disadvantages, the choice between them will depend on the specific needs and goals of a company. Before deciding which is best for your company's unique needs, be sure to carefully consider your needs and growth goals.
Achieve Your Growth Goals By Working With a Team of Sales Development Representatives
Different businesses grow at different rates. One business might have the staffing and internal resources to grow quicker than another, which is why it's important to form realistic and achievable growth goals that are unique to your business.
SDRs can help a company grow at its own pace by providing the right balance of lead generation and customer engagement. SDRs are trained to identify and target the right prospects for each company, and they use a variety of communication methods to reach out to potential customers. This enables companies to grow their customer base at a pace that is sustainable and in line with their goals and resources.
The customer-centric approach utilized by SDRs ensures that a company's growth is based on strong relationships and long-term customer loyalty, rather than short-term sales. As a result, companies can grow at their own pace and build their business using sustainable practices. By working with SDRs, companies can ensure that their growth is steady, sustainable, and aligned with their goals and resources.
How SDRs and Marketing Align
Sales Development Representatives and marketing teams play a critical role in aligning and achieving a common goal – driving growth and revenue for a business. By working together, SDRs and marketing can create a powerful combination that can help businesses achieve their sales and marketing objectives.
For example, a marketing team can aid sales development reps by creating content that can be distributed across organic, paid, and social media channels. SDRs then take these leads and qualify them, determining which prospects are most likely to result in a sale. This helps to ensure that the sales team is spending their time on the most promising prospects, increasing the chances of closing deals.
Another way that SDRs and marketing align is through customer engagement. Marketing creates awareness and interest in a company's products or services, while SDRs build rapport and provide excellent customer service to prospects. By doing so, SDRs and marketing teams work together to create a positive customer experience, which can increase the chances of a successful sale and improve customer loyalty.
SDRs and marketing also align through data and analytics. Both SDRs and marketing use data to track their results and measure the effectiveness of their campaigns. This data provides valuable insights into the performance of the sales and marketing teams and helps businesses make informed decisions about how to optimize their strategy.
Ultimately, SDRs and marketing can align and achieve a common goal by working together. By aligning lead generation, customer engagement, and data and analytics, SDRs and marketing can create a powerful combination that drives growth and revenue for a business.
What's the Difference Between Sales Development Representatives and Business Development Representatives?
Sales Development Representatives and Business Development Representatives (BDRs) both play crucial roles in the sales and business development field, but they have some distinct differences.
SDRs are typically focused on generating and qualifying leads, and creating the foundation for a relationship with your company. Their main objective is to initiate contact with potential customers and qualify leads for the sales team to execute.
BDRs, on the other hand, are responsible for developing and nurturing relationships with both new and existing customers. They work closely with account managers and sales teams to identify and create new business opportunities. BDRs also conduct research, analyze market trends, and perform competitor analysis to inform their outreach efforts.
Why Work With Sales Development Representatives from Valve+Meter Performance Marketing?
When your work with Valve+Meter, our primary goal is to provide your business with highly qualified leads that are easy for your sales team to convert upon. While some may use Cost Per Lead (CPL) as a measure, we consider it to be secondary in importance. The ability to convert leads into customers is what truly matters, and that is what we aim to help you achieve.
Our team is backed by years of experience and has the necessary training and education to provide your business with a steady stream of qualified leads. Reach out to our team today to learn more about how our sales development representatives or to request a free analysis.
Work with Our SDR Team
At Valve+Meter Performance Marketing, we understand that growth does not occur without a pipeline filled with qualified and relevant leads. We want to help your company achieve real, tangible results to ensure you never waste another marketing dollar again.
Schedule a Free Marketing Analysis