Good marketing campaigns tell the story of your brand. Appealing to an ideal buyer with carefully researched titles, high-quality content and engaging images will attract leads to your website. Developing internal link building strategy, monitoring page load time and writing strong meta descriptions will all help increase search visibility.
While all the best on-page SEO practices appeal to the hypothetical buyer, business owners often overlook your actual brand advocates. Researching inbound links to your site and creating a strategy to earn more backlinks has far-reaching benefits for organic SEO performance.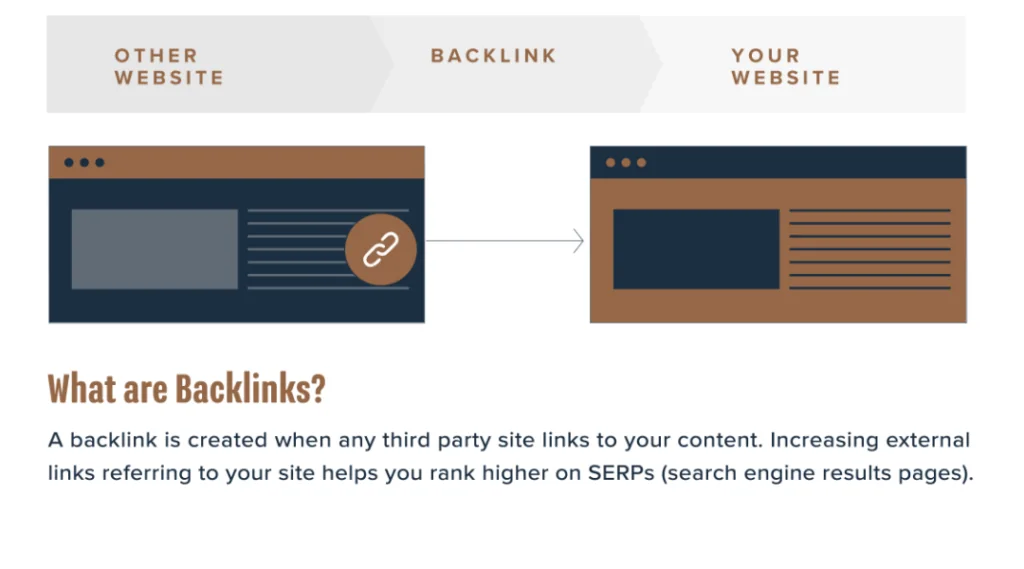 One way to think of backlinks is a shoe endorsement. If a stranger on the street tells you a shoe is the most comfortable and highest-performing running shoe, how likely are you to purchase the shoe? When that same shoe is endorsed by someone you trust like a personal trainer or a running partner, are you more likely to listen and try out the shoe? When a site with high authority features an external link, search engines view this as a credible endorsement
White Hat Versus Black Hat Backlinks
Not all backlinks are created equal, though. As with all marketing practices, the skill, patience and knowledge required to build a strong external link building plan can quickly be usurped by murky tactics and even malicious actors.
The internet is plagued with unethical practices that go against the guidelines of Google. Most business owners know black hat tactics like keyword stuffing, sneaky redirects and other malicious acts that hurt website performance. In extreme circumstances, sites can be de-indexed by Google.
Google is constantly updating the algorithm to improve Search and fulfill the ultimate goal of showing pages that are helpful and relevant. So before building an external linking strategy, consider how to avoid black hat practices. Even drifting into questionable territory and donning a gray hat can do harm to your brand. The short-term benefits of manipulating the algorithm are fleeting. White hat SEO prioritizes user experience and connecting potential buyers with high-quality content.   
How to Avoid Black Hat Backlinking
If you're wondering how to get backlinks to your site and thinking that you can cheat your way to results, stop now. You're fooling yourself.
If the goal of your marketing strategy is to attract and engage with ideal customers, then avoiding black hat SEO is a priority. Even if deceptive tactics slip under search engine radars increased search visibility is not the primary goal of a link building strategy. The leads delivered by black hat and gray hat tactics may be impressive but they are often poorly qualified buyers.
Developing strong connections with websites and influencers that deliver qualified leads to your brand is most important to planning an inbound lead strategy. As in all SEO, when you avoid bad practices then good results follow. Focus on genuine connections.
Don't Buy Links
Avoid marketers and websites promising links for cash. Google considers exchanging money for links to be link spam. This clearly indicates what the webmaster guidelines are searching for when rewarding one website over another in Search. Even when buying links delivers results the expense is high. Once Google flags links as spam the value is destroyed along with your credibility.
Avoid PBNs (Private Blog Networks)
A private blog network (PBN) is a group of websites that are used to build backlinks to a target website in order to improve its search engine rankings. This technique is considered a form of black hat SEO, as it involves creating fake or low-quality websites in order to manipulate search engine rankings.
The main benefit of using a PBN is quickly and effectively improving a website's search engine rankings. By building a large number of backlinks from fake or low-quality websites, a PBN can help a website climb positions in search engine results pages even appearing at the top of search results for specific keywords. For site owners, this may drive more traffic to the website and potentially lead to increased revenue.
There are significant risks associated with using a PBN. First and foremost, it is considered a form of spam-violating the terms of service of most search engines. If a search engine discovers that a website is using a PBN, it may penalize the website by lowering its search engine rankings or even removing it from the search results altogether.
Additionally PBNs are often easily detected by Google, as they often consist of low-quality websites with little or no original content. This can make it easy for search engines to identify and penalize websites that are using a PBN.
While using a PBN can provide short-term benefits, overall it carries significant risks and therefore not recommended over legitimate SEO tools. It is better to focus on building high-quality backlinks from reputable and relevant websites, as well as creating compelling and valuable content on your own website, in order to improve your search engine rankings in a sustainable and ethical way.
D0n't Barter Links
The next worst practice to buying links is bartering links or link farming. Bartered links are most commonly used to describe when two sites link to each other. This quid pro quo practice demonstrates a very distinct pattern. Google has a clear superpower at identifying patterns. Link farming is a more sophisticated system involving a group or network of websites linking to each other. The patterns are harder to detect but the links are often irrelevant and spread across many industries and subject matter.
Understand Webmaster Guidelines
Google definitely rewards strong backlinks. The value of high-quality links is reflected in Google's webmaster guidelines. Nofollow links (rel="nofollow") were introduced in 2005 as a way to indicate a link without endorsing or passing authority from one site to another. In 2019, Google added additional links to indicate the nature of links. Sponsored links (rel="sponsored") are used when the link is a paid advertisement or part of a sponsorship. User-generated comments (rel="ugc") are often used for comment sections, forums and other sections of websites. The inference of the introduction of these additional link attributes clearly assumes Search algorithms actively monitor backlinks.
Blackhat backlinking is seductive for many businesses.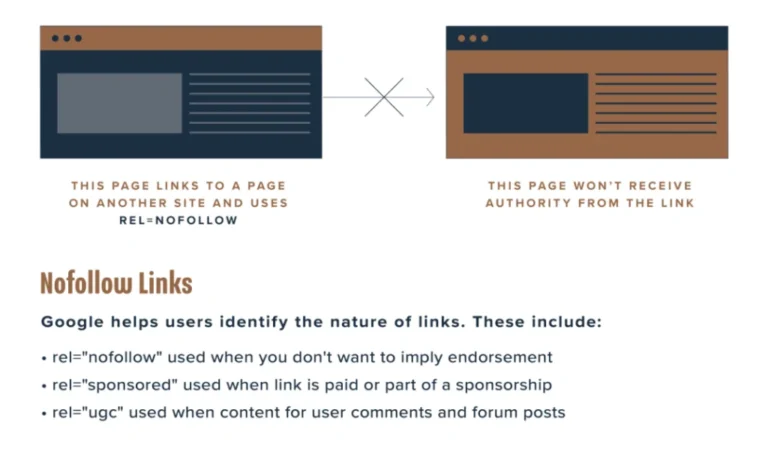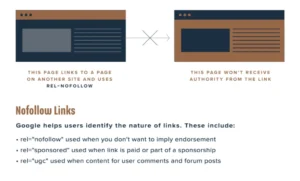 Many high-profile companies have been accused of using these tactics. The allure of these unethical acts is the quick impact and ease of access. These fast fixes can quickly become catastrophes that take years to repair as Google regularly warns.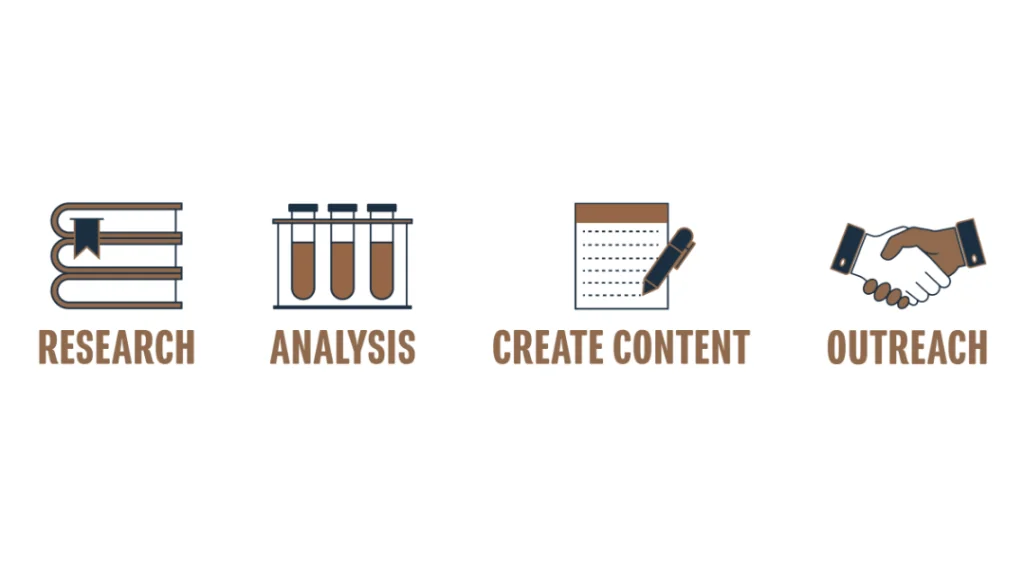 An External Link Building Strategy in Four Steps
Building a backlinking strategy is incredibly intricate and requires clear planning, attention to detail and patience. Many businesses and marketing agencies struggle to adhere to a strategy or abandon the efforts because of the time and resources demanded to build and maintain the strategy.
At Valve+Meter, SEO link-building strategists include specialists from developers, graphic designers and even creative team members. An effective strategy to acquire inbound links is therefore far more valuable than quick strategies. Earned links from high authority sites are long-lasting and build exponentially over time.
Before implementing this strategy, consider the goal of performance marketing. Valve+Meter uses data to test hypotheses, measure results and scale successful strategies. Great performance marketing is always designed to act in the long-term goals of your business and brand.
This means executing a backlinking strategy must be scalable and repeatable. Each business and individual product is unique but all testing begins with these core strategies: research, analysis, content creation and outreach. 
The first inbound link may be incredibly difficult to earn. The slow growth may prove taxing but eventually, an effective strategy builds momentum. Inbound links from across relevant and high domain authority sites power your organic marketing strategy. As you build this four-part strategy many elements inform and power other marketing strategies including on-page SEO, technical SEO and paid advertising. That is, this plan is designed to provide ripple effects across your comprehensive marketing strategy.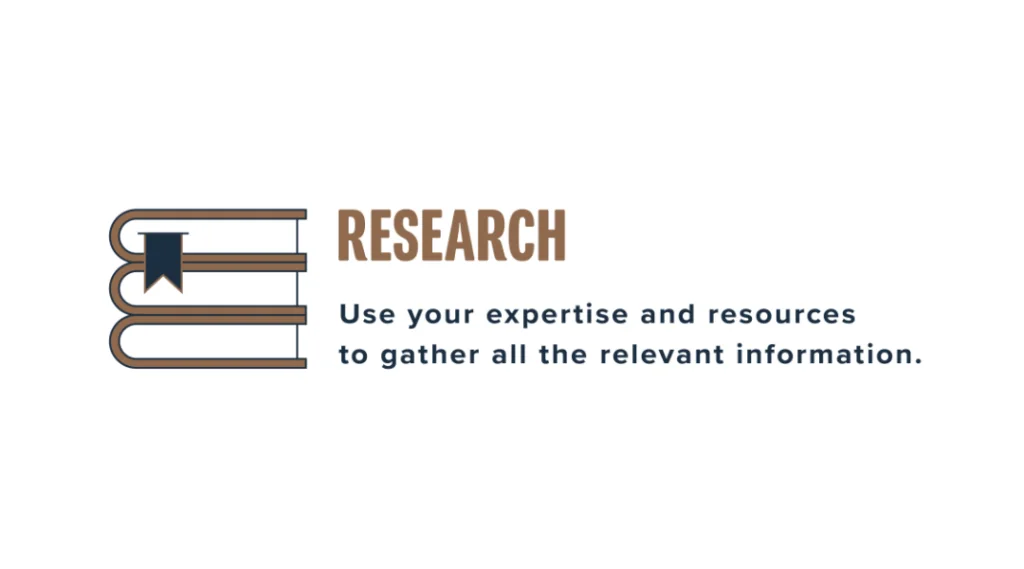 Step 1: Research
One of the biggest mistakes is to assume your content will earn backlinks. The foundation for earning backlinks is legitimacy and relevance. Research into your subject matter builds on your expertise and unleashes the thought leadership hidden within your business. If you simply create content targeted at an ideal audience or buyer persona, you skip over two key tactics: research and analysis. These steps use data to strengthen your chances of a third party recognizing your content. 
Research begins by identifying your strengths and the state of your current website. You should keep a record of all your earned backlinks. There are a number of resources to get started including Semrush backlink analysis and ahrefs backlink checker. Using these tools provides insight into how others already connect to your brand. What is unique about these pages? Beyond your expertise what has earned these inbound links? How can you build upon these past successes?
At Valve+Meter, the data revealed during research informs the overall content strategy. By auditing the backlinks across your website you find the content others have deemed legitimate and relevant. As well as forming a stable foundation to build, you learn more about your audience. The content you build to earn inbound links should target the decision-makers within your existing backlink audit and your ideal high-authority sites. 
The final step of research is using your resources, knowledge and expertise to identify content gaps and areas for improvement within your content. Consider pages with existing backlinks as your strongest content. Develop strategies to optimize this content including on-page SEO optimization like internal links, forming content clusters and page structure. Fortifying your content is often more impactful than building from scratch. Whether you are optimizing or building new content, the research step is key to learning about your website and your target audience.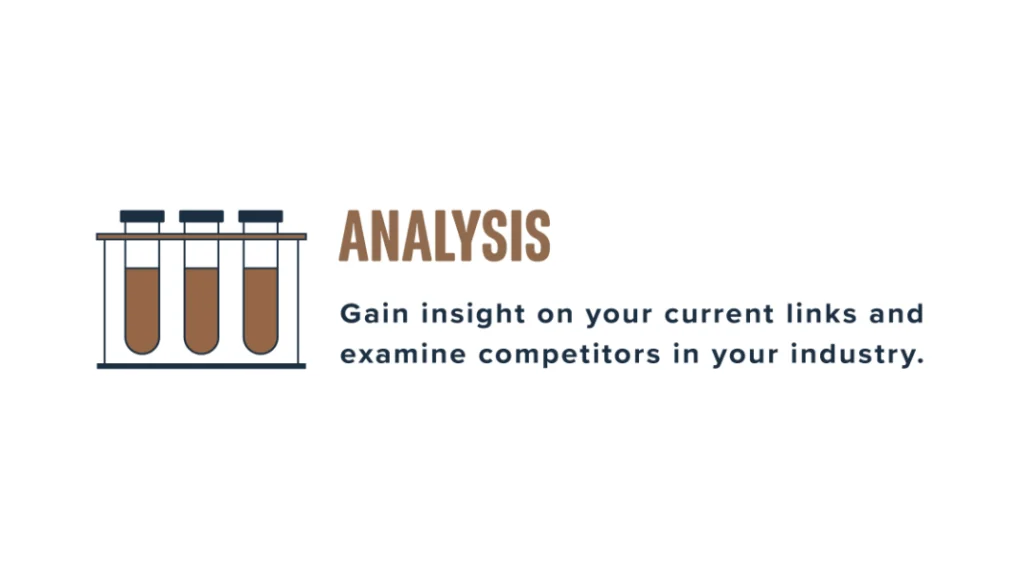 Step 2: Analysis
Once you identify the content on your site most likely to earn backlinks, analysis helps you see what content high authority websites are rewarding. This involves auditing the backlinks of top competitors. In the case of an on-page SEO strategy, great brands use tools and skills to design content for ideal buyers. This builds brand awareness. Backlink strategy targets brand enthusiasm. For off-page SEO, you use tools and knowledge to appeal to high-authority sites and influencers. 
Many of the same well known tools like Semrush, Ahrefs and Moz help you analyze top competitors. This volume of tools can be overwhelming when first starting an inbound link strategy. By researching your strongest content you can analyze the intersecting links of your top competitors. Visit their sites to see the tactics they are using to enhance their content and set themselves apart.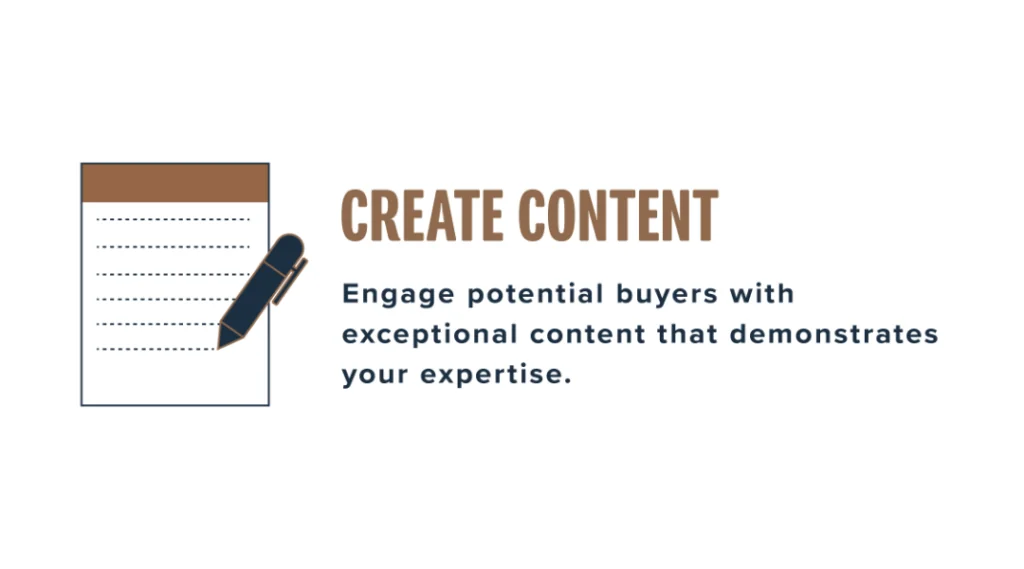 Step 3: Create Content
Creating high-quality, likable content is where many marketing campaigns begin and quickly flounder. As you form a plan to optimize or build content, it is important that your strategy is driven by data based upon research into your site and analysis of competitors.
This means you are far more likely to generate unique, relevant and credible content high authority sites reward with backlinks. From your research and analysis steps, you may already have drawn inspiration for your content. Based on our research at Valve+Meter, content that is highly relevant, extensive and non-reproducible is most likely to earn inbound links.Banded content often begins with creative marketing teams producing graphic design, case study, motion graphics and even video marketing.
Highly Relevant Content
Emphasize facts and demonstrate your complete knowledge of the subject. Relevant content places a priority on fully examining the data ahead of sales pitches and marketing slogans. This content may take the form of writing, graphics, videos and even white papers. The goal of this content is to build relationships. When you demonstrate your thought leadership the value of your brand is obvious.
Extensive Content
Tell the comprehensive story of your subject. Intelligently structured, voluminous content appeals to brand enthusiasts and establishes your authority over the subject matter. Sharing a vast amount of your thought leadership helps set your brand apart from competitors. During an SEO audit of our clients' blogs, Valve+Meter often discovers multiple pieces of content that can be optimized into one far more valuable page. 
The term skyscraper content is sometimes applied to long-form content but you should not exchange volume for quality. Trying to reverse engineer the top-performing content from across Google is not the goal. Stay true to your research and analysis. Your goal is not length but thoughtfully building depth of the content your audiences value.
The time it requires to research, organize and produce long-form writing demands commitment, skill and patience. As this blog post demonstrates, an extensive examination of one subject appeals to a number of audiences. This blog provides insights into the value of backlinks; warns of the pitfalls of blackhat strategies and explores the strategy Valve+Meter deploys for inbound link building. Because your research indicates a demand for the subject matter, taking time to write extensive content is justifiable. It also proves valuable during the outreach step.
Branded Content
Establish a reason for others to recognize your own original and authentic point of view. Representing data is a number of formats that appeals to a broader swath of audiences. Simply saying a lot about a subject is neither relevant nor engaging. Great content focuses on actual people. Throughout this blog, Valve+Meter included a number of graphics from our design team. This type of content engages audiences and the right type of content acts as lead magnets for inbound links. Videos, white papers, interactive forms and other original content balances likable information with brand identity.
Many businesses already have high-value and exceptionally relevant materials developed by sales and prior marketing projects. Valve+Meter developed Speed to Lead based on a study of home service businesses. Our team uses a print version and a multimedia presentation when explaining the value of lead response time for our clients. This branded study and other materials are popular resources for inbound links.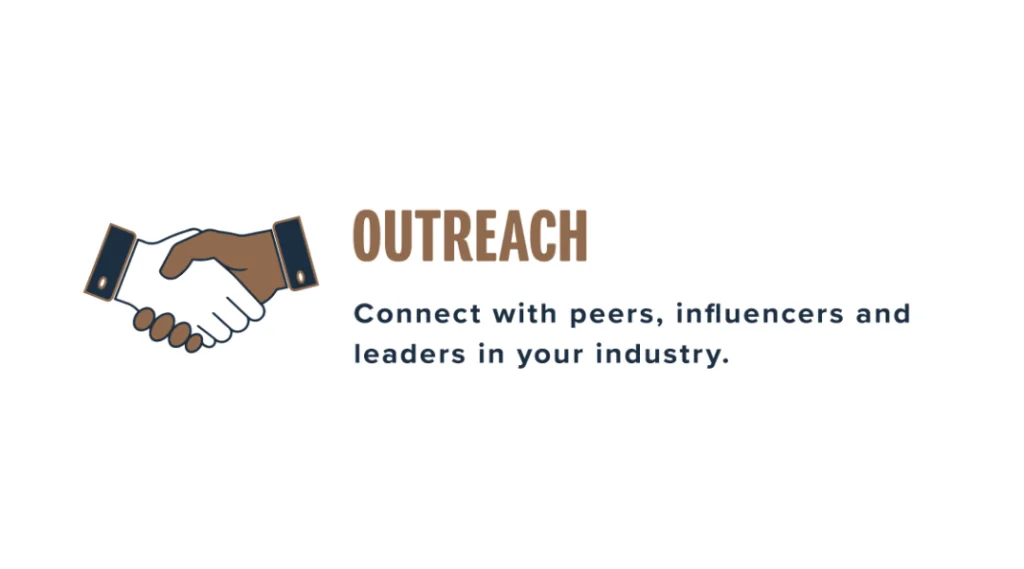 Step 4: Outreach
Every step in the process of how to get backlinks is the prelude to the most intensive work of earning backlinks. By understanding the value of backlinks and embracing best practices great brands are well-positioned for outreach. The purpose of marketing is to deliver your brand to audiences. Outreach is the fastest way to build backlinks to your highly relevant content. This strategy should not be confused with bartering links. You build relationships focused on relevant websites and high authority sites. Never rely on a quid pro quo exchange. Effective outreach strategies progress outward.
Social Networking
Share your high-quality content with your existing partners. This includes connecting with peers in your industry, vendors and organizations who may value your insights. Valve+Meter shares new content via email newsletters and social media. Your social network is likely to advocate for you by mentioning you and sharing content.
Local Citation Tools
Also known as listings management tools, local citations should be considered by most organizations as backlinks. There are many platforms that distribute information about your business including websites, phone numbers and addresses. Managing the information on these platforms can be performed manually but marketing tools help monitor and control the accuracy of your brand. This is especially important for small businesses and highly competitive industries.
Find Brand Opportunities
Discover who is mentioning you outside of your social network. There are tools for this but one of the simplest techniques is searching Google. Remove your domain and social media platforms from the search. Identify relevant websites already referring to your brand. Contact these sites by crafting a unique email thanking them for recognizing your brand and request an inbound link. Make their work simple by including their URL and the link to your site within the email. A final step is adding a Google alert for your brand names and trademarks laying groundwork for future outreach opportunities.
Participate In Industry Events
Some marketing plans encourage a broad outreach program of unsolicited emails. There are effective email marketing strategies, but most leaders within your organization already participate in industry events. Use these opportunities to engage in relationship building including inbound link opportunities. These industry events may include participating in forums, guest speaking and writing thought pieces. Every industry event is an opportunity to learn from peers and cultivate knowledge. When the thought leaders within your organization establish a rapport with individuals and new groups, sharing great content is appreciated. Requesting a backlink is similar to building a Rolodex of reputable and credible contacts.
Resource Pages
Our clients often have success in link building by using a resource page strategy. First, we identify resource pages in your industry that include links to other websites, and then reach out to the website owner or editor and ask if they would be interested in including a link to your website on the resource page. This can be an effective way to build backlinks from high-quality, relevant websites in your industry.
Another way to use a resource page in link building is to create your own resource page on your website, and include links to other websites that provide valuable information and resources related to your industry. This can help attract natural backlinks from other websites that want to be included on your resource page, and it can also help improve the user experience on your website by providing users with a valuable resource that they can refer to.
By using resource pages effectively in your backlink strategy, you can improve the visibility and relevance of your website in search engine results.
Guest Posting Opportunities
A guest posting strategy for SEO is a link building tactic used by businesses and individuals to improve the visibility and relevance of their website in Google search results by publishing guest posts on other websites.
Guest posting involves writing and publishing articles on other websites, typically in the form of blog posts or articles. These guest posts typically include a link back to your website, which can help improve the visibility and relevance of the website in Google search results.
When guest posts result in high quality backlinks to your site, your brand benefits both in SERP and direct marketing. First, Google loves rewarding authoritative links. Second, you establish your brand as a thought leader in your industry. When audiences discover you through a brand they admire and value you are more likely to reach a wider audience. Returning to the shoe endorsement from earlier in this article, a recommendation always carries more weight when the source is respected.
To implement a successful guest posting strategy for SEO, you should focus on publishing high-quality, informative, and engaging content on reputable websites that are relevant to your industry. Use keyword-rich anchor text in your backlinks and track the performance of the guest posts in order to identify which websites and tactics are driving the most traffic and backlinks. Additionally, follow the data and pursue more opportunities with the websites delivering the traffic and inbound links to your brand.
Accept Opportunities
Industry events are often attended by professional media, bloggers and social influencers with broad platforms. You only get one chance to make a first impression so greet every invitation with enthusiasm. Journalists, media groups and content creators are eager to discover high-quality content and industry experts. Building a reputation as a credible and informative source is valuable for your brand. People reward you when you make yourself available and attach a face to your brand's story. Each invitation to share your knowledge has the potential to grow your brand enthusiasm.
Broken Links On High Authority Websites
During the analysis stage of this strategy, you identify intersecting links with competitors and opportunities for inbound links with high-authority sites. A valid reason to contact these sites is to identify a broken link in a blog post or other article.
Broken links harm SEO performance but are quite common. You can use a simple tool to find broken links on high-authority sites. During your outreach, celebrate the value of the content, point out any broken links to the site owner or manager and suggest a remedy including your own content when relevant.  
To begin, you need to locate pages with broken links. Find these by looking at broken pages on your competitors' websites that have backlinks; searching for broken pages on topics that you have content on; checking for broken links on other websites in your industry and looking for broken links on resource pages.
This strategy is time consuming so focus on pursuing only the most promising broken link building opportunities. If a broken link building opportunity is unlikely to result in high-quality backlinks, then it is not worth pursuing. Therefore, the first step is to quickly evaluate the dead page to determine if it has any desirable backlinks. If it does not, there is no point in pursuing the opportunity further.
One of the benefits of the broken link method is strengthening your on-page SEO. Identify broken links on your own website and take steps to fix them in order to improve your search engine rankings.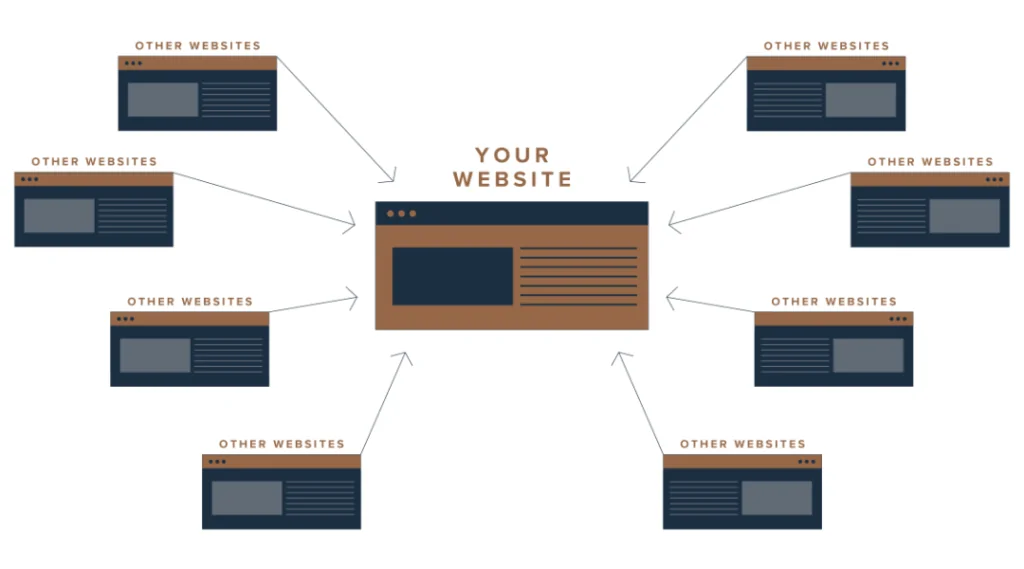 The Benefit of Inbound Links
There are few marketing tools as valuable as inbound links. When a third-party site connects to your domain the connection is nearly evergreen. Not only do you gain the attention and potential business of the third party's audience through the link, but Google will also recognize links as validation of your content. While algorithm updates may disrupt the performance of keywords, Search has always rewarded backlinks. 
Competition is extremely high and earning backlinks is a challenge. The SEO specialists at Valve+Meter help clients release the story of your brand. We believe every person has something important to share with the world. From blog audits, content creation and outreach we help you achieve your goals. Using the strategies developed in this guide, you can begin growing credibility and domain authority through backlinks.
A Brief History Of Links
Based on the history of backlinks, every present and future marketing strategy should include some type of backlink strategy. Backlinks, also known as inbound links or incoming links, are an important factor in search engine optimization (SEO) because they indicate to Google the popularity and relevance of your website.
The use of backlinks has a long history. In the early days of the internet, search engines relied heavily on the number and quality of backlinks to determine the relevance and importance of a website.
Sergey Brin and Larry Page, the founders of Google, wrote The Anatomy of a Large-Scale Hypertextual Web Search Engine in 1998. This paper outlined their vision for a new type of search engine that would be able to index the entire World Wide Web and provide more relevant search results than existing search engines at the time.
The paper proposed a new algorithm, known as PageRank, which would use the number and quality of backlinks to a website as a measure of its importance and relevance. This algorithm would help the search engine determine which websites to rank higher in search results, based on the relevance of the keywords being searched and the number and quality of backlinks to those websites.
The paper also discussed the challenges of building such a large-scale search engine, including the need to process and index billions of web pages, and the challenges of dealing with spam and irrelevant content. Overall, the paper laid the groundwork for the development of Google and the way it ranks websites in search results.
This led to the practice of link building, where website owners would try to acquire as many backlinks as possible from other websites in order to improve their search engine rankings.
As Google's influence grew, unscrupulous actors abused backlinks. The creation of low-quality links led to the decline of external links in search engine algorithms. In recent years, Search has become more sophisticated and now uses a variety of factors to determine the value of inbound links based on a website's relevance and credibility. Today, backlinks remain an important part of off-page SEO, but as just one of many factors that Google considers Valve+Meter uses a suite of marketing services when creating client strategy.
For brands looking to release the full potential of your business, request our free marketing analysis.