You can embrace these digital marketing efforts without breaking the bank! Your home service business aims to maintain your local customers and expand to reach new audiences. At Valve+Meter Performance Marketing we work with home service professionals from across multiple specialties. As home services marketing experts, we have designed a comprehensive online marketing guide to maximize your presence in the market.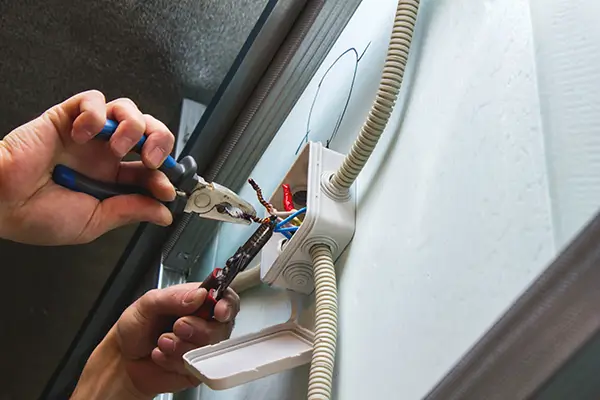 Who Needs Home Services Digital Marketing?
The term home services is a short, sweet, and to-the-point title that encompasses a broad range of services surrounding the maintenance, repair, and improvement of residential properties. Home services can refer to fields such as electricians, HVAC, home health professionals, house cleaning, landscaping, plumbing and dozens of other businesses. All of these businesses share one common thread: serving customers in a specific geographic location at their home.
Your home services marketing strategy should not look anything like a typical business. In fact, many home service marketing companies do not understand the needs and goals of your business.
If you want to grow your local home service business, then you need to focus strictly on local search results and paid advertising that reaches local audiences. The vast majority of paid search advertising and even organic inbound marketing relies heavily on tactics that are designed for national brands, ecommerce businesses, and brick-and-mortar businesses.
If you are frustrated by marketing and advertising expenses that are not designed for home services providers, then you're not alone. The team of professionals at Valve+Meter Performance Marketing was founded on providing digital marketing solutions to all levels of home service providers.
The Key Components of the Home Services Industry
While businesses under the home services umbrella must navigate the nuances of your specific offerings, Valve+Meter's research has identified 3 important aspects of the home services industry that formulate our core marketing analysis.
High-Demand
Since the COVID-19 pandemic, homeowners have steadily increased their focus on maintaining and improving their residences. Home services are more in-demand than ever before and a majority of new client traffic is starting with internet searchers for local providers.
Solution
Home services businesses discovered in Google ads, organic search results, and social media need lead generating websites to convert these prospective customers into paying customers.
Competitive Industry
While there is a high demand for home service companies, there is also an abundance of providers. This has created a highly competitive industry in which home service providers win customers' business based on their prices, quality of service, and emphasis on customer service.
Solution
Your home service business must capture leads and quickly convert. Online marketing can capture leads but your sales and operations but prioritize speed to fulfill requests and maximize customer retention.
Customer Service
Consistent high-quality customer service can make or break your company's success in the home service industry. Delivering satisfactory customer service will lead to repeat customers, generate word-of-mouth referrals, and contribute to your brand's reputation and success.
Solution
As a home services provider reputation management is vital to success. Customer testimonials, positive reviews, showcasing customer feedback across your website and social media posts provide social proof of your great customer service.
The Advantages of a Local Home Services Company
Overall, your local business has an unmatched opportunity to excel in the home services industry because you understand the local market and the needs of your neighbors. You're familiar with the neighborhoods, values of residents, even weather conditions, local building codes, and common home maintenance issues that affect homeowners in your service area.
Your local company can reach prospective customers quickly and cultivate ongoing relationships with homeowners, suppliers, and other contractors. These factors allow a local home service company to provide the most qualified customer service and meet increased demands for home service solutions in a more timely manner.
Hitting on these 2 key aspects of the home service industry will propel your local company above and beyond the competition. Don't let your reputation for success get lost in the industry's overcrowded digital presence. The digital marketing strategy developed and executed by the innovative team at Valve+Meter Performance will deliver tangible results for your local home services company.
Cultivate Success with Digital Marketing Strategies
High demand for services and a highly-competitive market don't seem like two scenarios that should co-exist. In the home services industry, these two components go hand-in-hand. Increased demand has driven consumers to find new ways of identifying home service providers. As we move further into the digital world, it's no surprise that internet searches have become the most common tool for homeowners to find home service companies that meet their criteria. This tactic has increased competition in the home services industries because it connects customers with the first home service company at the top of a results page. To succeed to its fullest potential your company needs to be at the top of that list.
Digital Marketing from Valve+Meter Performance Marketing can achieve that goal by helping your home services business target your ideal customers more efficiently than traditional marketing methods. Digital marketing strategies range from implementing modern digital tools like website chatbots to dissecting data analytics in order to devise and facilitate data-driven campaigns that result in an increase in leads and, as a result, an increase in revenue.
Your home service business does not need a complicated marketing strategy, you need high quality leads and greater customer retention.
The key to gaining and maintaining new customers is to meet them on their turf. When consumers flock to digital strategies to find home service providers, professionals in the industry must also turn to modern tools like digital marketing to engage with these potential clients at every stage of the customer service process. Valve+Meter Performance Marketing is highly skilled in digital marketing for providers across the home services industry.
Now that you've got the low down on why digital marketing is so important to the success of your home services business, the experts at Valve+Meter Performance Marketing have compiled some of the top information you need to know to get the most out of our personalized digital marketing solutions.
What to Know About Digital Marketing Leads
The goal of digital marketing is to generate leads. In the context of the home services industry, generating leads means implementing digital strategies to attract potential customers to your company's digital platform and home service offerings. The aim is to capture the interest of new customers, increase traffic to your online platforms, and ultimately, secure new clients who will become loyal customers.
But not all leads are generated the same way. When it comes to digital marketing there are 2 types of leads – bought leads and earned leads. Understanding these 2 kinds of leads is the first step in knowing what combination of digital marketing strategies will be best for your home services business.
Buying Leads
The process of buying leads is not as simple as it sounds. Your home services business is not actually buying leads from a third-party. Buying leads refers to paid advertising including pay-per-click (PPC), Google Local Services (GLS), third-party websites, social media advertising, and all other advertising. These leads can be obtained quickly without dedicating valuable time on organic lead generation. Home services companies can also easily budget for bought leads as the cost is set upfront.
PPC
The most efficient form of local advertising is Pay-Per-Click or PPC. In this strategy, your company will first bid on specific keywords that will best encompass your target audience. Then when a potential client types the keywords into a search engine, your ad will appear on the results pages (SERPs) and your company will pay for every time someone clicks on your digital ad.
Many home services businesses struggle with PPC because the wrong keywords, target audiences, and bidding strategies were used. A complete home services marketing strategy examines your business, executes local keywords, analyzes competitors, and identifies the most effective strategies to maximize your return on investment.
Google and Bing provide data about users so your campaigns can become exceptionally precise. You will need to direct leads to your website and typically a landing page to track the source of leads and measure conversion rates.
Google Local Services ads
Google offers local businesses the opportunity to become certified. This displays on your business listings in Google searches, maps, and Google Local. This advertising is highly effective for home services marketing because the ads are only offered to users in your area. Your business listings will stand out to homeowners who trust Google as a brand.
Third Party websites
There are many tech companies gobbling up profits of home services businesses. An increasing number of websites connect homeowners with your home services business. Your business listings may be free but leads are not. As well as paying a percentage to third party websites, there is little benefit to your business. Online reviews are controlled by the third party. Brand recognition is minimal. Ultimately, customer retention is lost because homeowners recognize the third party platform instead of local home service businesses.
PAID SOCIAL media platforms
Many homeowners use social media channels to discover local service providers. Just like PPC, the personal data housed within social media companies is exceptionally thorough. Paid social advertising places your brand in front of your local audience and conversions occur on your website or through your phone sales support.
The Best Paid Ads
To gain more leads immediately, advertising using PPC, GLS and paid social are tremendous because they place local services ads in front of your target audience. The long term benefits include brand recognition, building rapport with the customers you serve, and fine tuning future campaigns to reduce acquisition costs per lead.
The drawback of paid search advertising and social media ads is every lead costs. For these reasons, home service professionals should balance both buying leads with earning leads.
Earning Leads
Earned or organic leads are leads that are developed naturally when a potential customer is attracted to a business's digital platforms through various marketing channels. These channels include search engine optimization (SEO), website development/design, email marketing, organic social media, and content marketing.
Unlike bought leads, earned leads aren't one-and-done. Quality content on your home services website can consistently generate new leads over and over again. This not only increases the amount of leads you generate but is also highly cost-effective. Another benefit of earned leads is that they're all linked to potential customers who currently need and are actively searching for home services solutions. As a result, they're more likely to be interested in your company's services and more likely to reach out or respond to your communication.
Search engine optimization
SEO includes a suite of techniques that help increase your visibility on search engines. The key for home service professionals is to focus on local search. Home services marketing should clearly state the services your offer and the areas that you service. This includes local keyword research relevant to your home services business.
Website Design and Development
While some paid advertising does not demand a lead generating website, home services marketing strategy benefits greatly in all forms when you invest in a contemporary website. Your website should be optimized for SEO, mobile devices, and focus on the user experience. A lead generating website helps homeowners quickly connect with you through contact forms, chatbots, and other clear calls to action.
Email Marketing
As you build an online reputation through local service ads, organic search results driven by SEO, and social media, your home services marketing should embrace email. Email marketing for home services is distinct. Focusing on customer retention is key. Email marketing should include delightful and shareable content, encourage online reviews, and invite referrals. Home services email marketing should not use transactional language but instead stay top of mind. Email marketing that is most successful is just-in-time newsletters that build your brand as an authority with your customers and local area.
Social Media
Organic social media refers to your business profile. This profile is discoverable by search engines and can be featured on your Google Business listing. Like email marketing, home service businesses that focus on customer satisfaction are most likely to succeed growing audiences on social media. Tips, advice, and company culture help more customers connect with your brand. Your home service business may also provide content marketing through social media.
Content Marketing
All content from blogs on your website, newsletters, videos, and social media posts help build your SEO, brand reputation, and overall home service marketing strategy. The more shareable and informative content featured on your website, social media, and Google Business Profile, the more credible and authoritative your business becomes with search engines.
The Best Inbound Marketing
Our team of content specialists at Valve+Meter Performance Marketing has a reputation for creating customized, quality content that successfully generates earned leads for home service clients. The best earned content attracts, engages, and converts audiences. The stronger your earned home services digital marketing becomes, the less you need to rely on Google ads.
Stand Out with a Home Services Marketing Agency
At Valve+Meter Performance Marketing, our team knows that local home services companies are at an advantage when they can reach and interact with the market they serve. When it comes to your home services marketing strategies, our specialists will focus content on your local market to generate a greater frequency and quality of leads. Our SEO and paid advertising team utilizes an array of strategies to help your home services company appear in the search results of your target audience.
Organic SEO Content
Our content specialists will help optimize existing content on your home services website, as well as create new SEO content that will help boost your current position in the market and convert more leads.
Our dedicated content writers will use local keyword research, AI, machine learning, and analytics to create people-focused, highly specialized content for your digital platforms.
Local Keyword Research
Performing a local keyword audit will help our team identify keywords and phrases that appear the most in your local market. These keywords can then be implemented into your business web pages to attract your target audience and increase your company's search engine visibility when potential customers search for similar home service solutions in your area.
Optimizing Website Architecture
While a website has to be user-friendly, it also needs to be built in a way that effectively boosts your SEO content. There are 5 key factors to website architecture that can increase the focus on local search engine visibility, including:
Location-specific landing pages
Site structure
Mobile Optimization
Schema Markup
Local directory listings
The experts at Valve+Meter Performance Marketing can create an intentional website design to make the most of your home services content.
Google Business Profile
Formerly known as Google My Business, a Google Business Profile is a free tool for online presence management, specifically focusing on Google platforms such as Google Search and Google Maps. When you make and properly manage a Google Business Profile, your home services company will have more success with its SEO strategies because the search engine has increased access to your location, services, and other common keywords.
Local Link Building
The foundation of local link building rests on a type of link that goes from one website to another. Called backlinks, these are links from other websites that connect to your company's site. For local link building, our team will reach out to businesses in your service area who have websites and obtain backlinks from them. This acts as a vote of confidence from these relevant websites in your digital platforms and home services offerings. The more backlinks you have, the higher your company will rank in search engine results.
Local Citation Management
One of the most important and most overlooked aspects of Local SEO is making sure your business's information is the same across all digital platforms. It sounds simple enough, but mistakes in your name, address, phone number, and website information can occur without proper management. Allowing the team at Valve+Meter Performance Marketing to ensure all of your company's information is consistent online will ensure potential customers and search engines alike will be able to locate and engage with your home services solutions.
Work with Valve+Meter Performance Marketing to get help in all of these areas and make sure your local SEO content is at the highest quality it can be to increase website traffic and revenue to your business today.
Local Advertising is Still a Tool for Success
Traditionally, local advertising has been easy for home services companies to accomplish. They put up billboards, play ads on local radio stations, and hang up flyers at popular local sites. When it comes to digital marketing, it's just as important to maintain a local advertising presence for your business. Our digital marketing experts can help you identify and employ these 5 local advertising strategies to help market your home services company.
Pay-Per-Click
PPC (Pay-Per-Click) advertising is a fast tool for generating traffic to your digital platforms. When potential customers are searching for home services solutions and products in your service area, your ad can help attract their business to your site and services.
Google Local Services
While many Google Products can be utilized in local SEO and local advertising strategies, Google Local Services is designed especially for local businesses. Your company can advertise at the top of Google Search results and only pay when a viable lead is generated by the ad. Similar to PPC, this platform puts more emphasis on local searches and only charges for qualified leads instead of every individual click.
Paid Social Advertising
Social media dominates a lot of our time. Platforms like Facebook, Twitter, and Instagram are also becoming some of the top platforms for digital marketing. Paid social advertising allows your business to pay for ads to be displayed on these platforms. These ads are curated to target your specified audience or services in a designated geographical area. Paid social ads can be displayed in multiple mediums from sponsored posts to video content.
Email Advertising
If your home services company already has a loyal customer base, you can build off of that group with advertising like promotional messages, special offers, and service updates sent to a set list of subscribers via email.
Display Ads
Display ads are a more traditional type of digital advertising that can be customized for local marketing. These ads are highly visual displays that are presented on websites, social media platforms, and other digital channels.
Retargeting Ads
Similar to a social media algorithm showing you posts based on your known interests, retargeting ads use information from a person's previous web activity to show them display ads from your business about similar products and information.
All of these types of local advertising are effective tools to promote your home services company. The team at Valve+Meter Performance Marketing can use these advertising strategies to maintain and improve your business's digital presence and SEO success.
Don't Forget Evergreen Rules
Evergreen rules are a list of marketing principles that remain true and necessary over time for the success of a campaign. These rules aren't affected by changing technology, consumer behavior, or market trends, and are just as relevant today as they were in times before the internet. The professionals at Valve+Marketing will set your company up for success by making the foundation of your marketing strategy the following evergreen rules:
Respond to Leads Immediately
Focus on Great Service
Brand Your Business
Know where your leads are coming from
Invest in the most effective strategies
Always Embrace New Ideas
Digital Marketing is a constantly evolving beast. While our team of experts knows how to tame it, your company must open itself up to new ideas and modern strategies to fit the modern world. These strategies include:
Adding chatbots to your home services website
Introduce customer referral programs
Offer member programs to current customers
Create video marketing such as YouTube tutorials
Take part in networking opportunities in your local community.
Contact Valve+Meter Performance Marketing
For all of your home services marketing needs, reach out to the team at Valve+Meter Performance Marketing. We're here to walk you through each step covered in our comprehensive home services marketing guide, including:
Understanding the State of the Home Services Industry
Digital Marketing Strategies
The difference between Bought and Earned Leads
Local SEO
Local Advertising
Evergreen Rules
Up-and-coming marketing strategies
Valve+Meter Performance Marketing takes a thorough, data-driven approach to marketing the for home services industry that prioritizes new lead generation and a high return on marketing spend (ROMs). Contact Valve+Meter Performance Marketing today.