Overview
As many HVAC companies begin planning for 2024, emerging data and trends are vital to planning the most successful go-to-market strategy. At Valve+Meter, we are constantly researching, designing, and testing new strategies. From search engine optimization to paid advertising and web design, digital marketing is constantly evolving. Our testing culture helps us know what to measure and provide insights to our partners.
Focusing on spending preferences and leading indicators shaping consumer behaviors helps strengthen your HVAC business and facilitate sustainable growth.
The most successful home service providers thrive by improving lead management and lead response. As Valve+Meter's Speed to Lead study affirms, home services companies increase revenue, growth, and net profitability by optimizing lead response times.
Throughout 2023, new trends emerged across the industry that help guide even more pathways to capture new consumers and distinguish your HVAC business from competitors.
In a marketplace saturated with transactional businesses, nimble and visionary HVAC business owners are connecting with consumers through a meaningful and relationship-focused go-to-market strategy.
2023 Key HVAC Data 
The first half of 2023 may have appeared stronger for some businesses, especially if commercial and multi-family services are a large portion of the business mix.
Commercial Backlog
As manufacturers fulfilled a backlog of commercial orders from 2022 and supply chain shortages eased, many contractors experienced a false sense of growth and sustainability through Q1 and Q2.
SEER2 and Price Increases
Additionally, new equipment rollouts with SEER2 resulted in price increases which may have resulted in perceived revenue growth without an actual increase in net new units sold.
Mild Weather
2023 was the mildest summer in the Midwest since 2017. At least through the first half of the summer, the industry reported milder weather resulting in fewer demand calls than in years past. From April through September, the Residential Energy Demand Temperature Index (REDTI) was 56.2 down from 87.4 in 2022 and well below the 86.55 average since 2018.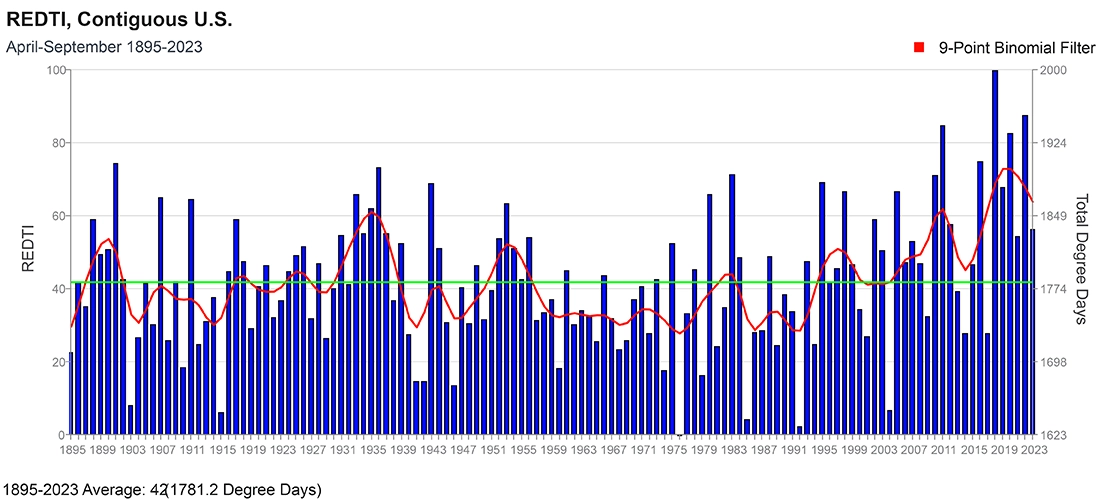 Lower Demand
Valve+Meter identified an overall change in search habits year-over-year. A snapshot of July searches reflects 20% fewer users entering the market for air conditioning installation and 20% more seeking air conditioning repairs.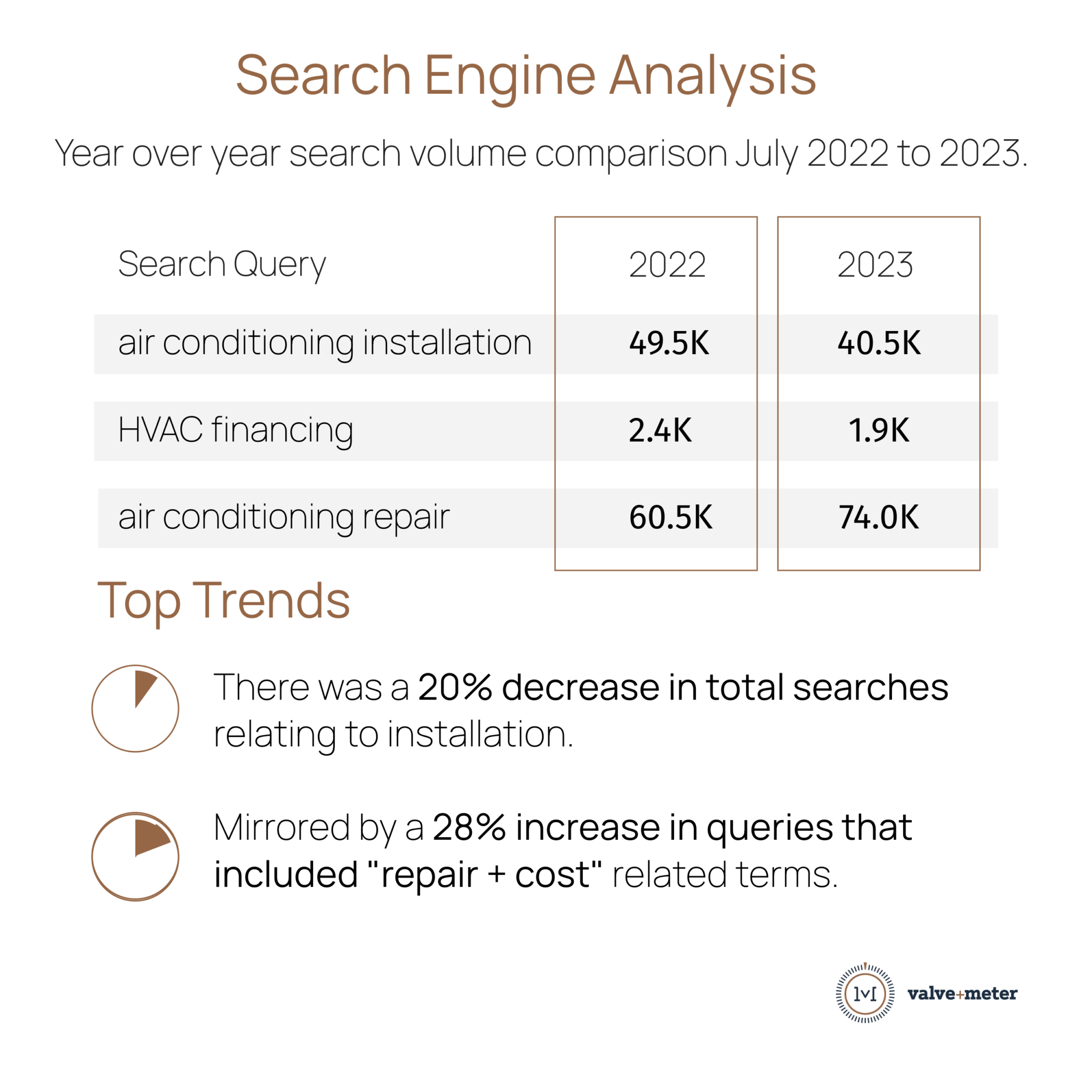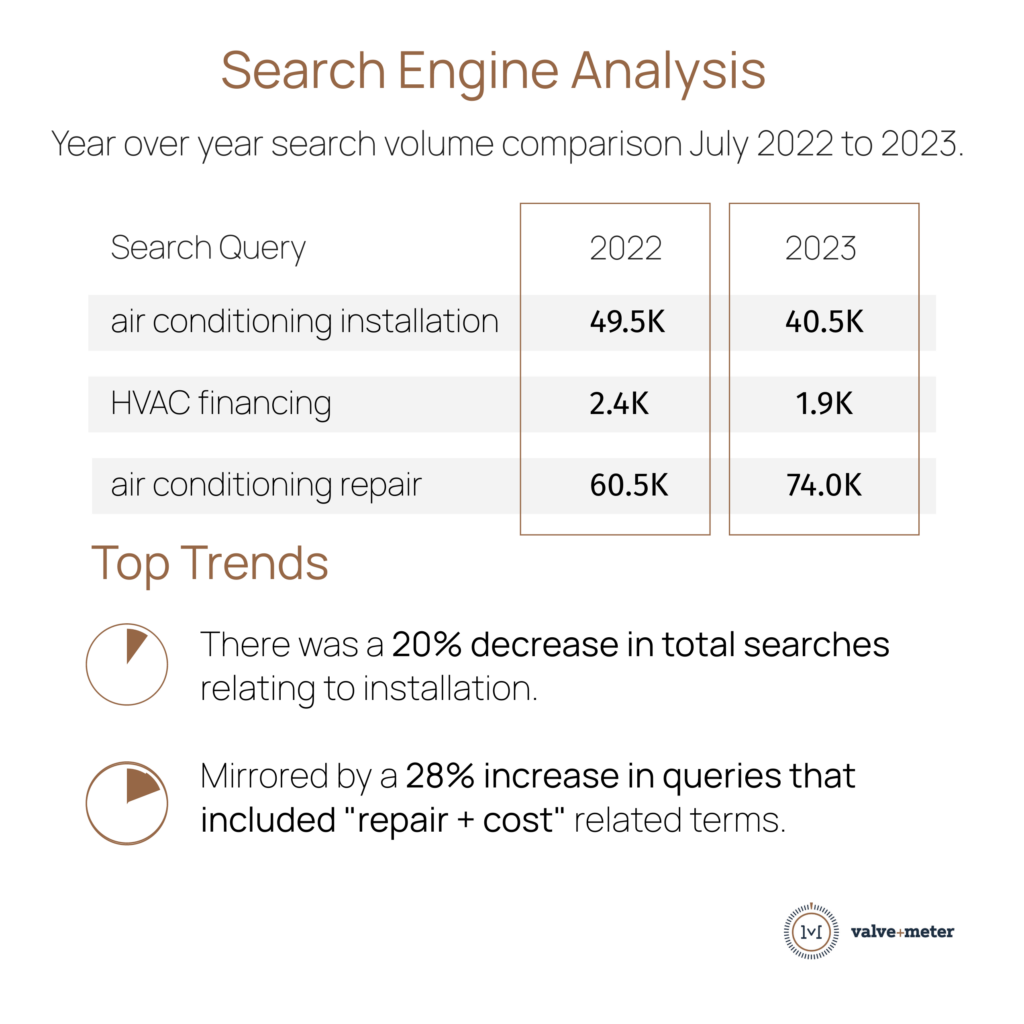 Industry-wide there have been observed decreases in ducted split and gas furnace sales, with some greater stability in ductless solutions in the HVAC segment. In recent months, the manufacturers and installers have noted commercial sales flatlining with decreases in single-family stats and AOR ranging between 25-30%.
Consumers are clearly sensitive to price increases and respond by asking for more competitive estimates. When Valve+Meter assessed July searches year over year, we observed a 28% increase in queries that included "cost" and related terms.
2023 Summary
Other known and unknown market conditions have impacted consumer confidence and spending habits which has led to an increase in repairs over replacements and an even greater focus on price shopping than in past seasons. Overall, private spending on home improvements dropped by 1.87% (IBIS World, October 2023).
The range of variables is best summarized as a humbling year for HVAC. Which leads us to the unique resilience of small business owners. What lies ahead in 2024 and how do we make the most of it?
Emerging Homeowner Buying Habits in 2024 
What sets great HVAC businesses apart is delivering exceptional service to customers. While consumer demand and buying habits change, the definition of excellence in business never wavers – treat people as you would want to be treated.
For example, during the pandemic, many consumers rewarded businesses that could respond quickly and complete work in a timely manner. In some cases, HVAC businesses turned down opportunities due to overwhelming demand.
If it felt like your HVAC business became transactional, then you are not alone. Here's a question to consider as you review consumer data:
How do you do the most good for your customers, company, employees, and community?
Delivering comfort for homeowners and businesses in your community goes beyond climate control systems. Delivering the equipment and services is only part of why customers call on you. Transformational growth starts by listening to your customers and building stronger relationships with the communities you serve.
Emerging data shows a new type of consumer that is informed and motivated not only by price but by more personalized businesses.
A New Type of HVAC Buyer
As we look into 2024, it is impossible to predict the future; however, there are some trends in the HVAC industry that are worth considering.
At Valve+Meter, we study data to understand more about HVAC consumers and there is no single portrait of your ideal buyer persona. Many new buyers will continue to focus first on price while others are seeking something quite different.
Many buying decisions hinge on the ideals of homeowners including buying local, decreasing carbon footprint, and even buying from companies with shared values.
Let's examine a few types of consumers and the ways to connect your business to their needs and desires.
Price-Focused Consumer
In a recent survey, Valve+Meter found many homeowners' focus has shifted from simply speed of service to price. During initial phone calls and communications, the Priced-Focused Consumer is asking about the cost of services.
For cash-strapped homeowners, the average price of HVAC repairs has increased due to inflation. Throughout the cooling season, Valve+Meter measured search queries for the term "HVAC quotes" in Indianapolis. Spanning June through September, consumers searching for estimates and quotes increased by 10.5%.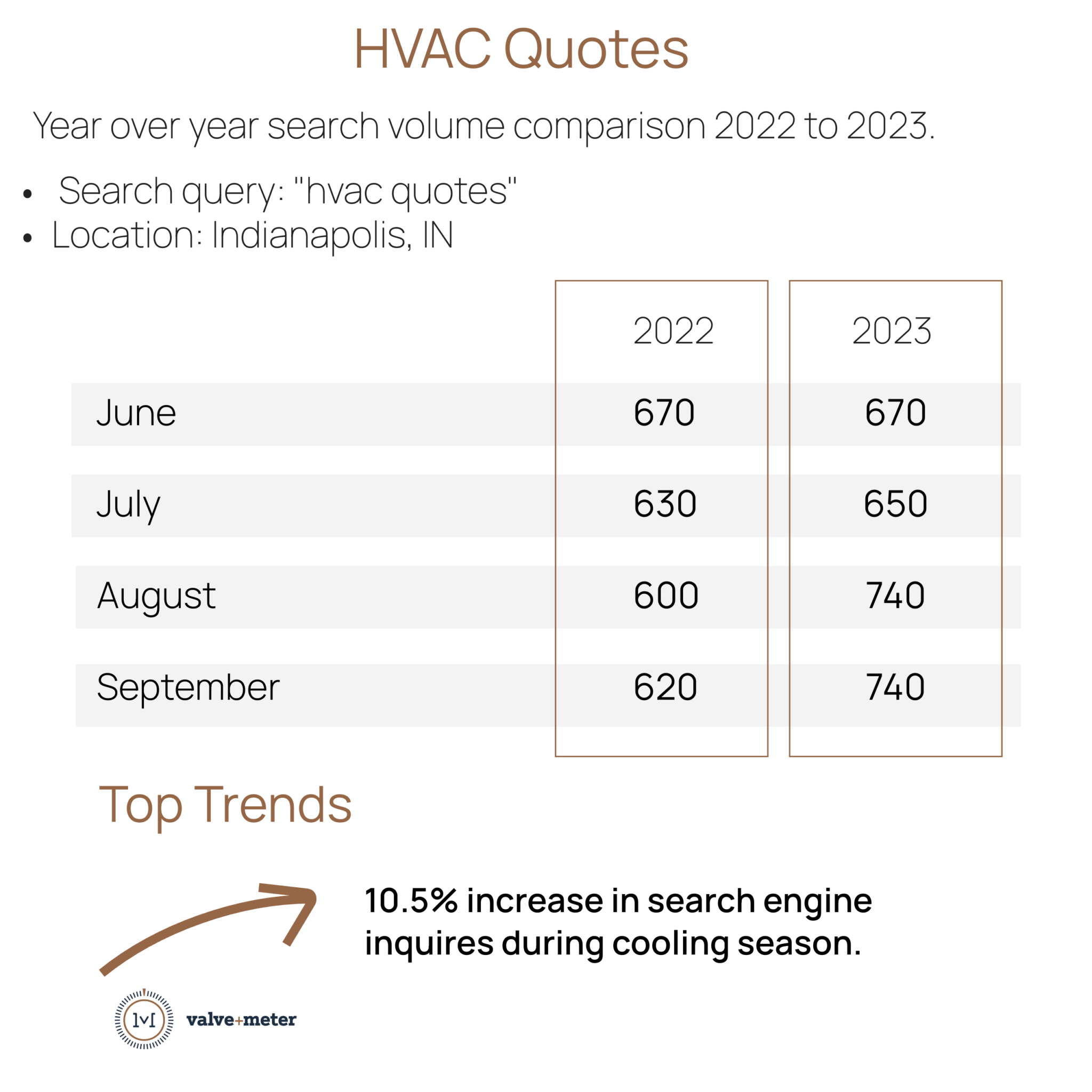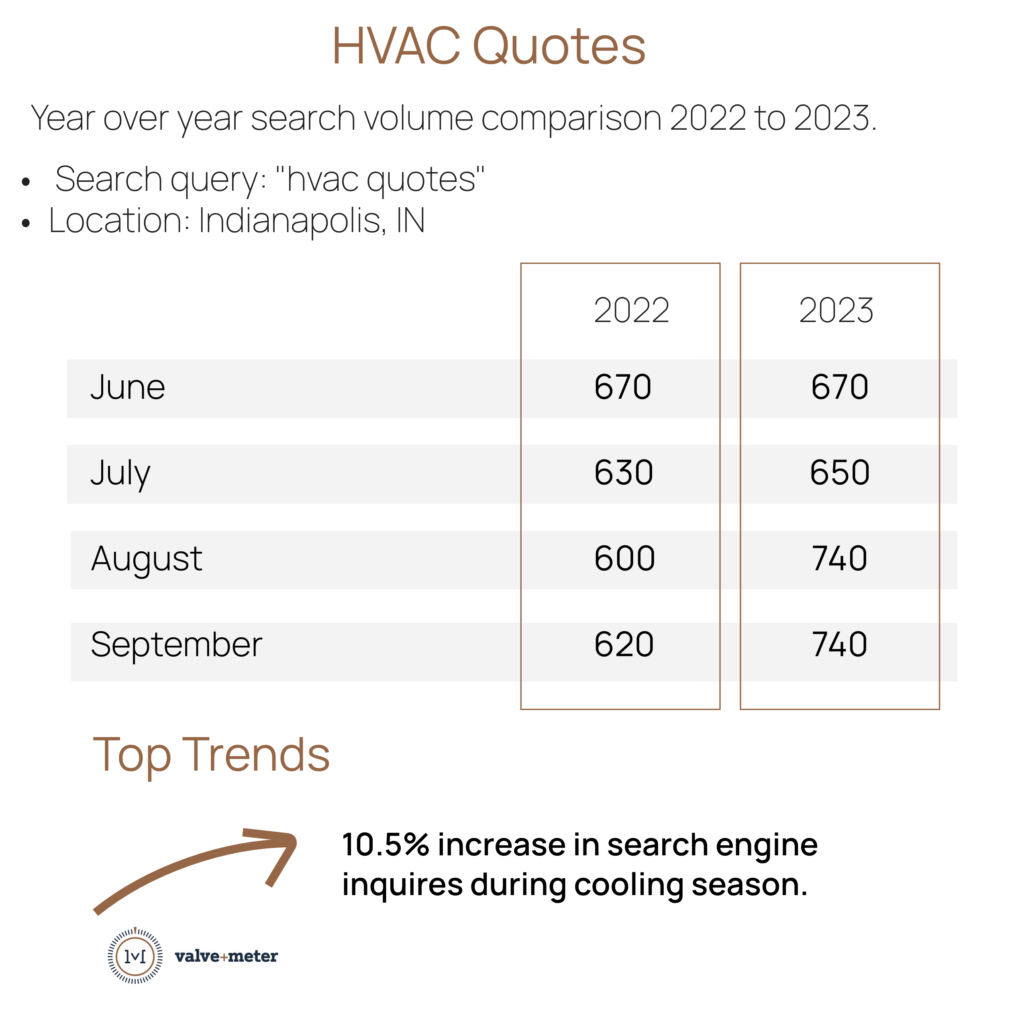 Another reason may likely be lower demand and plentiful supply. Data indicates new home starts declined 3.1% year over year 2021-22 (IBIS World, October 2023). One reason for homebuilders' reduced focus on residential single-family home construction is likely due to margin limitations. Amidst rising housing costs, higher interest rates, and limited housing stock, multi-family construction continues to be a strong segment reaching a 50-year high in March 2023 (Harvard).
Although potential homebuyers are not entering the market, existing homeowners are staying in aging homes longer. Median homeownership is now 13.2 years, an increase of 3 years over the last decade and more than 5 years longer than the median in 2010.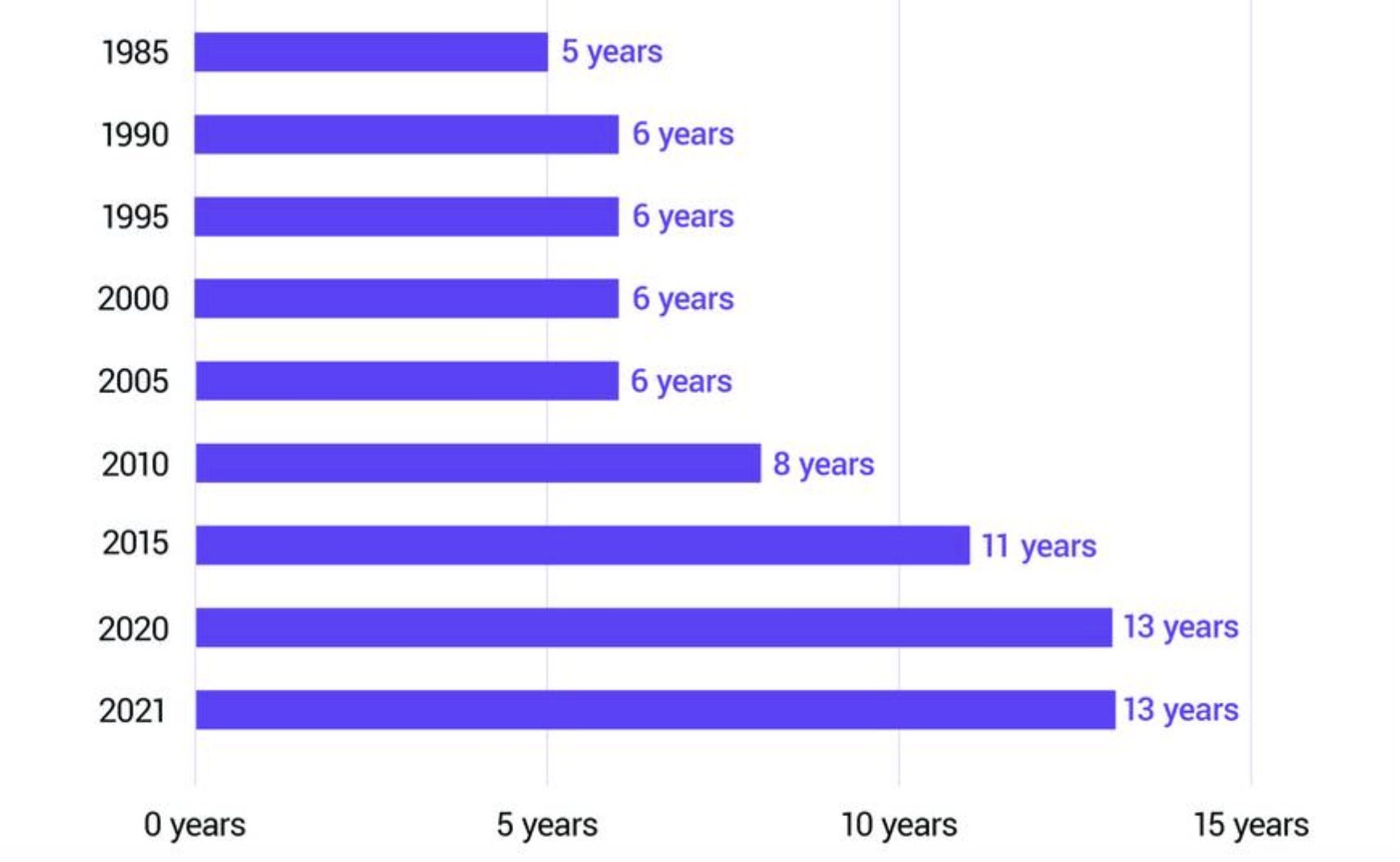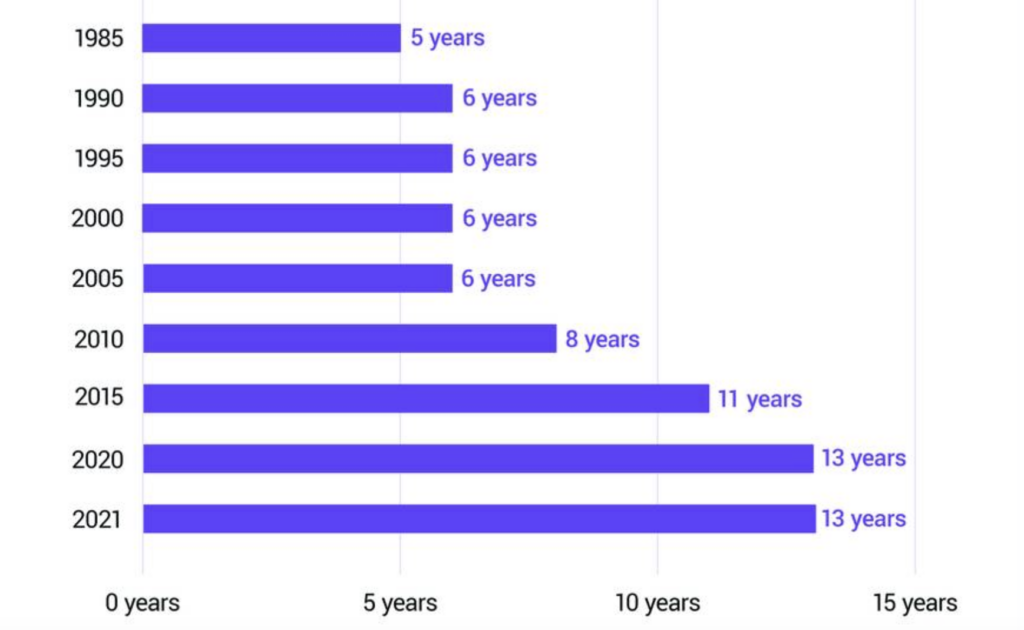 (Zebra)
With marketplace uncertainty, the question remains: How do HVAC businesses win in the home services industries amidst these variable conditions? 
Buyer Persona
Consider Jane Doe, a working mother who returns home to a broken air conditioner. Like half of all Americans, she has less than $5,000 in savings. Financing HVAC installations continues to be vital for the industry, but more than 23% of revenue within the HVAC industry is from repairs and maintenance.
Now consider the average cost of an HVAC repair is approximately $1,100. A YouGov survey from January 2023 shows 1 out of 10 consumers do not have any savings while a slightly higher percentage of consumers polled say they have less than $100 in their savings account (13%). 
Jane Doe needs financing to repair her system. How can you help her?
HVAC businesses can adjust and improve to connect with the Price-Focused Consumer. This consumer is not simply looking for the best deal on new equipment or repairs. Most face the immediate challenge of a broken system.
Your digital marketing, sales, and support can help this buyer buy with confidence.
Meeting Inflation With Dignified Buying Options
Even for repairs, financing needs to be a key focus across your website, support team messaging, and service visits. Online finance applications help cash-strapped homeowners apply for credit discreetly. 
Pre-approval reduces anxiety and reduces uncomfortable questions during the selling process. 

Second-look financing provides alternatives to prime-only lending sources.

Revolving credit lines help to offset the expense of repairs and form a relationship as a homeowner with an aging unit plans for eventual replacement.
Proactively offering solutions help the homeowners in your community apply for credit discreetly. In 2024 planning, HVAC companies will connect with this consumer through:
Finance Webpage:

Add or optimize the financing page on your website so visitors can apply for financing even before your technicians visit their homes.

Search Engine Optimization:

Ranking in search engines for financing keywords can improve conversion rates. Create content including blogs and service pages about your financing options and process. 

Encourage Pre-Approval:

Optimize financing messaging into your process including discussing financing options on the scheduling phone call or in a pre-appointment email or text.
Additionally, financing approval rates have decreased over the past year (dropping from roughly 94% approval to 68% approval depending on the provider). For many HVAC companies providing a second look beyond your primary financing provider can help this buyer. 
Once a customer is pre-approved for financing, they can focus on making the best choice for their home. Providing revolving credit on a repair begins a relationship. You can follow up with this homeowner and help plan for the eventual replacement of an aging system.
This is a great opportunity to talk to them about additional solutions for their home. Most customers who are pre-approved receive that approval for a higher value than the unit you are offering them. While the Price-Focused Consumer may start the process looking for the lowest price, investing in a more efficient unit or adding an indoor air quality solution helps to increase their comfort and your margins. 
A nice bonus is that the customer also feels like they have been able to make a choice to invest in something they're excited about for their home rather than simply an unexpected expense.
Smart Consumer
Regardless of age, buyers are more informed than ever before. With more than 90% of millennials and Gen X using the internet, decision-making begins with search engines and social media. Although this number declines among baby boomers, more than 40% prefer to discover new products and services online and an additional 10% prefer social media.
It isn't just where people discover your HVAC business, but also how they search. A Forbes survey found that 80% of shoppers do online research to find, compare, and contact companies. Since June 2023, Google has noted users seeking product search-related terms (such as "review" and "comparison") have aligned with deal-related searches (such as "deal" and "offer"). 
The Smart Consumer represents the present and future of HVAC prospects. Just a few years ago this buyer would be described as young, professional, and tech-friendly. In 2024, HVAC businesses should expect every audience to be more informed and motivated to educate themselves prior to contacting your team. 
Buyer Persona
For example, John Jones has an aging gas furnace. He begins his search by learning about heat pumps and since his wife has allergies, he wants to know more about whether air cleaners and air purifiers really work. He installed a Google Nest and a Chime doorbell after reading reviews online. If he is a millennial he may use as many as 23 sources before he contacts you (Forbes). 
Does this buyer sound familiar?
How to Attract and Engage the Smart Consumer in 2024
84% do not have a company in mind when they start shopping for home services and 62% of consumers looking for HVAC services start with an online search. Ensuring your digital footprint is secure is key to reaching new audiences. This includes your HVC website, digital advertising, email, and social media to provide the Smart Consumer with information on all of your products and services. 
With the vast majority of consumers searching online, your HVAC business must focus on becoming a credible and trustworthy authority by using the following strategies:
Expand Product Offerings:

Great content about each of your products and services should be on your website. Our SEO experts have noted Google is rewarding original and accurate content on websites following the core algorithm update in fall 2023.

Enhance Content Messaging:

After filling any gaps in your website content, review your brand messaging. Beyond information,

McKinsey

finds 71% of consumers expect companies to deliver personalized interactions. And 76% get frustrated when this doesn't happen.

Retarget and Remarket:

Encouragingly,

60% of consumers say they'll become repeat customers after a personalized shopping experience

. Retargeting website visitors with display ads and sharing insightful emails improves conversion and brand loyalty.

Ask for Reviews:

In all of your interactions, including upon completion of maintenance, on your invoicing, and especially in email, insert or add a direct link to reviews of your Google Business Profile. In November 2023, Google announced an update to their review system that is likely to reward highly reviewed HVAC businesses ahead in search results. 
In the modern digital era, many Smart Consumers are going beyond information. Just like so many people who want a personalized experience, many consumers are asking more questions before spending their money on HVAC businesses.   
Google Search
8/10
80% of shoppers do online research.
Personalization
71%
71% of consumers expect companies to deliver personalized interactions.
Buy Local Consumer
One such consumer is keen on buying locally. Throughout the pandemic and subsequent years, more consumers embraced the value of the local multiplier effect. Money spent with independent locally owned businesses circulates 2-4 times more than corporately operated businesses. Recent data shows that 68% of money spent at local businesses remains in the local economy (Small Business Association).
Buyer Persona
The Buy Local consumer may be another small business owner or a homeowner in the community.
Supporting small, local businesses is important to more than 93% of consumers (Intuit). With 56% of consumers intentionally patronizing neighborhood stores or buying locally sourced products (US Chamber of Commerce), distinguishing your business within the local economy is vital.
Connecting With the Buy Local Consumer
In markets where large competitors and private equity HVAC contractors focus solely on transactional marketing, your go-to market strategy can make a deeper connection with your community:
Who Are You?

Create clear messages about your past, present, and future. Personalize your business on your website, paid advertising, and other marketing materials.

Platinum Rule:

Greet every phone call, email, or chat with a personalized greeting. As more corporate businesses rely on third-party support services, a friendly local voice stands out from the crowd.

Show Don't Tell:

Put faces and names to your business. Showcase the individuals on your team in employee profile pages on your website, email newsletters, and social media posts. One of the most frequently visited pages on websites is About Us.
While eye-catching branding is important for your website and trucks, the people within your business may be your best asset in 2024. Small local businesses make a lasting impact on communities because they care about homeowners, employ homeowners, and often are homeowners in the neighborhoods they serve. 
Shop Local
93%
Supporting small, local businesses is important to more than 93% of consumers.
Local Multiplier Effect
$68/100
68% of money spent at local businesses remains in the local economy
Why Consumer
The vast majority of consumers, regardless of age, buy locally, and alongside this trend are leading indicators that a new type of consumer focuses on why. More buyers are focused not simply on where they spend their money but also on brand reputation, values, and long-term service.
Buyer Persona 1
Why are you any different from the other guy?
Younger homeowners and business owners alike are digital natives. 80% spend time researching and evaluating companies and products before contacting you.
Why can I trust your company?
Just like with the Smart Consumer, "Why Consumers" look to the internet and social media to make informed decisions. A study by Salsify found the number of US consumers willing to pay more for a brand they trust rose from 30% in 2021 to 46% in 2022.
Review management is key to success in 2024. PowerReviews found that 99.9% of consumers checked reviews before making a purchase. In a 2023 survey, Bright Local reported nearly half of consumers trust online reviews as much as word-of-mouth recommendations.
Personalizing Your HVAC Business
Demonstrating your value and commitment to your customers is key to setting yourself apart in 2024.
Personalization drives performance and better customer outcomes. Companies that grow faster drive 40% more of their revenue from personalization than their slower-growing counterparts (McKinsey).
Nearly all consumers prefer a personalized experience and 74% of consumers are annoyed by websites that are not personalized (InstaPage). In 2024, personalization includes:
Optimized Content: Website content can be optimized with personal messages from you on the homepage and your 'About Us' pages. Quotes and reviews from customers throughout your website build a strong brand identity.
Personalized Communications: Email newsletters with distinct messages for your audience segments lead to improved open rates. When you provide interesting information on a regular basis, the "Why Consumer" stays enthusiastic about your business.
Social Proof: Social media messages that engage with your community events, holidays, and feature your team in action can build an audience.
Engaging more directly with your customers is the first step toward a more personalized brand identity. In fact, 50% of consumers surveyed wanted socially conscious benefits like charitable giving or one-of-a-kind rewards and experiences as a result of brand interactions (Inc).
How can you build brand loyalty?
Highlighting your brand identity and connecting with your existing audiences in 2024 is just part of appealing to the "Why Consumer." In an era where nearly all new purchases begin with an internet search, brand loyalty is rising.
Not only do consumers want to buy from brands they trust, they expect businesses to build relationships. Data indicates consumers are engaged with brands they love.
According to our 2023 survey results by Deloitte, the percentage of consumers participating in paid loyalty programs has more than tripled since 2021. Currently, 53% of consumers surveyed pay for a loyalty program, up from 32% in 2022 and 17% in 2021.
Every HVAC business should prominently offer a membership program. These programs are often viewed as another part of the transaction with new customers. In 2024, the cost and competition to earn new customers is on the rise, but many of your existing customers want a home services partner to simplify their needs.
Strengthening Your Brand:
Membership Program:

Dedicated member pages should be branded uniquely and prominently featured on your website. Share with consumers the benefits of joining the program. 

Invite New Members:

Highlight your membership program during service visits as well as installations. 

E-commerce:

Adding e-commerce features to your website can encourage new members to join easily. You can also include low monthly payment options for member programs and DIY accessories like air filters for furnaces, air cleaners, and other IAQ products.  

Remarketing:

Are your service visits and installations linked to a customer nurturing campaign? For both members and non-members, personalized messaging about maintenance, energy saving, indoor air quality accessories (IAQ), and community involvement can keep your brand top of mind and in consumers' inbox every month. 
Membership programs, social media, email, and other brand-building efforts do more than bridge the gap between installation and service visits. From the price-focused consumer to the busy professional who wants the best system at any price, delivering a unique experience can help your HVAC business become indispensable to your customers.
How Relationship Marketing Instills Operational Excellence
At Valve+Meter, we research and design methods to accelerate your flywheel by capturing new customers and remarketing to existing customers.
In the case of HVAC contractors, where maintenance and repairs are integrated into ownership, building relationships helps achieve operational excellence and outperform competitors.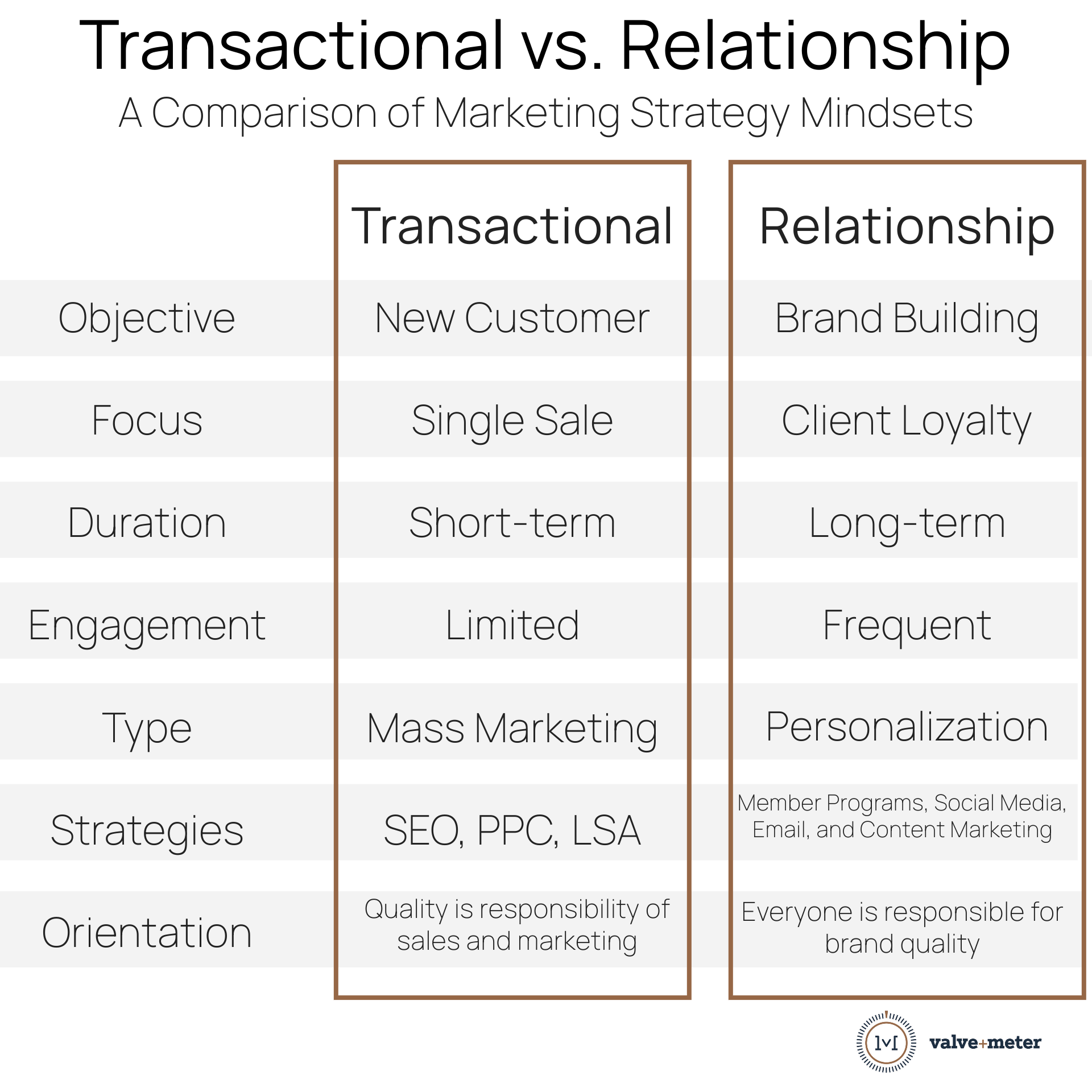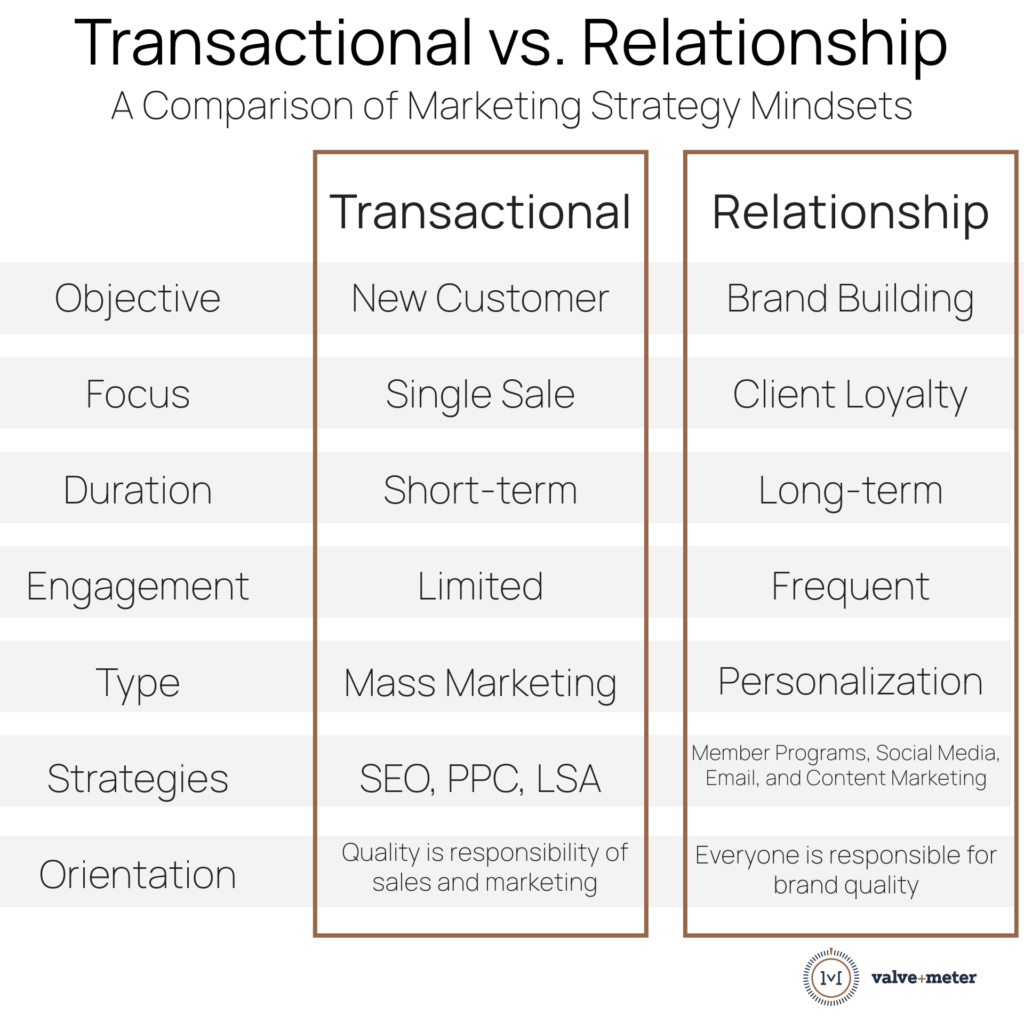 Transactional marketing strategies focus on acquiring new customers. This includes website content that speaks to urgency including Pay Per Click ads (PPC), Google Local Services Ads (LSA), and Search Engine Optimization (SEO) that captures ready-to-buy consumers.
Transactional marketing is essential to attract, engage, and convert new leads into buyers.
Why is transactional marketing so effective?
According to a report by Invoca (citing LSA), over 55% of consumers run an Internet search before scheduling a home services appointment.
According to LocalIQ, for paid search advertising, the average cost per lead ranges widely. For example, air conditioning services average CPL is $55.15, but in 2023, Valver+Meter observed CPL up to $200.
45% of customers discover home service providers through social media.
Every HVAC business should be utilizing PPC, LSA, and SEO to capture new audiences, but in 2024, marketing strategies must recognize leading indicators about consumer interests.
How do you keep new customers engaged with your HVAC business?
Personalization and relationship building help set you apart from competitors who only rely on transactional marketing. The lifetime value of a customer includes maintenance, accessory purchases, and ultimately, new equipment installations. Considering 23.5% of all HVAC contractor revenue (IBIS World October 2023) is generated by maintenance and repairs, relationship marketing can impact your bottom line in 2024 and beyond.
How relationship marketing personalizes your brand
Relationship marketing powers your services by building credibility, authority, and relevance with your homeowners. Become integral to your customers by focusing on long-term and personalized tools:
A clear brand identity that showcases you and your team as individuals serving the local community.
Content marketing, email, social media marketing, and sales practices with frequent and meaningful community engagement.
Easy online application methods for revolving credit so cash-strapped consumers can pay with dignity.
Maintenance programs that include personalized communications to your members.
E-commerce contractor integrations for purchasing membership programs, air filters, and accessories.
These are a few strategies Valve+Meter is already testing in the HVAC marketplace.
Working With Your Heart And Your Head
Operational excellence is not simply responding to customer calls and lead forms with urgency. The right message can resonate with consumers and even promote new goals for service calls and installations.
When business owners create a brand message that features positivity, loyalty, and commitment, the benefits are broad. Once relationship marketing takes hold, it isn't just homeowners that remain loyal.
Homeowners want to hire great and reliable people. Employees want to work for great companies. Growth happens from the roots up. 
At the heart of Valve+Meter, we are excited when our partners excel. As we enter 2024, we are looking forward to helping implement tools to empower ongoing growth for your HVAC business.