When a person types a search query, the search engine analyzes several metrics and lists search results after ranking several websites. SEO focuses on optimizing these metrics to improve the quality and quantity of traffic to your website, and your goal is to rank higher on search results. 
But doing this is a challenging process for even experienced experts, as it involves studying and fixing several factors. This is why regularly reviewing and adjusting your SEO strategy can help improve your website's ranking. 
This article will explain why you need an SEO audit and how to do it. So, let's dive in.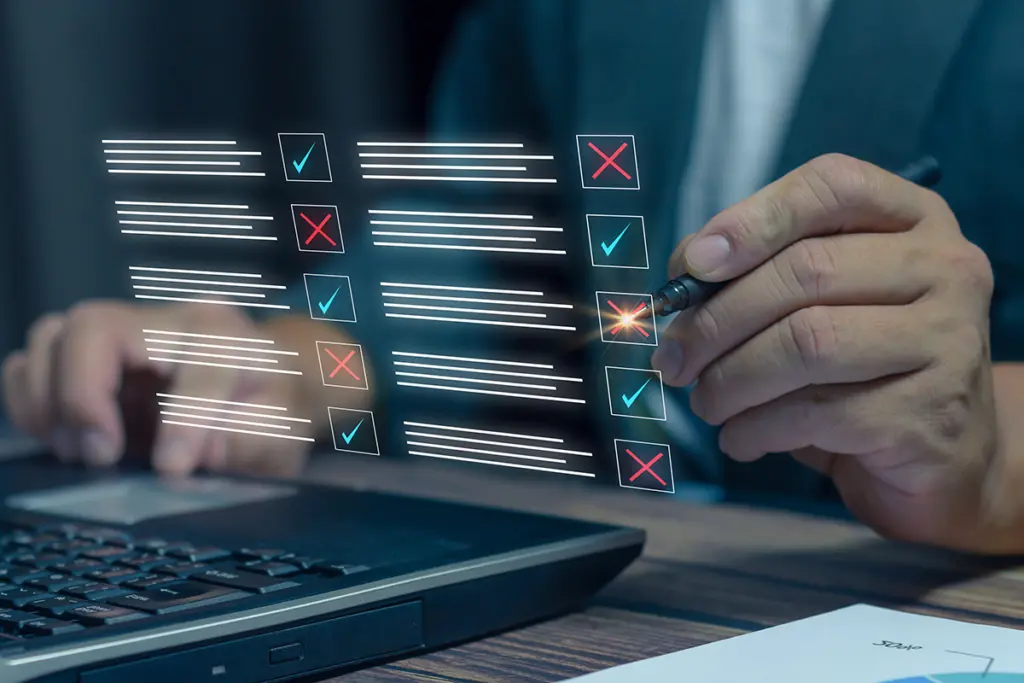 What Is an SEO Audit?
Statistics show that 75% of people will never go beyond the first page of search results, which explains how crucial SEO is. SEO is a necessary process that examines and reviews several factors that affect your website's ranking and makes it more or less visible when people type specific keywords related to your products or services. 
These factors affect your website's technical SEO issues, on-page SEO, and off-page SEO, and eventually affect the website's visibility. 
SEO audit focuses on identifying the weaknesses and strengths of your website,  identifying mistakes, and finding ways to fix them. It examines different practices to find out what should be removed, improved, or what you should do to improve your overall website's performance. 
There are several types of SEO audits that you should focus on. An SEO content audit focuses on improving the quality and accuracy of your content, from your landing pages to blog posts. An on-page SEO audit checks the URLs, tags, and meta descriptions to ensure they're all optimized. 
A technical SEO audit focuses on fixing website speed and security problems, like broken pages and increased loading times. And an off-page SEO audit improves the quality and quantity of backlinks, while a local SEO audit helps improve your website's ranking in local search engines. In general, SEO audits cover the following factors. 
Website design and architecture

User experience

Optimizing title tags, content, and URLs. 

Crawability and indexing

Backlinking

Competitor benchmarking

Keyword research
What Are SEO Audit Tools?
Whether you're doing the SEO audit for your website by yourself or hiring someone to do it for you, several helpful tools offer different benefits.
Google Search Console is one of the most popular SEO audit tools because it's free and easy to use. It's accessible to website developers and marketers to show how Google crawlers access your website's pages and identify spam, indexing issues, and other technical SEO elements. 
After you've made some changes, you can use Google Analytics to measure the impact of your revision actions. It's a tool that collects data from your website to create reports to help you monitor and assess your website's performance. 
There are also several SEO professional software tools to use. GTmetrix captures performance data and compares them to other competitor websites. This way, it can help you identify weaknesses and strengths and see how to improve your website's performance. Screaming Frog finds broken links or optimization problems in tags and content, allowing you to fix them. 
Why Do You Need SEO Audit
An SEO audit should be an ongoing process, even if you've done it several times before. It's crucial to regularly update your SEO strategy and make numerous changes to improve your website's ranking continuously. Here are several reasons why an SEO audit should be an integral part of your business strategy. 
Changing Algorithms
Updating algorithms is part of Google's and other search engines' strategy to improve user experience and make websites more accessible. Search engines monitor how different websites perform regularly and change their rankings.
Unfortunately, you could lose many visitors without tracking these regular changes and updates. So, your website might lose its ranking if you don't closely monitor its performance and do an SEO audit.
In the past decade, Google changed its algorithms several times. Some changes tested the authenticity of backlinks, while others stopped the illegal spread of copyrighted content. Keeping your SEO strategy updated and compliant with these changes is essential, or your website's ranking will be negatively impacted.
Fix Software Errors
Sometimes, your website's links can break after you've done everything right. Pages won't load, or they will load improperly. Regular SEO audits will help you identify and fix software errors that break pages or cause redirects.
Improve Loading Times
Statistics show that most pages that load within zero to four seconds will likely receive more traffic. Slow-loading pages drive people away and push your website's visitors to look for the answers they need elsewhere. In addition, improving loading times affect conversions, causing a 4.42% drop in conversions with every additional second in loading time.
Boost Website Mobile Optimization
Google is currently using mobile-first indexing to review how your website performs. Since most people usually use their smartphones to search various websites for products and services, it's crucial to see how your website loads on a mobile device.
Monitor Competition
Monitoring and outperforming your competition is one of the best ways to improve your website's ranking. Thanks to SEO audits, you can gain helpful insights into their SEO strategy, study their keywords, and see if you can use them to improve your ranking.
This practice will also help you identify problems and issues with your competitors' SEO tactics and see what doesn't work for them. This way, you can find keywords that didn't work for your competitors and see if you can use them in your SEO strategy.
Keep Track of Your Performance
Regularly monitoring your SEO strategy's performance is one of the main reasons you should do periodic SEO revisions. You can assess your website's performance, identify issues, and work on solving them.
Seeing which content ranks best and which keywords help you get more traffic will help you focus on them. You can update your content and website's design to attract more traffic.
Using different tools like Google Analytics, you can learn about your traffic's search volume and website's impressions. This is how you can always identify weaknesses and strengths to maximize and improve your website's performance.
How to Do an SEO Audit
There are different SEO audit strategies, and these tactics keep changing constantly. As a result, it can be difficult to know where to begin doing the audit and choose the right tools to improve your website's SEO. Nevertheless, following this checklist can help make the process easier.
Identify possible link-building opportunities with credible pages to increase organic traffic to your website.
Improve your website's structure and user experience by removing old or overlapping links, making the website easier to navigate, and increasing the quality and quantity of blog posts.
Identify and fix thin and old content.
Ensure that every part of your website is optimized for keywords to improve your ranking in search results.
For experienced professionals and larger websites, a comprehensive SEO Audit Checklist can go even further to find potential opportunities.
Benefits of an SEO Audit
Doing an SEO audit aims to make your website more visible by making it stronger and better than competing websites. You can reap the following benefits after taking the time to identify and fine-tune any problems.
Better Organic Visibility
Although you can promote your brand, SEO audits can organically improve your website's visibility. You'll improve your on-page SEO practices by knowing your market, studying your competitors, and improving your keyword strategy. This will help Google determine what your website ranks for, improving your visibility for certain keywords.
Improve User Experience
SEO audits can help identify problems with your website that make it too crowded and not-user friendly. A complicated website design that doesn't give users the answers they search for will push them to leave your website too early.
An SEO audit helps identify problems like bounce rates and page views and improve them to make your website more appealing and better than competitors' websites.
Create Better Content
In addition to technical improvements, people will visit your website and spend more time on it if you provide high-quality content. Thanks to an SEO audit, your SEO team will be able to identify the content your website visitors like the most about your website. This will help you create engaging and valuable content to increase organic traffic.
Boost Conversion Rates
Increasing the conversion rates is one of the main goals of any SEO strategy. Doring website SEO audits will help you examine every part of your content to find what works. Although this is a continuous process, it will always help you find what is working for you to increase conversions to your website.
Wrap Up
An SEO audit is an ongoing process that allows you to test, monitor, and fix various factors to improve your website's ranking and visibility. There are several ways to do an SEO audit, and they can help you create better content, improve the user experience, and boost your conversion rates. 
You need regular SEO audits because search engine algorithms are always changing. You must also improve your website's mobile optimization and loading times to stay ahead of competitors. 
Let's talk if you're interested in having a professional SEO agency with a proven track record of success audit your website and your search engine footprint. The experts at Valve+Meter are standing by, ready to help advance your search engine optimization journey.